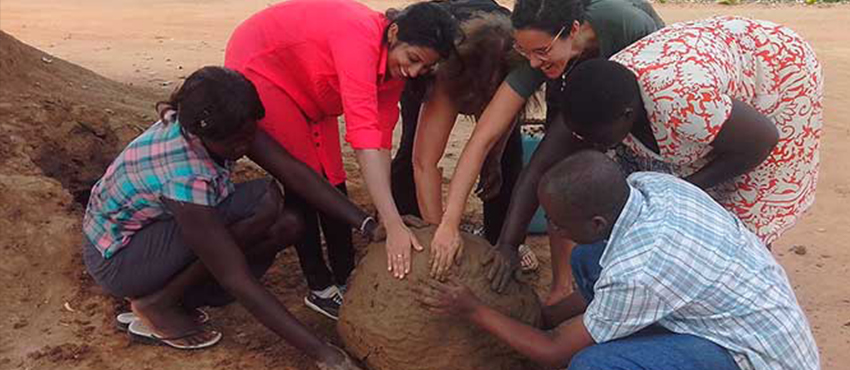 Rethink Relief, Uganda.
"This gave me hope again, I believe I can make things and solve problems." - 17-year-old Afghani refugee after completing an MIT D-Lab training in Greece.
Refugee-led design and co-creation - Changing the paradigm of aid
The world is facing an unprecedented humanitarian crisis with 65 million people displaced by conflict or persecution. Available resources are heavily strained and organizations urgently need creative solutions to providing basic needs to this population.
The vast majority of humanitarian innovation initiatives are top-down, the clients are the humanitarian aid organizations and the "users" are the affected population who have no direct line back to the suppliers. MIT D-Lab is pioneering a new approach to humanitarian innovation, which is training refugees and displaced person in the design process and the use of tools, so that they can create the kinds of things they need—cookstoves, fans, water coolers, pumps, for example—to improve their lives and ultimately improve the way humanitarian work is delivered.
Rethink Relief
D-Lab Founding Director Amy Smith is the co-founder of Rethink Relief, a program that began in April 2010 with the vision of creating innovative technologies and products to fill the gaps between the initial humanitarian response to a disaster or conflict, and the resettlement and recovery that follows. Rethink Relief summits have enabled humanitarian workers, engineers, and affected populations to build relationships and co-create technologies, programs, and tools, taking place in the Netherlands at TU Delft (2011), at MIT (2013), and in Pader, Uganda (2014). The group has since expanded its vision to develop a three-pronged approach to working with affected populations:
Training people in camps and displaced situations in the design process to build their capacity to create and develop technologies, products or services that address challenges that they face in their lives, both during and after the crisis.
Designing products that address immediate needs while simultaneously preparing people for future resettlement and transition, through an inclusive and collaborative process.
Developing an ecosystem of programs and partners to support refugee-led innovation, co-design between emergency-affected populations and humanitarian organizations, and institutional capacity building in innovation.
Humanitarian Innovation: Design for Relief, Recovery, and Rebuilding (MIT D-Lab course)
For the D-Lab: Humanitarian Innovation class students develop practical skills, gain a solid grounding in humanitarian work, and contribute to hands-on projects for South Sudanese refugees in Uganda, displaced in Colombia, and Afghan and Syrian refugees in Greece. Taught by  Amy Smith and veteran humanitarian worker Martha Thompson. 
---
Team
Amy Smith, Founding Director
Contact