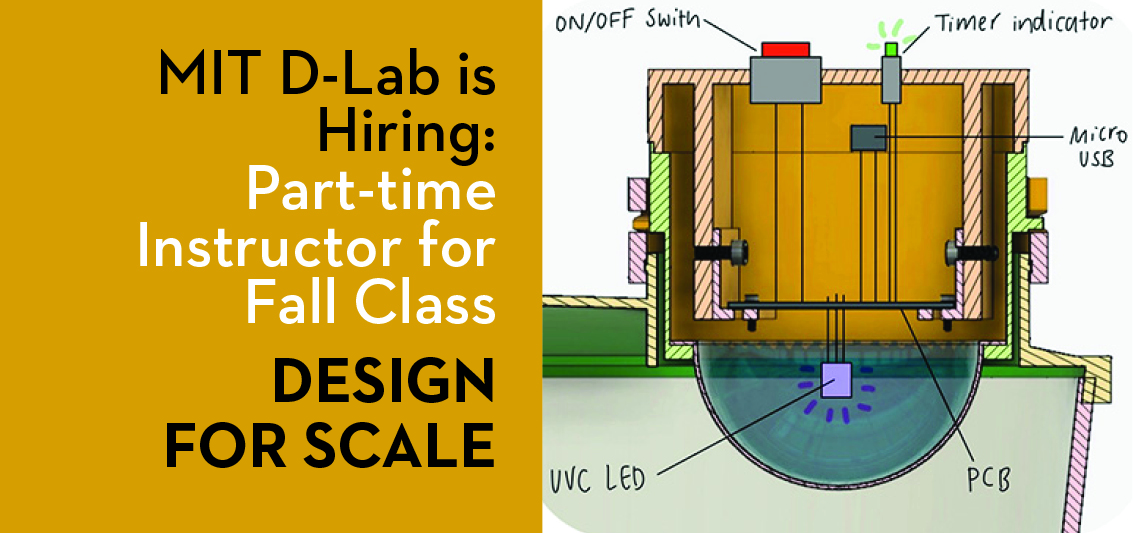 MIT Job Number: 22695
Functional Area: Academic (non-faculty)
Employment Type: Part-Time
Employment Category: Exempt
Visa Sponsorship Available: No
---
INSTRUCTOR, DESIGN FOR SCALE, MIT D-Lab (part-time, 50%), to coteach EC.729/2.729/EC.797/2.789 Design for Scale, an upper-level, nine-unit class focused on the late stages of product design and manufacturing for users in low-income settings.
Over the course of the semester, interdisciplinary teams of students work to bring products in various stages of development to a point of manufacturing readiness. Lessons are hands-on and case-based, with extensive class time dedicated to workshop activities. This is an advanced design and manufacturing course where students use CAD and various rapid prototyping and mass-manufacturing technologies resulting in substantially iterated product designs, and if appropriate, a small production batch.
Students from all majors are encouraged to enroll and graduate students are also accepted, which means instructors are expected to convey material in a manner accessible to students of diverse backgrounds and skill levels. Will be responsible for identifying three-to-five class projects with established businesses and start-ups in low- and middle-income countries such as India, Tanzania, or Nicaragua. (Assistance in project identification is available from MIT D-Lab.)  Partial funding is available for some student travel and out-of-country fieldwork over the January Independent Activities Period, which may be arranged at the discretion of instructors and partners.  
Job requirements
REQUIRED: bachelor's degree; at least three years' relevant manufacturing and/or product design experience; experience applying design for manufacturability; hands-on expertise with mechanical fabrication; expertise with value chain and/or engineering analysis, studio-based design pedagogy, and working with students in a project-based environment; and excellent organizational, time-management, and oral and written communication skills. 
PREFERRED: master's degree or equivalent professional degree in engineering; and experience in engineering, design, and/or manufacturing in low-income international settings.
Schedule, remuneration
This is a part-time, one-semester position subject to renewal with a remuneration of $10,000.
The class is taught and the instructor will need to be available to teach annually during MIT's fall semester (September through mid-December).  Must be able to spend flexible hours working with students in a workshop setting outside of class time.
Apply
More information
Inquiries may be directed to Libby Hsu, MIT D-Lab Associate Director of Academics.