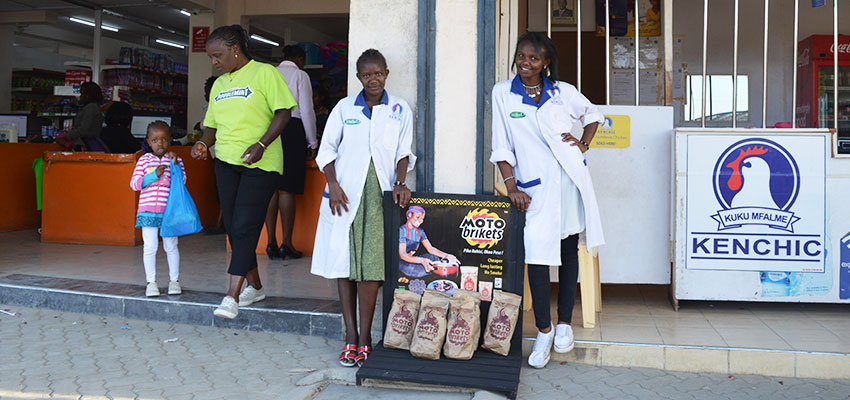 Two young women that work with a BrightGreen Renewable Energy's distributor with the new product display shelf. Nairobi, Kenya. Photo: Erika Desmond
Inclusive business provides a bridge allowing for both the commercial viability of products and technologies in emerging markets and the benefit to base of the pyramid (BoP) populations as consumers and producers.
From solar lights to water filters, educational mobile apps to low-cost medical diagnostics, agricultural machinery to modular homes, in the last two decades, hundreds of new products, technologies and services have been designed to serve the nearly four billion people emerging out of global poverty. Many of these innovations held great promise for significant social impact, but far fewer have fulfilled their potential to solve poverty issues at large scale.
Inclusive business provides a bridge allowing for both the commercial viability of products and technologies in emerging markets and the benefit to base of the pyramid (BoP) populations as consumers and producers. Adopted by engineers, technologists, entrepreneurs, business professionals, and development practitioners, it is one strategy to drive innovative and locally relevant market-based solutions that include and benefit base of the pyramid (BoP) populations while also building markets, strengthening supply chains, and enhancing long-term competitiveness.
This course introduces participants to the fundamentals of Inclusive Business and why it is increasingly adopted as an approach to solving development challenges; how to address challenges in bringing technologies and products to market at the BoP; what are examples of frameworks and tools to market, distribute, and scale products and strategies at the BoP; and how to cultivate inclusive business practices and mindsets in their organizations and day-to-day work. Through live product cases, team-based exercises,  and discussions with guest speakers, course participants will take away a toolbox of practical frameworks to initiate or augment Inclusive Business initiatives in their own institutions.
This course was designed as a complementary program to MIT D-Lab's Inclusive Innovation: Designing for a Better World.
 
Earn a Professional Certificate in Innovation and Technology
This course is offered through MIT Professional Education and may be taken individually or as a core course for the Professional Certificate Program in Innovation and Technology.
 Course Schedule (2021 Live Virtual Version)
Dates: June 14-22, 2021
Course Length:  Six half-days (9:00am-12:30pm EST), live virtual via Zoom
Course Fee: $3,300 (Early Bird Registration for $3,000 until Mar.1)
CEUs: 2.9
Register: Here
Participant Takeaways
Deploying inclusive business initiatives and ventures can be both a lonely and high-risk endeavor, with few documented success stories of how to move beyond idea and pilots to scalable ventures.
From this course, participants will gain:
A deeper understanding of the complexities of the base of the pyramid context and key insights into BoP customers' characteristics and behaviors
A framework for understanding inclusive business through the 5 A's of Acceptability, Awareness, Availability, Affordability, and Action
A collection of best practices for establishing and scaling inclusive business through venture and corporate case studies
A practical toolkit for designing marketing, distribution, and profitability strategies for BoP markets
Inspiration to incubate and drive inclusive business within their own organizations and the opportunity to formulate a concrete IB pitch
Who Should Attend
The course is taught from a business and technology viewpoint and is targeted to product engineers, project managers, designers, development practitioners, marketing and sales professionals.  Our ideal participant is an individual in a decision-making role within their company or organization that is focused on operating in emerging markets and in particular how to expand the value of their products or technology to improve the lives of those living at the base of the pyramid (BoP). Relevant industries range include consumer products, manufacturing and industrials, energy, social entrepreneurship healthcare, international development, academia, technology and finance.
Instructors and guest lecturers
Led by MIT Professor and MIT D-Lab Instructor Steve Graves, MIT faculty, D-Lab instructors and program staff, and BoP Innovation Center bring global perspectives and hands-on experience to this new course, which draws on real-life case studies derived from Inclusive Business initiatives and technologies around the world. In addition to case studies, sessions will have a mix of theory, dynamic scenarios and mindset exercises, group exercises and discussions, and networking opportunities. Because of the emphasis on experiential learning, all sessions have roughly a 1:2 ratio of lectures to discussion or group-based activities.
Course curator: Amanda Epting, MIT D-Lab Inclusive Business Manager
---
For more information and to register
Contact
Amanda Epting, MIT D-Lab Inclusive Business Manager