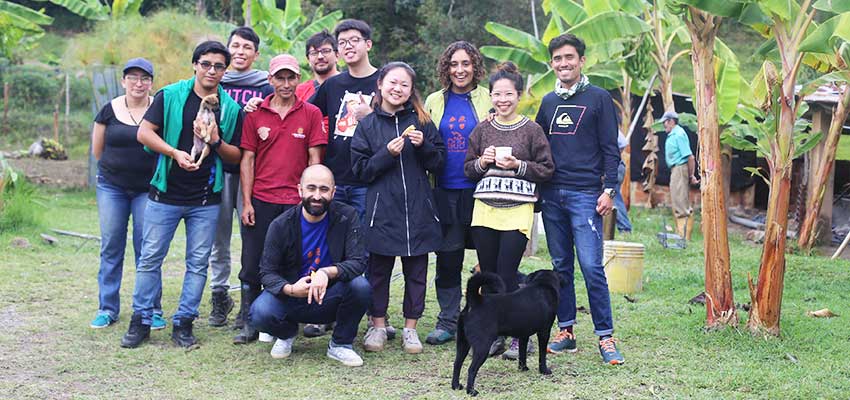 The team from January 2019.
Join farmers from two Colombian coffee growing associations and students from universities in Guatemala, Brazil, Ethiopia and Colombia in co-designing, building and implementing low-cost technologies to improve small-scale coffee production.
IAP fieldwork-based course
In this IAP course, taught by Pedro Reynolds-Cuéllar, small-scale coffee farmers and students from MIT and other universities in Colombia, Brazil, Guatemala, and Ethiopia, will co-design technologies to help improve the coffee production process.
Coffee continues to be Colombia's major exporting product. Every year, an average of 11.5 million bags are moved, making the country the third highest coffee-exporter globally. Interestingly, this massive industry is comprised of small coffee-growers spread across Colombia. Constant changes in national and global markets, make it hard for these farmers to stabilize their production: many turn to bring their products to market independently.
Previously, we looked at how collaborations between MIT students and coffee-growers can enhance technological infrastructure, business strategy, and social organization needed for farmers to control their participation in coffee markets. Building on positive results from this experience, we now ask the question of how these collaborations between MIT and coffee-growers can support the process of making technological infrastructure meet national standards, and streamlining professionalization for a rising rural workforce.
This IAP fieldwork-based and interdisciplinary course on technology design explores how collaborations between small coffee-growers in Colombia and MIT students can foster vibrant local economies. The main goal of the course is for students to co-create, along with coffee growers,
technological, business, and social organization artifacts allowing these coffee-farming collectives to thrive as central players in the coffee market in Colombia.
Travel
Students will travel to Bogotá/Fusagasugá, Colombia January 6 to January 27, 2020.
MIT students will have all expenses covered.
Apply by December 1, 2019
The course is limited to 12 graduate and undergraduate students and the selection process will be carried out using this application form. We are looking for students with either engineering, art, social sciences or business backgrounds. Selected students will receive a full funding to be part of this experience.
Students should submit application online by December 1, 2019.
Partners
C-Innova, MIT Media Lab, Universidad de Bogotá Jorge Tadeo Lozano, Universidad del Valle de Guatemala
Supporters
MIT D-Lab, International Development Design Summit, MIT J-WEL
---
For more information
Course Information
Semester Offered
IAP 2020
Units (credit hours)
No academic credit offered