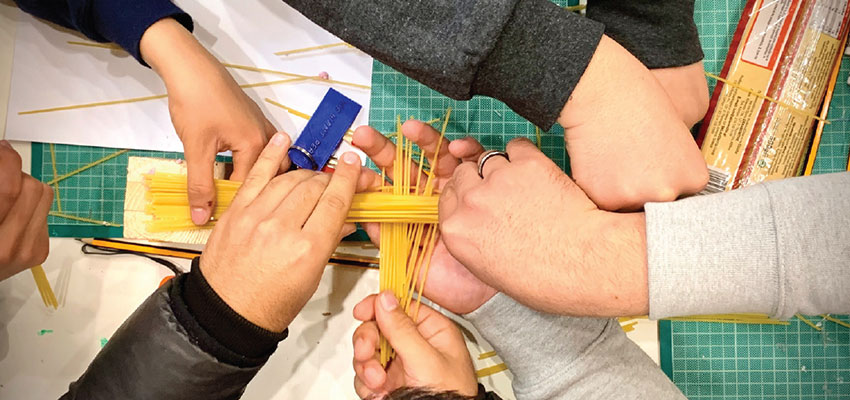 Reflections on the Evolution of the Horizon Center for Unaccompanied Refugee Minors - D-Brief
The Horizon Center in Athens, Greece – a collaboration between the MIT D-Lab Humanitarian Innovation program and Faros, a Greek NGO working with refugees in Athens – aims to teach unaccompanied refugee youth technical skills and the design process to strengthen their confidence and agency. Since its inception in June 2017, the Horizon Center program has gone through several changes to meet the diverse and ever-shifting needs of the refugee youth, primarily adolescent boys. Beginning with ad-hoc workshop-style classes, Faros established the Horizon Center in late 2018 as a safe place for refugee youth to learn the design process, gain a variety of technical skills, make new friends, and receive mentorship and services from Faros staff. As of late 2019, the program adopted a modular curriculum to allow new participants to join mid-cycle, accommodating the highly mobile nature of this population.
Throughout the life of the program, MIT D-Lab students have visited the Horizon Center to teach and facilitate classes at the center, as well as interact with and learn from the center's staff and the refugee youth themselves. After three years of developing and adapting to changes, the program's founders decided to reflect on the Horizon Center's evolution, assessing how the program has performed up to this point and learning what they can do to improve it. This reflection took shape as a formative process evaluation in the summer of 2020.
Key Findings
The program is highly flexible and adapts frequently and quickly to changes. This adaptability is both a strength and a weakness, as it allows the program to meet the boys' changing needs, but at the potential cost of staff fatigue and uncertainty around the program's mission.
The Faros staff highly values the integration of design training into psychosocial support for the boys. However, more frequent high-quality training is needed to strengthen instructors' confidence in teaching design.
While Faros and MIT D-Lab staff and students have established meaningful connections with the youth, language and cultural barriers often present challenges when it comes to teaching the material and cultivating even deeper relationships.
The program's mission and goals need to be more clearly defined and communicated to all stakeholders.
The program has made a positive impact on both MIT D-Lab students and Faros staff in terms of skills, behavioral changes, and future career trajectories.
---
More information
MIT D-Lab Humanitarian Innovation Program
Contact
MIT D-Lab Humanitarian Innovation Team
Laura Budzyna, Monitoring, Learning, and Evaluation Manager