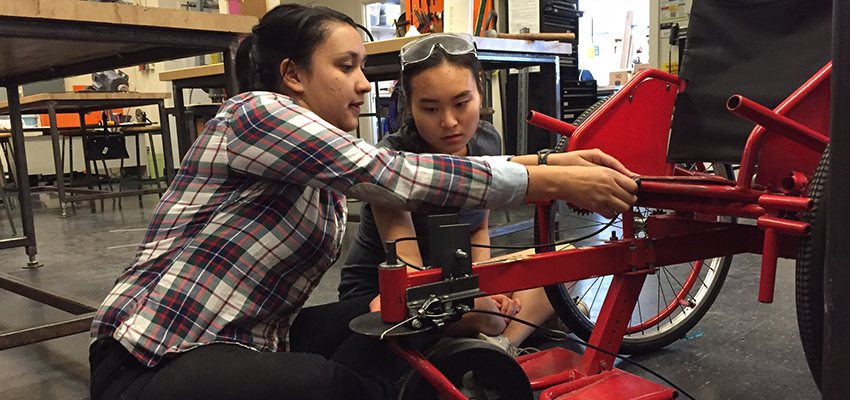 Ta Corrales Sanchez, former D-Lab UROP, working in the D-Lab shop.
Undergraduate Research Opportunities & Experiential Learning Opportunities
MIT D-Lab Undergraduate Research Opportunities (UROP)
Join an existing research project with one of our research staff members. See below for current listings! You may also propose a research project you have developed from work done in a D-Lab class or on a D-Lab fieldwork trip.
MIT D-Lab Experiential Learning Opportunities (ELO)
This is a new program, similar to UROP. See below for current listings!
Fall 2020 UROP and ELO Listings
All UROP and ELO positions are funded with the option of receiving credit in lieu of pay. Note to international students living outside the US: We are not able to pay an hourly rate for UROPs, only credit can be given. For ELOs, you may receive a stipend in one or two installments. In some cases, a UROP may be converted to an ELO and stipend provided.
Covid-19
Design and Education
Energy
Engineering
Innovation
MIT Program Opportunities
Social Entrepreneurship
Eligibility
MIT Students
All registered MIT undergraduates in good academic standing, including transfer students.
Wellesley College Students
Cross-registered Wellesley undergraduates participating through the MIT-Wellesley Exchange Program (credit only).
Students participating in an official MIT Undergraduate Exchange
During their semester(s) of study at MIT.
---
More information
Subscribe to D-Lab UROP listserv
Contact
Megha Hegde, MIT D-Lab Research Associate and UROP Coordinator