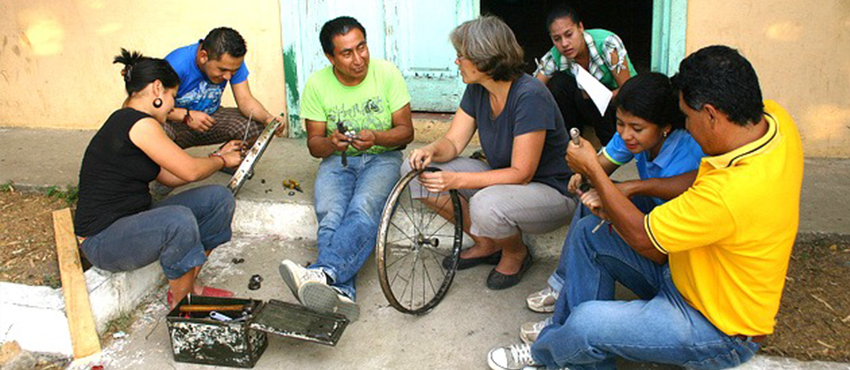 MIT D-Lab Founding Director Amy Smith (center) with inventor and Bici-Tec Founder Carlos Marroquin (third from left), working with members of a community in El Salvador.
Early years: Edgerton Center & Kim Vandiver
Founded in 2002 by Amy Smith, Senior Lecturer in Mechanical Engineering, D-Lab began as a single class known as The Haiti Class. That first class - hands-on, project-based, and real-world - established many of the hallmarks of D-Lab courses to come.
Professor Kim Vandiver, Dean of the Office of Experiential Learning, was both a critical early champion of Amy Smith and of D-Lab as well as an ongoing advisor as D-Lab grew and evolved. As a result of its early association with Kim and the Edgerton Center, all D-Lab courses have an "EC" designation.
Growth period
Over the next several years, one class grew to many, and D-Lab has developed more than 20 MIT courses to date, with 12-15 offered annually. Over the course of its history, D-Lab has enrolled more than 2,000 students in its classes. 
In the fall of 2011, D-Lab received a transformative gift from Mohammed Jameel and Community Jameel. Over the course of three years, under the direction of Saida Benhayoune, this gift funded the launch of the Scale-Ups social entrepreneurship fellowship, the Harvest Fuel Initiative, the Practical Impact Alliance, the Scaling Development Ventures conference, and much of D-Lab's research program.
The following year, D-Lab applied to a new USAID program called the Higher Education Solutions Network to fund two major initiatives - the International Development Innovation Network (IDIN) and the Comprehensive Initiative for Technology Evaluation (CITE). With IDIN ultimately administered by D-Lab and CITE by the MIT Department of Urban Studies and Planning, the joint award totaled $25 million.
Shared leadership
In 2010, Amy brought on board Victor Grau Serrat to share leadership of the growing program. Kofi Taha joined as Associate Director in 2011. Amy and Victor served as D-Lab Co-Directors from 2010 to 2016, when Victor left to pursue other career interests. Following his departure, D-Lab hired international development veteran Bob Nanes as its first Executive Director, while Amy Smith took the title of Founding Director. That same year, Professor Dan Frey joined D-Lab as Faculty Research Director and in 2017, Professor Maria Yang became D-Lab's Faculty Academic Director. In 2017, Kendra Leith was named Associate Director for Research. Full staff list.
On the move
Starting out with a shared office at the Edgerton Center for Amy and additional space by a loading dock in the basement of MIT building 3, D-Lab moved to what was E34 (now demolished) in 2009. In June of 2012, with support from MIT and from Shashank and Medha Karve, D-Lab was able to renovate and move into the third floor of MIT's Building N51, where the program now has a dozen office spaces, two large classrooms, a workshop, meeting spaces, and more.
D-Lab 3.0
Today, with its programs organized under three "pillars" - Education, Research, and Innovation Practice - D-Lab is a leader at MIT in:
creating and delivering transformational student experiences in global poverty alleviation,
advancing the scholarship and practice of global poverty alleviation and inclusive design pedagogy, and
sustaining an ecosystem that supports the full life cycle of practical solutions, from needs assessment to ideation to validated impact.