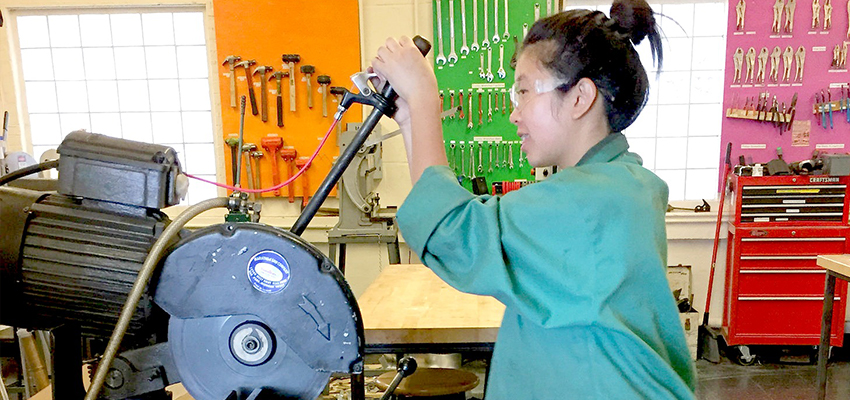 D-Lab: Design student cutting steel in the D-Lab workshop.
Where D-Lab students, researchers, fellows, alumni, and guests bring technologies for the developing world to life.
An average of 150 students use the shop each year to test ideas, build prototypes, and refine technologies intended to improve the lives of some of the poorest people in the world. Dozens of prototypes are developed in the shop each year.
Make what you couldn't when you walked in
Love to build things by hand? Welcome to the D-Lab shop!
Never hammered a nail before? Welcome to the D-Lab shop!
D-Lab attracts students who know their way around a shop and those who have never wielded a hammer. To support all students interested in learning to build things with their hands, the D-Lab shop features illustrated, poster-sized "Learn-Its" on types of adhesives, fasteners, and material selection, along with well-labeled hand and power tools of all kinds. Resources like these help make it possible for both beginners and seasoned makers to get their prototypes made well, and made safely.
About the workshop
The D-Lab workshop - the heart and soul of D-Lab - is airy, colorful, well-equipped, and well-organized. The workshop includes:
a large collection of hand and power tools
steel fabrication and welding tools
an open shop with multiple workbenches
a wood shop
a long-term projects room 
How to gain access to the workshop
In addition to current D-Lab students, the workshop welcomes those who work and use the N51-N52 complex, D-Lab alumni, fellows, visiting inventors, and other D-Lab associates to use the shop to pursue international development-related projects.
Safety trainings: If you wish to use the D-Lab Workshop, you must complete safety training. Safety trainings take place the first Tuesday each month at 5 PM. If you fall into one of the supported categories listed above, email Jack Whipple to register. Did we already say this? Safety training is required for shop access.
Keep it organized: "Good organization lowers the barriers to awesomeness." - Jack Whipple, D-Lab Workshop Manager
---
Contact
Jack Whipple, Workshop Manager