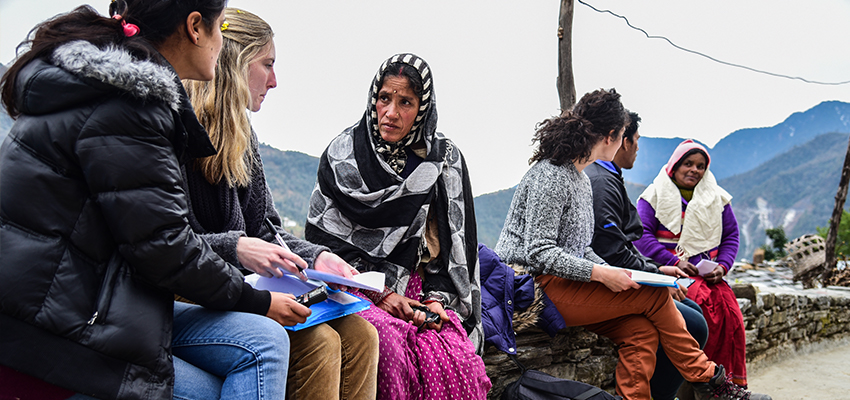 Researchers gathering data for xylem water filter research in Uttarakhand, India.
A rigorous, respectful, relevant, and right-sized alternative that places the experience of research participants and other stakeholders at the center of the design and implementation of the study.
The Lean Research Initiative, led by MIT D-Lab, the Fletcher School at Tufts University, and Root Capital, offers an alternative. Lean Research is a new and evolving framework for research in the contexts of international development and humanitarian work.
As an initiative, Lean Research emerges from the work of scholars, researchers, practitioners, donors, and students who are asking:
How can we conduct research in such a way that our research process and results benefit the people and communities we are researching? 
What changes do we need to make in the research process in order to minimize the burden on research participants and maximize the value and positive impact of the research, both for research participants and end-users?
What does truly rigorous, respectful, relevant, and right-sized research look like in the context of communities targeted for development or humanitarian intervention? 
Lean Research Resources 
Lean Research Community 
The Lean Research community includes over 100 researchers, practitioners, donors, and policymakers working in the international development and humanitarian spaces. Our core activities include:
Working Groups
Events and Convenings
Research and Publications
---
Team
Elizabeth Hoffecker, Research Scientist, Local Innovation
Kendra Leith, Associate Director for Research