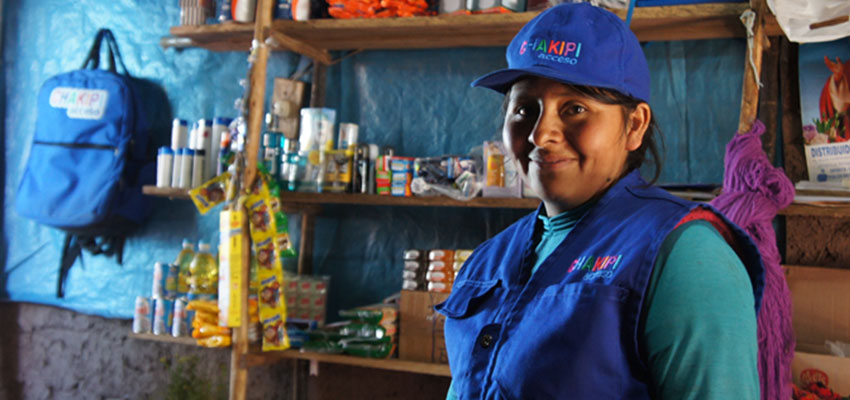 A worker with Chakipi Acceso Peru. Image courtesy of Chakipi.
William Davidson Institute, University of Michigan
Original blog post on William Davidson Institute, University of Michigan website
WDI has teamed up with MIT D-Lab on a new case study
For over 10 years, the Performance Measurement and Improvement (PMI) team at the William Davidson Institute at the University of Michigan has been using robust monitoring and evaluation approaches to measure results and generate value for businesses and their stakeholders.
Whether we are working with the largest network of micro-distributors in Latin America or a multi-national business in the apparel industry, our goal is to meaningfully engage our partners in the measurement and learning process. We want to make data collection valuable for participants and data findings actionable for decision-makers at all levels of a business, organization or program.
We believe such work should be shared and include practical strategies for applying research to improve performance and generate social impact. That's why we've teamed up with MIT D-Lab to write a Lean Research case study, "Positive Change Through Actionable Metrics." Lean Research is an approach to improve the practice of data collection involving people and communities in development and humanitarian contexts. (For more information on foundations of the Lean Research approach, check out this three-part blog series on NextBillion.net.
 As defined by MIT's D-Lab, Lean Research is driven by four principles of good research practice:
Rigor – Follow good research practices for your discipline or field of practice.
Respect – Maximize the value of the experience and outputs for research subjects and stakeholders, including creating an opportunity for them to enjoy the experience, reject participation in the study and review and refute findings.
Relevance – Address priority issues for stakeholders, including research subjects, and produce results that are understandable, accessible and actionable.
Right-sizing – Use only the protocols, "human subjects" and resources necessary to collect data that informs decisions.
Our team's case study covers how we followed the Lean Research approach and applied each of the four principles to our work with three separate social enterprises. Each of these businesses wanted to strengthen their ability to collect accurate data and lead their own evaluation efforts. As a result of the work, leadership from the three enterprises gained a clearer understanding of how to measure changes in the well-being of the low-income women they work with. They also learned the importance of using both business and social indicators to improve operations.
"Thanks to this process, we were able to review the way we collect data, and create a data collection manual and survey templates for each business model [we have]," said a pilot participant from Chakipi Acceso Peru, one of the businesses in our research.
So far, MIT D-Lab has produced three such cases, which you can find here. Each case describes an example of  Lean Research and discusses its results and implications for development work globally. A revised version of the Lean Research Field Guide is expected to be released soon (WDI was a contributor to that work as well!)
We plan to create more cases and practical examples of how the Lean Research framework can be applied. We're also proud to be able to contribute to what is a robust and growing community of evaluations practitioners. Indeed, we're always looking to work with businesses that are putting Lean Research at the forefront of their measurement goals.
Want to learn more about the work mentioned in the WDI Lean Research case study? Check out the project description on our website or read the full WDI Impact Report: Positive Change Through Actionable Metrics.
---
About the author
Rebecca Baylor is an Evaluation Consultant with the WDI Performance Measurement and Improvement team.