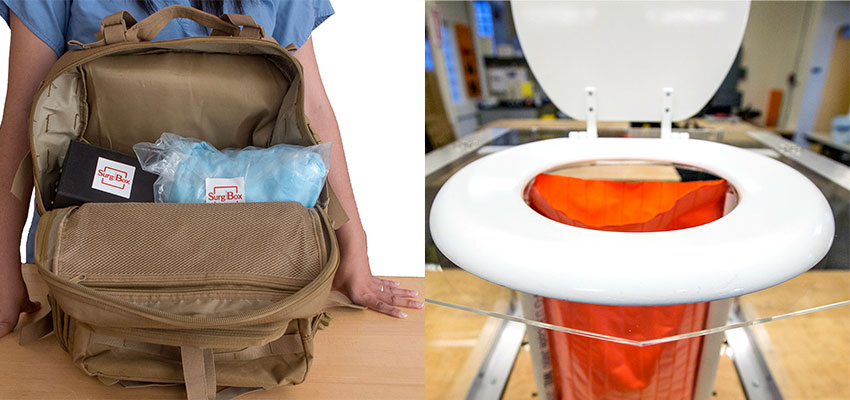 SurgiBox surgical theater in a back pack (left) and change:WATER toilet prototype (right).
Medium | USAID
Discover groundbreaking ideas to tackle the humanitarian community's toughest problems
Creating Hope in Conflict on Medium
In this piece, Mark Green includes to MIT D-Lab-affiliated projects, SurgiBox and change:WATER Labs.
---
Each new year brings new possibilities, and renewed hope for creating better lives for ourselves, our loved ones, our country, and our world.
I am excited to share that in 2019, the U.S. Agency for International Development (USAID) is making strides to empower more people around the world, especially those affected by conflict, by investing in ground-breaking ideas and innovations that help countries on the Journey to Self-Reliance, while giving people hope.
It is said that "necessity is the mother of invention." And with unprecedented levels of need around the world — nearly 132 million people across 42 countries need humanitarian aid — we must invest in new innovations like these that will make a difference.
In February 2018, then-Secretary of State Penny Mordaunt of the Department for International Development (DFID) of the United Kingdom and I came together to launch Creating Hope in Conflict: A Humanitarian Grand Challenge, a partnership designed to bring governments and the private sector together to respond more nimbly and efficiently in conflict zones and empower people to create better lives for themselves. The Government of the Kingdom of the Netherlands is also now a partner of this challenge, implemented by the Canadian non-profit Grand Challenges Canada.
The response was overwhelming. We received 615 applications from 86 countries — 48 percent of which came from lower-middle-income countries. About one-third of the applications involved projects led by women. Of that number, we selected 22 finalists, whose innovations range from toilets that evaporate waste to new technology that helps women stay safe.
Take a look at a few of the innovations we are funding.
Printing Prosthetics
In Tanzania, a local organization called Comprehensive Community-Based Rehabilitation in Tanzania helps people with disabilities who are living in camps gain dignity, mobility, and independence by using 3D printing to make high-quality lower-body prosthetics. Now, children who are facing mobility challenges can have a second chance to run and play, thanks to this innovation.
Maggot Therapy
In conflict zones like Afghanistan, South Sudan, Syria, and Yemen, medical facilities are not always available. Griffith University is reviving an old technique that can adapt to today's humanitarian crises — using maggots to clean and heal wounds.
Evaporating Waste
Imagine living in a conflict zone, inside a house with no power or plumbing. Simple things, like going to the bathroom, become more challenging. This is the reality for millions of people around the world. Change:Water Labs, Inc. is testing a solution — a compact, portable, sewage-evaporating toilet — that would provide safe, private sanitation to families in Lebanon, Jordan, and Panamá.
Medical Phone-A-Friend
Community health workers in conflict zones in Syria could soon have access to more medical minds while saving lives in the field. Johns Hopkins University's Intelehealth platform would remotely connect health workers to a worldwide network of doctors to help them provide better care for Syrians affected by the war.
Farming (almost) Without Water
Deutsche Welthungerhilfe E.V. is introducing hydroponic vegetable gardens to the Zam Zam displacement camp in Darfur, Sudan, which use 90 percent less water than traditional farming and will improve food security. The gardens will also produce fodder to feed the livestock on which many people rely for food and income.
Surgery in a Box
Among recent winners of the London Design Museum's Beazley Design of the Year People's Choice Award, one organization has created a kind of inflatable, portable operating room. SurgiBox, which can fit in a backpack, provides a sterile environment to medical teams who are treating patients in the most difficult places. The company's tagline is "Safe surgery anytime, anyplace." SurgiBox will implement this project in Burkina Faso, Mali, and Uganda.

#AidToo: Women Helping Women
When disasters strike or conflicts break out, vulnerable populations — especially women — are at risk of violence and abuse. A new mobile platform, designed by women, will help female refugees in Jordan combat violence. Piloted by ActionAid UK, the project is a low-cost way for women to report incidents and receive up-to-date information and awareness on rights, local social services, and safe spaces.
Lina and Rahaf are members of ActionAid's existing Women's Circle in Zarqa, Jordan. The women's circles will be led in the design and testing of the mobile platform ensuring the tool developed is relevant and user friendly for women in their wider community.
Humanitarian Registry
Whenever you give to a good cause, you hope your donation will really make a difference. Soon, you won't have to guess. NeedsList uses chatbots — instant messaging technology that simulates human conversations — to get information about real-time humanitarian needs on the ground. As a result, you can send exactly what is needed to people in need.
Needs List tests the chatbot with refugee aid organizations in Greece.
What's Next?
Creating Hope in Conflict continues to focus on soliciting new solutions that confront some of the most formidable humanitarian challenges of our time. We are supporting a second call for proposals for this Grand Challenge because we are eager to see what new, bold ideas people have.
In addition to helping innovators get their ideas off the ground, we will also refine, test, and implement several projects that have already shown promise. We will announce winners later this year.
People always ask me, "What keeps you up in the middle of the night?" My answer is the number of displaced persons around the world, especially the number of children who are living in conflict zones and being born, raised, and growing up in camps without sufficient access to nutrition and education — in many cases, without hope.
Given the current scale of humanitarian needs, this challenge is too great for one sector to solve alone. I am proud that USAID can be part of the solution, by working with humanitarian organizations, other donors, and the private sector to test, grow, and co-invest in tomorrow's solutions in some of the most difficult situations we face around the world.