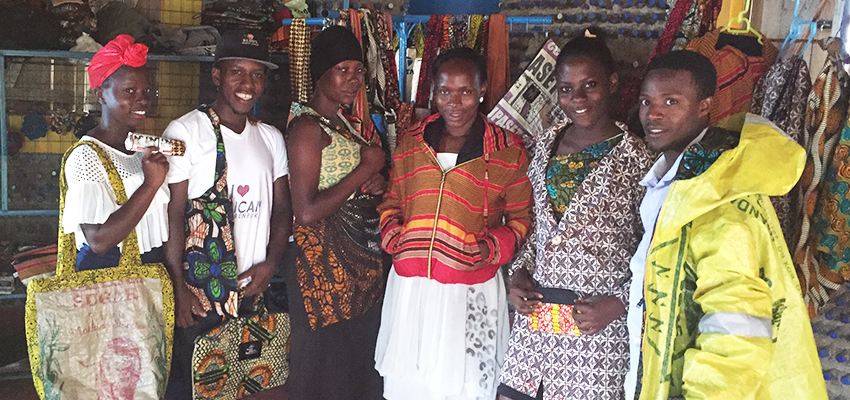 The Kimuli Fashionability team showcases some of its products that it has recently created. The founder, Juliet Namujju (far left), became inspired to blend African fabrics with recyclable materials based on her childhood experience of watching her grandmother practice her trade as a tailor. 
"Confronted by an economic system that leaves many behind, I have learned that often, the path to achievement is not forward, but inward." 
For the past seven weeks, I have been on the front lines of MIT D-Lab's newest fellowship – the Innovation Ecosystem Builder Fellowship – working alongside fellows from Kyusa and the Social Innovation Academy (SINA) in Uganda. They are vibrant organizations that seek to challenge the prevailing narrative for youth by helping them to become entrepreneurs. Nationally, approximately 80 percent of Ugandan youth are either unemployed or in vulnerable employment. For many young men and women, unemployment is a reality borne out of broader, systemic failings. This is particularly true in greater Kampala, my home base while in-country. 
In the process of helping D-Lab Innovation Ecosystem Builder fellows build out Monitoring & Evaluation (M&E) frameworks and iteratively refine components of their program designs, I have also heard the stories of several nascent entrepreneurs. Their stories have stayed with me not only because, as program beneficiaries, their experiences should shape how these organizations adapt. They paint a deeper picture of what it means to be an entrepreneur in Uganda. Confronted by an economic system that leaves many behind, I have learned that often, the path to achievement is not forward, but inward. 
My Work So Far—Assessing Alternative Approaches within Uganda
Kampala is the heartbeat of Uganda and, as a result, a barometer for how the nation must tackle the challenges its citizens face.  Soon after my arrival, I set out to help clarify the path that these two organizations should take to address youth unemployment.  Each one chose a different approach and set of activities that would occupy my time as a fellow. 
At Kyusa, the staff wanted to take a step back and re-examine the causes of youth unemployment holistically. From this starting point, we narrowed in on the aspects of unemployment that Kyusa would focus on: the soft and hard skills gap between what students learn in school and what they need to learn to thrive in a global economy. I then held conversations with Kyusa alumni to test the program logic and see whether there was any discrepancy between what Kyusa does in theory and in practice. We discovered that Kyusa's training program puts participants on a solid footing to turn ideas into businesses. Yet, it is difficult to ensure that participants will be able to sustain their businesses and anticipate their mentorship needs after the programming ends. As a result, I have started to design survey tools that will assist the organization in making decisions about expanding to new locations and increase the likelihood of success of its training programs.  
At SINA, my work focused on mapping how scholars progress through SINA's programmatic phases and defining the milestones that all participants should experience. Another intern and I established a working group of SINA staff and participants where we have been grappling with what these milestones should look like. To date, we have reached some consensus that four categories should consistently define a scholar's journey: personal growth, critical thinking, entrepreneurship, and exploration. While both Kyusa and SINA work with marginalized youth, many of SINA's participants come from refugee backgrounds with trauma relatively fresh in their minds. As a result, SINA places more emphasis on cultivating a safe space and community atmosphere that instills a sense of family and belonging. This leads to a more relaxed time frame for participants to discover themselves and how they will, in turn, start businesses and become job creators.  In other words, while Kyusa is a service provider for aspiring entrepreneurs, SINA is an inclusive community for youth where entrepreneurship is one of many possible outcomes.
Success Redefined, Youth Recalibrated—Challenging Tradition for Progress
The journeys made by participants at SINA and Kyusa differ, but what they share sheds light on the building blocks of entrepreneurship in Uganda. While hard skills like bookkeeping and financial literacy are important pieces to becoming a successful entrepreneur, an entrepreneurial mindset is the most crucial component. Navigating a path to self-employment heavily depends upon discerning one's passion while adopting a growth mindset. However, respondents expressed that the educational landscape and even more pervasive social mores serve to suppress both of these precepts. I have listened to stories of young entrepreneurs inventing mosquito repellent soap to reduce the incidence of malaria, upcycling bags to become fabrics for trendy clothing, and marketing a Christian trivia game meant to tighten intergenerational family ties. Despite their burgeoning success, they feel ill-equipped by formal education channels.  In their opinions, the theoretical and rote learning used in schools left them lacking the practical hard and soft skills necessary for success. As a result, they have adapted to rely on non-traditional sources of knowledge as they look to grow their businesses.  
Disillusionment with the orthodox seems to be a prerequisite for entrepreneurship in Uganda. There are such formidable barriers to becoming a job creator that, instead of jumping over them, aspiring entrepreneurs must walk in a different direction entirely. For most, it is hard to embrace this conclusion and those who do seem to be outside of the mainstream. Older authority figures only see a linear path to achievement and impress this upon youth: O Level, A Level, a university degree in something "practical," and then accepting a job offer as a wage-earner. For that reason, entrepreneurship is seen as a last resort when job prospects falter. As a result, taking a different perspective on entrepreneurship is an act of defiance. 
At the same time, many have realized that entrepreneurship is a logical outgrowth of the exigencies stemming from Uganda's context. Increasingly aware that cramming for exams has failed to show a return on investment, these participants have gained an appreciation for what is not readily available in a traditional classroom setting. They stand apart from their peers because they are not driven forward by the desire to earn a degree, but from the fact that they are devoting their time and energy to a pursuit they care about. 
As my time in Uganda comes to a close, I am eager to find a way to frame entrepreneurship in this unique setting. Through my explorations so far, capturing this uniformly is complex. Humans are diverse and there is not one entrepreneurial mold. Furthermore, entrepreneurship not only extends across the breadth of goods and services that are already in existence but approach the boundaries of the imagination. Still, what makes this challenging also makes it exciting. Youth are eager to become professionals in what they are passionate about, and in the face of structural shortcomings, this could be the difference between despair and hope for those who find it hard to see a brighter future. 
---
Tom DeMaio is an MPA in Development Practice candidate at the at Columbia University, School of International and Public Affairs (SIPA), where he is focusing on program design as well as monitoring and evaluation (M&E). Prior to SIPA, Tom specialized in youth development through sport in Nigeria and The Bronx. 
---
Contact
For more on MIT D-Lab Monitoring, Learning, and Evaluation:
Laura Budzyna, Monitoring, Learning, and Evaluation Manager
For more on MIT D-Lab Innovation Ecosystem Builder Fellowship:
Molly Rubenstein, Innovation Ecosystems Manager