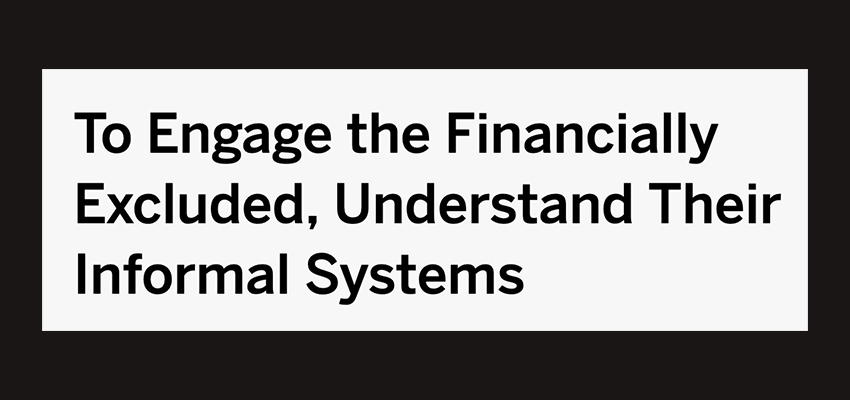 MIT Sloan Management Review
The interview below is an excerpt of a two-person interview perspective published on Sloan Management Review titled Executive Viewpoint: Toward Digital Financial Inclusion with Chandra Mohan Malladi, Head of Financial Services and Digital Payment Innovations for Tata Consulting Services and D-Lab's Libby McDonald
---
Libby McDonald's work with economically marginalized individuals in Africa and Latin America has given her a firsthand perspective on their needs and preferences when it comes to inclusion in financial services. She and her colleagues at MIT's D-Lab have worked with waste pickers, small-scale gold miners, smallholder farmers, and others. "We are thinking constantly about how to engage them in formal systems so they have access to tools that provide opportunities for livelihood, including digital financial services," she says.
MIT SMR Connections spoke with McDonald to learn more about how these individuals currently address their financial needs, and what organizations should consider as they seek to broaden financial inclusion.
Q. How do the people you work with handle basic financial needs such as saving money?
McDonald: Almost all of the women I work with do not engage in formal financial services. Many of them organize themselves into savings groups, rotating funds among themselves. It's fascinating, and I feel strongly that we should think about mimicking these systems that are already in place. Women also hide their money — on their bodies, under a rock. Many of them are mothers, single mothers. What's really a struggle for them is to save to pay out the money needed to keep their kids in school, to buy books and uniforms, and pay school fees. They are hungry for mechanisms that allow them to save and pay out at particular moments.
Q. What other financial services do these individuals need, such as credit or insurance?
McDonald: Insurance, yes — that's interesting to them. But most of the informal-sector workers I work with are not interested in loans; it's just too scary for them. They say, "We've been burned by loans. We're not interested in microloans — we're not interested in loans, period." This applies to both informal and formal systems of lending money.
Q. What are some of the obstacles to their participation in formal systems such as banks or emerging digital financial services?
McDonald: Most of the women that I work with say they're not comfortable walking into a bank, so they don't do it. What about digital financial services? It's very conceptual. All of a sudden, you're not even seeing your money; it's all happening on a phone. While many of them have a phone, they're not comfortable using it. They find the idea of digital financial services intriguing, but it's a little bit scary for them because they're not even comfortable with that phone.
So how do you capture that client? In Latin America, some phone companies offer cash to entice people to sign on to digital financial services. For example, they may offer $5 to every farmer in a region via an app. That motivates people to download the app, and then they're off and running, and their comfort level begins to grow.
We have also learned that it matters who is staffing the kiosks that phone carriers have set up to interact with customers. I would suggest they have more women in those kiosks. These staffers must be trained to be patient and confident, to help customers use their phones to manage their money.
Q. What advice do you have for organizations that are trying to broaden access to digital financial services?
McDonald: For digital financial services in particular, the situation varies dramatically by country — a lot of it depends on regulations. You've got to create regulations that allow for innovation but also protect people.
The banking and telecommunication industries make assumptions and don't really understand what the folks living at the bottom of the pyramid want and need. I see a lot of informal and community-based banking systems. Who's to say those aren't systems? They are systems, but they are informal. If I were to go into a particular country to spread digital financial services and financial literacy, I would make it my job to understand the informal practices, and then look at how we can build those out so that they become more formal.
---
Contact
Libby McDonald, MIT D-Lab Lecturer and Inclusive Economies Specialist