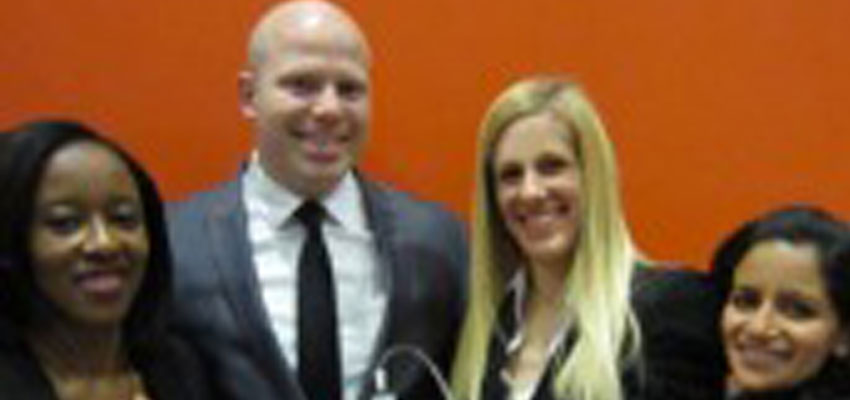 WiCare Team vying for the $1 million Hult Prize. From left to right: Khadija Jallow, Cody Gilleland, Danielle Zurovcik and Shweta Sharma.
The WiCare Wound-Pump provides a means to offer negative pressure wound therapy around the world. This patent-pending technology was developed to meet global customer needs in all targeted markets and the functional parameters necessary for successful therapy.
Scale-Ups fellow Danielle Zurovcik completed a PhD at MIT in Mechanical Engineering in 2012. While still a student, she founded Worldwide Innovative Healthcare, or WiCare, to develop innovative medical devices that are clinically effective and affordable worldwide.
 -----------------------------------------------------------------------
WiCare has been working with contract manufacturers on the Wound-Pump, in order to transfer the initial, handmade design to a mass manufacturable design. This process falls under regulations for medical devices, and therefore, design control procedures are being followed. We aim to assure that high quality products are made in the future under an approved Quality Management System (QMS). Through this process, we are simultaneously exploring new designs for lowering manufacturing costs and increasing usability. 
We were excited to win the San Francisco Regional Finals for the Hult Prize. During the competition, we had the opportunity to meet many inspiring student teams and ideas, which aimed to tackle the treatment of non-communicable diseases in urban slums. It was an honor to win the pitch competition, and we are excited for the summer accelerator at the Hult International Business School in Boston, MA and the final pitch competition at the Clinton Global Initiative (CGI) Annual Meeting in New York, New York in September 2014. 
In other WiCare news, Danielle Zurovcik was a faculty member at the Diabetic Foot Ulcer Conference (DFCon) 2014 in Hollywood, CA. During the conference, she presented her work on the Wound-Pump, and its practical use in treating acute and chronic wounds in high- and low-resource settings. In addition, she emphasized the importance of a design process for global devices and for open-communication and collaboration between engineers and clinicians. There were many great speakers at the conference, discussing all aspects of diabetic foot care; this allowed us to understand where we fit in the bigger picture of diabetic foot care and how we can make the most impact in improving patient outcomes.