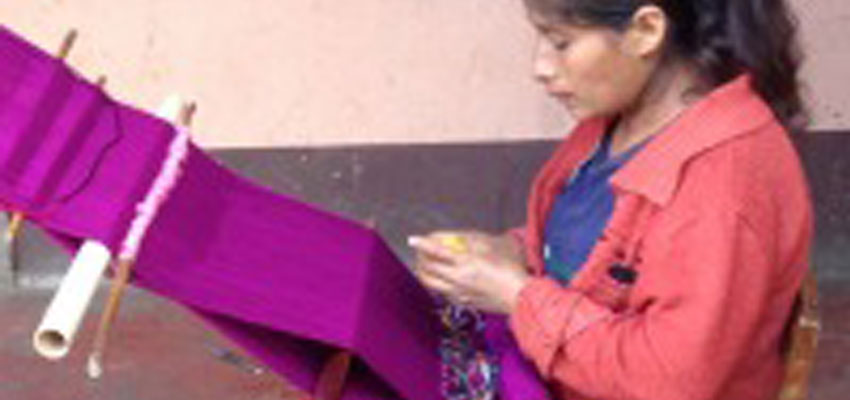 Colorful and intricately woven textiles are a common sight in rural Guatemalan markets, like the one I wandered through in Nebaj with my D-Lab colleague Kofi Taha when we launched a program there earlier this month. 
As eye-catching as these traditional fabrics are, I was fascinated by the process of weaving them, with their myriad short threads skillfully intertwined. 
The way in which D-Lab's rich network of programs has evolved and the patterns of crisscrossed relationships that have emerged remind me of these Mayan textiles. I am amazed when I look closely at the densely woven patterns of people, programs, and stories that have become D-Lab. And I know that just as the complexity of a Mayan textile makes it both durable and beautiful, that something similar is true for the fabric of D-Lab.
Using the October issue of the D-Lab Digest, I am going to attempt to reveal to you the intricacies of connections and patterns that exist in our people and programs, highlighting the connections between the featured stories.
Mitesh Gala, featured as a new Scale-Ups fellow, participated in the 2010 International Development Design Summit (IDDS) and holds an MBA from Colorado State University, a consortium partner of the International Development Innovation Network. 
Mitesh's Jarna Pump (India) is a class project this semester of D-Lab: Design for Scale that instructor Eric Reynolds blogs about. Other projects of this class are Ghonsla (Pakistan) by Zehra Ali, also a Scale-Ups fellow, and JustMilk (South Africa) founded by Stephen Gerrard (D-Lab: 2006 and IDDS alumnus: 2008, 2009, 2010) and others. 
Stephen attended the same 2010 IDDS summit as Mitesh, and the coordination of that summit brought Eric to D-Lab that same year. Eric's co-instructor, Harald Quintus-Bosz, has been also instructing and organizing IDDS for six years (and overlapped with all of them in 2010). 
Moving forward four years, there is a video feature of IDDS 2014 (Tanzania). Around minute 4:16, IDDS participant and D-Lab alumnus Elliot Avila chats with villagers about avocado processing. As part of the D-Lab: Developmentclass, Elliot worked on the making of artisanal, natural-dye crayons in Avani (India). 
Avani is the community partner in Northern India for D-Lab Study Abroad that instructor Libby Hsu (co-instructor for D-Lab: Development and D-Lab: Energy) reports on from her recent visit. 
Coming back to Elliot, he did his undergraduate thesis on designing a cargo tricycle for Wecyclers (Nigeria), founded by Scale-Ups fellow Bilikiss Adebiyi-Abiola, and is now working at Global Cycle Solutions, founded by D-Lab Scale-Ups fellow Jodie Wu in Tanzania. 
Like Elliot, Betty Ikalany attended IDDS 2014 in Tanzania, and is featured as Ugandan Innovator and Energy Champion. Betty is the CEO and founder of Teso Women Development Initiatives (TEWDI), a Ugandan enterprise supported by the Scale-Ups Harvest Fuel Initiative (HFI). 
As part of HFI, D-Lab researcher Dan Sweeney provides technical support to TEWDI, and traveled with a group of D-Lab: Development students to Uganda to work on the improvement of charcoal production and do emissions testing of stoves. This very same emissions testing is what brought Dan to Guatemala to do clean cookstove field tests with Soluciones Comunitarias, with whom Kofi Taha and I are partnering with to bring the Creative Capacity Building (CCB) methodology to Guatemala. 
Interestingly, Kofi and Amy first met Betty in Uganda on their way to deliver some CCB trainings in the North of the country. And equally interesting, one of the projects that Libby is considering in Avani is how to use the residue from a gasifier to make charcoal briquettes - the same charcoal briquettes that fuel Betty's TWEDI in Uganda.
In light of this, an opportunity to rebrand ourselves may emerge -- how about...
D-Lab: Weavers of Lives!
--------------------
Read Victor's blog about his recent trip with Kofi Taha to Guatemala
Kicking off Grassroots Innovation in Guatemala
Contact Victor Grau Serrat