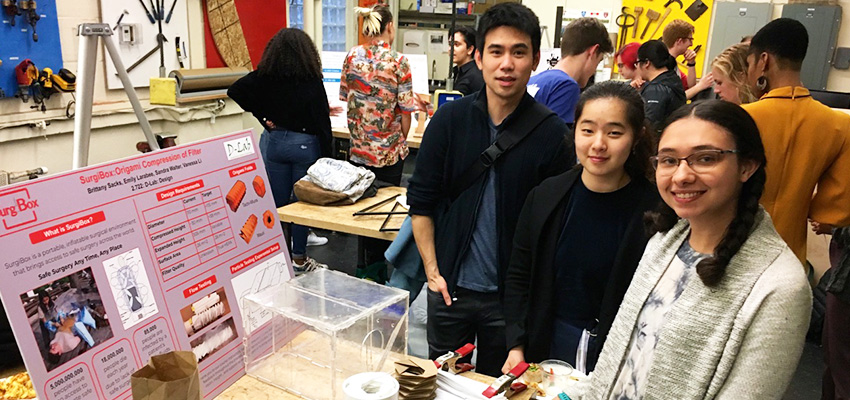 Scene from the Spring 2019 D-Lab Student Showcase.
MIT D-Lab
Final presentations & working prototypes from current D-Lab students
One hundred eleven students

27 projects

14 countries: Botswana, Brazil, Colombia, Egypt, India, Indonesia, Kenya, Malaysia, Mexico, Nigeria, Peru, Rwanda, Uganda, USA
Friday, December 6th from 5:00 to 7:00 pm - At D-Lab, MIT N51-3rd Floor
Attendees had the opportunity to speak with student teams and view all the posters and working prototypes on display throughout the D-Lab space! Student projects were presented from the following classes:
Instructors - Libby Hsu & Bish Sanyal
BOTSWANA
Partner: These Hands
Students: Anna Johnson, Christopher Kiel, Julia Milton, Amelia Seabold, Meghana Vemulapalli, Katherine Xiong
BRAZIL
Partner: Anjos do Sertao
Students: Muskaan Aggarwal, Yuji Chan, Rhea Mehta, Sarah Moseson, Simran Pabla, Clarice Tan
COLOMBIA
Partner: C-Innova
Students: Ahmad Mujtaba Jebran, Sridevi Kaza, Pedro La Rotta, Haniya Shareef, Cindy Si, Amanda Wasserman, Athena Zhang
INDIA
MEXICO
Partner: Oaxin, Tejiendo Alianzas
Students: Abigael Bamepoeye, Yu Jing Chen, Mulan Jiang, Chiaki Kirby, Olivia McGrath, Julianna Rodriguez
UGANDA: Youth STEM workshops with Makerere University and TEWDI in Soroti. Product development for Auntie Betty's chili powder.
Instructors - Julia Heyman, Anish Paul Antony, Eric Verploegen
KENYA: Improving the design of room-scale evaporative cooling chambers.
UGANDAˆDesigning a heat exchanger to help with non-solar fruit drying.
Partner: TEWDI Uganda
Students: Arnav Y. Patel, Lucy Jackson, Caroline G. Boone
Instructors - Sally Haslanger & Libby McDonald
KENYA: Workshops on menstrual health and co-design of sanitary napkins
Partner: Society Empowerment Project
Students: Yasmin Afifi, Carolyn Lam, Nikita Jindal, Alanna Uthgennant, Deepa Manjanatha, Cynthia Ni, Julia Camilli, I Made Subagiarta
PERU: Movement building workshop with women miners in Secocha that weaves together public narrative and co-design
Students: Anicia Gillespie, Sofia Ramirez, Daniela Teran Endara
Instructor - Les Norford
EGYPT: Evaluation of strategies to reduce energy and carbon emissions and improve visual and thermal comfort in the Magdi Yacoub School
Partner: Mansoura University
Students: Nina Huttemann, Ji Min Lee, Victoria Lopez Cabeza, Sunghwan Lim, Jinqiao Meng, Herbert Nuwagaba, Bryan Ong, Vanessa Pipitone, Nicole Teichner, Mirah Xu and Ilia Yazdanpanah,Yesufu O'ladipo (TA)
Instructor - Stephen Graves
COLOMBIA: TRES - Evaluation of demand for urban transit that could be served by pedicabs
Partner:
Students: Jairo Rodriguez-Tovar, Wei-Ching Lin
INDIA: Design of supply chain for household fan
INDIA: Supply chain evaluation of deployment of chilling stations for collecting milk from farmers
INDIA: Supply chain coordination:  modeling and optimization of supply chain for components supplied by EMSYS to Selco
Partner: Selco and EMSYS
Students: Brian S Glat, Audrey Pettigrew
INDONESIA & MALAYSIA: Supply chain design: determination of location of facility for insect farming
Partner: INSEACT
Students: Sophie Li, Harshal Singh, Enuma Mokel, Jaeho Kim
NIGERIA: Supply chain operations: development of system for procurement and inventory management for commodities for pharmaceutical stores
Partner: Lifestores
Students: Ogbogu Ukuku, Saffron Deasey, Aleena Shabbir
RWANDA: Supply chain evaluation of farmer-promoter initiative to recruit farmers to use Kumwe's logistic services
Partner: Kumwe Solutions
Students: Crystal Pham, Sarah A Moseson, Grace A Quaratiello
UGANDA: Supply chain planning for family planning services at public health clinics
Instructors - Susan Murcott & Libby Hsu
INDIA: Investigating alternatives to the use of acid in desalination in India to make the process safer and cheaper
INDIA: Improvements to a gasifier used to incinerate human waste, and planning to pilot the use of the gasifier in an Indian market
Partner: Insanirator
Students: Phillip Dixon, Elliott Donlon, Caroline Ko
KENYA: Working with Maasi women to: 1) build ISSB rainwater harvesting tanks 2) implement a ceramic pot filter marketing strategy based on lean marketing and 3) conduct a 5-day WASH training course to "train the trainers"
Partner: Mama Maji
Students: Savitri Fouda, Kendyll Hicks, Reika Ishii, Shawn Luo
USA: Devise campus-wide recommendations for municipal water conservation and efficiency strategies and practices across all campus systems and to reduce the need for and demand for bottled water purchases.
Students: Shail Joshi, Nina Mascarenhas
Instructors - Kate Bergeron, Harald Quintus-Bosz, Sorin Grama, Maria Yang
INDIA: Developing a low-cost respiratory monitor for babies
Partner: InSync
Students: Harith Morgan, Zoe Wolszon, David Griggs
INDIA: Developing an actively cooled bag for last-mile deliveries of perishable items
GLOBAL: Reducing cost, size, and weight of a portable, surgical field that fits in a backpack
Partner: SurgiBox
Students: Chinh Bui, Carson Tucker, Sandra Walter
KENYA: Pay-as-you-go gas meter for Kenya
Partner: PayGo
Students: Sheila Kennedy-Moore, Srimayi Tenali, Titan Hartono
Instructors: Rich Fletcher & Karin Hodges
---
Contact
Libby Hsu, Lecturer & Academic Program Manager