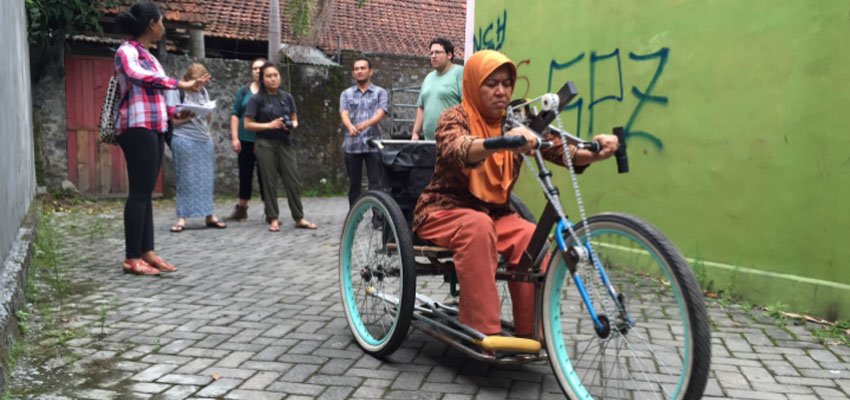 Traveling to Indonesia with students from D-Lab: Development and D-Lab: Mobility, our project was to gain some user feedback on a hand-pedaled tricycle design for Free Wheelchair Mission, an NGO planning to begin production and distribution of tricycles in the developing world. RUK is a wheelchair provider in the city of Yogyakarta with physical therapist staff for proper fittings and to train new users. They are a local organization under United Cerebral Palsy Wheelchairs for Humanity (in bahasa indonesia, UCP Rota Untuk Kemanusiaan) and the people at RUK were wonderful hosts and we were incredibly fortunate to have their support.
To connect with trike testers, we worked closely with Sri, one of the RUK staff. Sri is disabled and a wheelchair user, and she set up appointments for us with people who already used trikes so we could elicit feedback on the new design as compared to existing products. Over the course of our trials, we heard a few times our testing prototype was better than the trike they were using, which was nice to hear. We also came away with useful critiques of specific features, so overall the user testing went well, though not as expected. 
To begin with, we did not test with the prototype the D-Lab: Mobility students put together during the fall semester, but with a factory prototype from the organization itself. This was a good improvisation, and we could more confidently test the design knowing the test prototype shipped to us in Indonesia was exactly as it would be shipped all over the world. A less positive adjustment we had to make during the project was with the quantitative data from our user testing and interviews. Delaying the testing to wait for the factory prototype cost valuable time and restricted the amount of clients we were able to see. Further qualifying a small pool of feedback, the clients we interviewed had a wide variety in ability and lifestyle, and we also had a different location to work with on each visit, so we were not able to give numerical data as hoped with our critiques and recommendations to the organization on the prototype design.
Seeing a diverse range of disability made the trip a much more personal experience, for all that it compromised any lofty aspirations of a concise statistical evaluation. The truth is, there are a variety of circumstances that might make a handcycle useful to someone and it is hard to gauge design calibration for a normal user, because a normal user profile needs to somehow encompass an amputee on crutches, a polio survivor who can walk short distances, and someone with cerebral palsy, while also account for the functionality within the normal challenges and normal situations of this so-called normal lifestyle.
One of the women we met ran a business making and selling peanut and spinach chips. At the points in her delivery cycle where the road is too steep for her trike, she calls her husband and he can drive up real quick, tug the trike up from his motorbike, then goes back to work. They make it work. Another woman spent five hours one morning pedaling to a nearby city, occasionally stopping to pour water on the trike wheels to keep the shape from deforming in the heat. 
Working with Sri was a constant inspiration, and I can't imagine the project without her translation skills and contacts from being such an active member of the disabled community around Yogyakarta. Sri rides a motorbike, too. It's modified to accommodate her wheelchair, so she can roll up on a constructed side attachment to the bike body, and the steering column is shifted to her position alongside the engine with hand control adjustments. The motorbike is covered in stickers from cities with all sorts of exotic names you recognize from vacation blogs and coffee brands that are mementos from long road trips she takes across the islands of Indonesia with her motorcycle community friends. While Sri is disabled and doesn't have normal mobility, she is positively abnormal for all sorts of remarkable virtues.
Ideally, the impact from the feedback we got can trickle back to RUK eventually, with their mission to situate clients with the best product for their individual lifestyle. When Free Wheelchair Mission launches the final design it will be another option for a certain type of able-bodied human and facilitate all sorts of people going places.