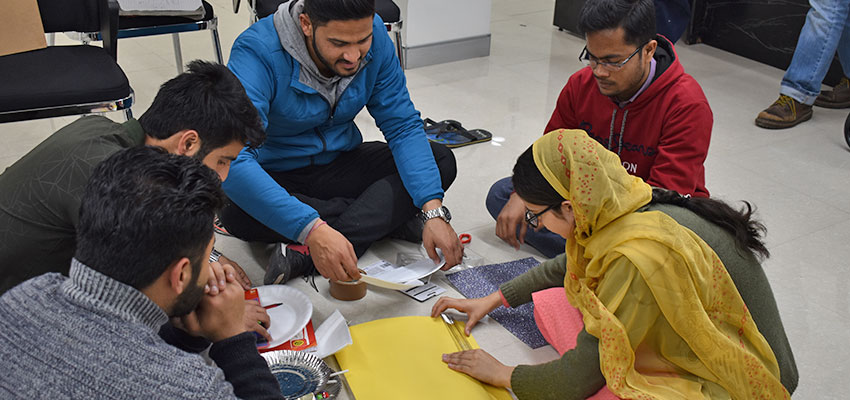 MIT D-Lab
At MIT D-Lab we believe that the process, in addition to the products of design can be transformational. Just prior to a visit to explore collaboration opportunities at the Indian Institute of Technology at Ropar in January 2020, I learned that I was not the only visitor on campus. My hosts, Professors Asad Sahir and Dhiraj Mahajan were also looking after 18 engineering students from the Islamic University of Science and Technology at Pulwama (IUST). With schools and communication in Kashmir under government-imposed shutdown since August 2019, universities across India were hosting Kashmiri students whose campuses were closed. Given that the purpose of my visit was to understand challenges in North India that D-Lab and IIT could work on together, I thought these students might want to learn about D-Lab's approach to problem-solving, so we organized a short design workshop following D-Lab's participatory design approach. The IUST students were eager to design for real problems in Kashmir- misinformation, communications, and movement of goods. Their enthusiasm and energy to Design for Kashmir was inspiring. Now, having returned to Kashmir, but under a new lockdown, we are continuing the design process through a data-lite, remote open learning course. -Dan Sweeney, MIT D-Lab
---
India has been in a nationwide lockdown to prevent the spread of COVID-19. For us in Kashmir, we are used to living with restrictions on our daily lives. During the recent seven-month security lockdown and communications blockade, schools in Kashmir closed and university students either did not study or found host universities in other parts of India to attend.
Our group of 20 engineering students from the Islamic University of Science and Technology (IUST) in Pulwama spent those months at the Indian Institute of Technology in Ropar (IIT-Ropar) where we attended classes, worked in research labs, and enjoyed the freedoms that we did not have in Kashmir.
In January, our hosts at IIT, Professor Asad Sahir, and Professor Dhiraj Mahajan, partnered with research scientist Dan Sweeney from MIT D-Lab to offer a workshop where we were given the opportunity to design solutions for our challenges in Kashmir and across India. The workshop really helped our group and gave us a chance to think of solutions to challenges in our home that we thought were impossible to solve.
We considered several challenges that affect people's day-to-day lives in Kashmir and a process for an effective way to work in teams to solve those. Dan taught us about the design process and we were guided through activities to help us frame the problem and identify possible solutions. We were also provided with some craft materials to create a visual representation of our idea.
The problem that my team worked on was communication blockades that prevent people from connecting with each other and accessing information. This is a problem that is faced every day by our community. To begin the process, we learned about each other's working styles, and then we tried to identify the root cause of our challenge using the problem framing tree.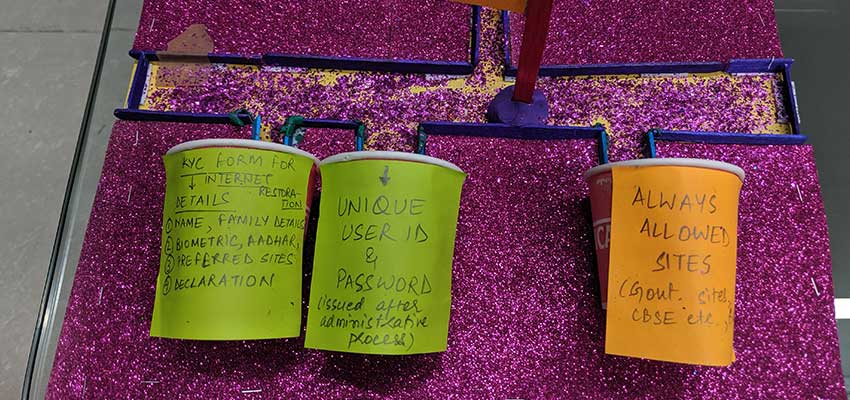 Other teams focused on different problems, for example, the misuse of social media and misinformation. As a whole, we wanted to come up with solutions that would create a more peaceful environment in India.
Our team decided to focus on a way to engage people from across our community in decisions and sharing information. The instructors encouraged us to think of many ideas quickly, even if they seemed unrealistic. We designed an organization with leaders from across different religions that would negotiate with the government to implement limited restrictions on specific online content, so that people can freely communicate and access information, and for students to study. This would help to bring more peace to our community. In the end, we created a sketch model that shows everyone participating in a meeting with our new organization.
We, as students, thank everyone from MIT D-Lab as well as from IIT for boosting us up and we are motivated to continue working on these ideas to help our community.  Unfortunately, soon after the restrictions were reduced and we returned to our university, the coronavirus lockdown began and campus closed again, sending us home. Due to restrictions on the internet, we were not able to participate in online courses. Fortunately, we have worked together with Dan to start the Kashmir Open Learning Course that works within our internet limitations and allows us to learn about new topics and continue working on the design projects.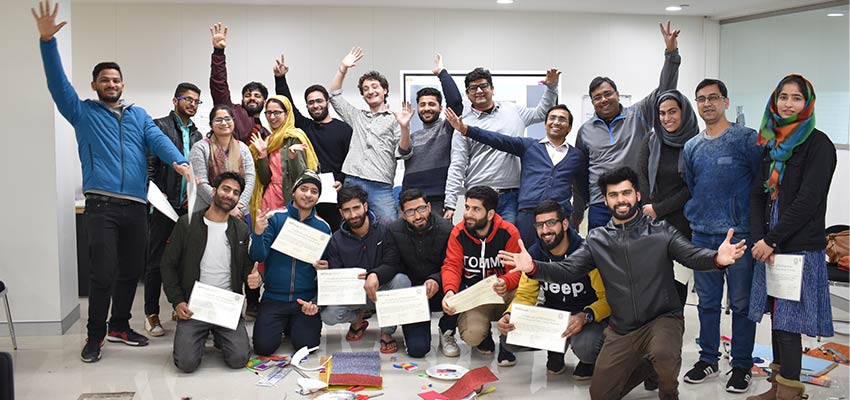 ---
About the Author
Mahshida Hamid is a mechanical engineering student from the Islamic University of Science and Technology, Awantipora, Kashmir. Being from a part of the world where communication and the internet are occasionally off, I also look to Kashmir's beautiful nature as a technical guide and inspiration. I am also a keen lover of art, poetry, and literature. I feel life is short so we have to make every effort to make it worthwhile.
---
Contact
Dan Sweeney, MIT D-Lab Research Scientist