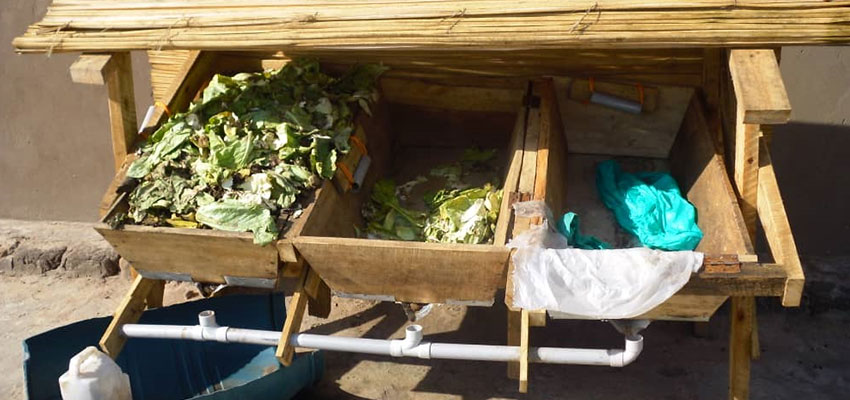 Compost being made outside of Bayiga's house in Rhino Camp. Photo: Richard Maliamungu
MIT D-Lab | IDIN
The summit
The International Development Design Summit (IDDS) Uganda 2019: Transforming Household Livelihoods took place from August 21 to September 7, 2019, with 28 participants and 18 organizers from 11 countries. Among the organizers and participants were MIT D-Lab Founding Director Amy Smith and two D-Lab students, Sandy Walter and Megan Ochalek. During this two-week summit, participants learn about design and entrepreneurship by co-creating a technology and developing business models with community members from Rhino Camp Refugee Settlement.
IDIN network members on the ground in Rhino Camp spent some time following up with each of the projects from IDDS Uganda 2019. We are so excited to share with you their updates, showing how the businesses launched through the summit are getting off the ground!
September 7
At the end of the summit, Agnes and Vivian from Drika Camp checked out tools from the resource library at the YSAT innovation center to be able to strengthen the mushroom house, after it had been transported to Vivian's house for use by their business.
September 12
Richard made an initial follow-up visit after the summit, where he documented that Mama Makana has their pedal-power machine on location to begin use. Drika has started selling some mushrooms, and more have been growing from other bags. Bizra Booster started preparing organic waste for decomposition. Saka is planning to start making charcoal from agricultural waste soon.
September 18
During Richard's next follow-up visit, he found that Mama Makana is now using their machine to make paste and earned 4000 Ugandan shillings. Bizra Booster has started filling their containers with organic waste and noticed there are now more worms to help with the composting process. Drika earned 3000 shillings from selling mushrooms. Ecowuzi has started their bag-making project. Saka's press developed some mechanical problems but are looking forward to fixing it.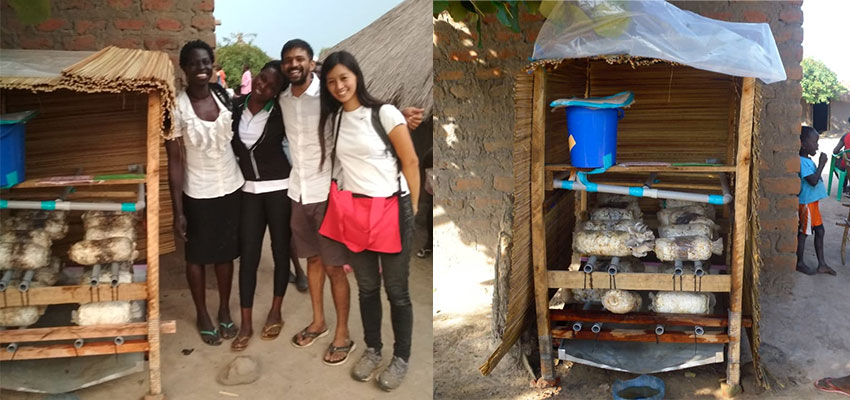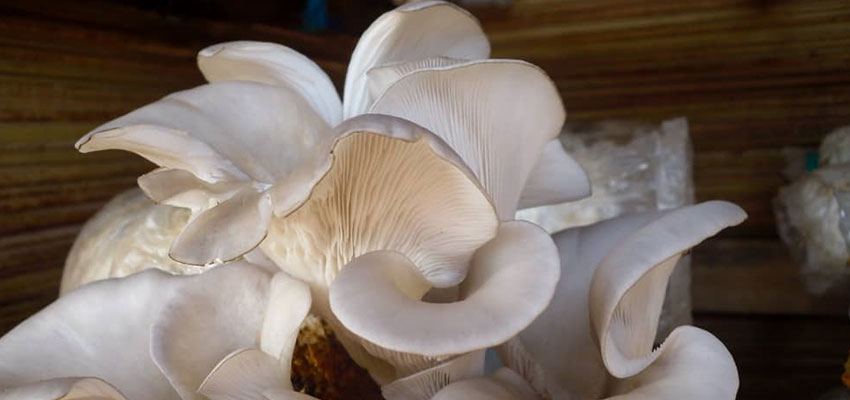 September 23
Vivian shared that Gelba A Simsim is starting to make and sell simsim sweets in the market. Additionally, Mama Makana has been making more paste, and Ecowuzi has been weaving more bags. Mushrooms have been continuing to sell and organic waste is continuing to be decomposed by the worms.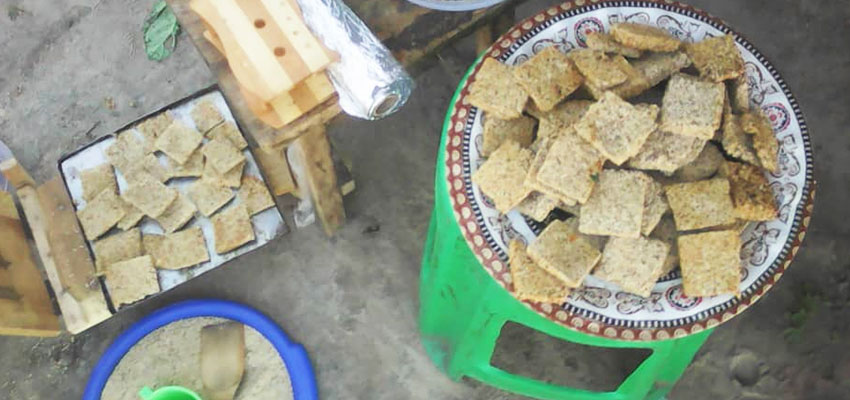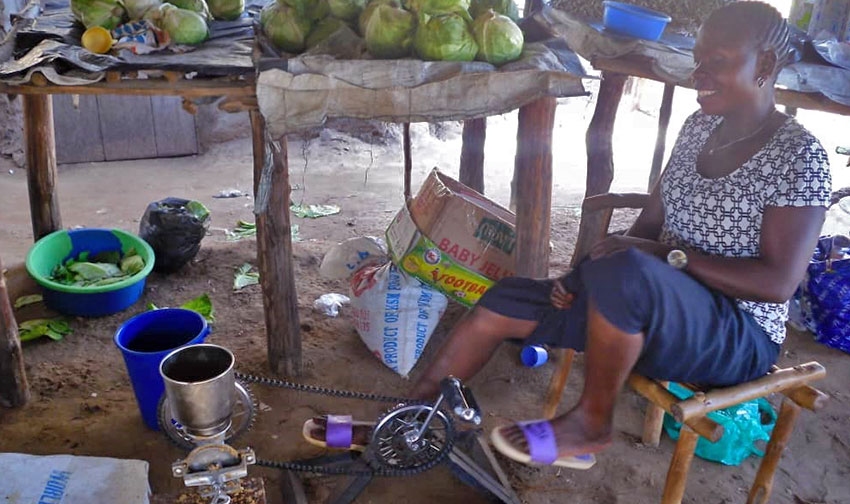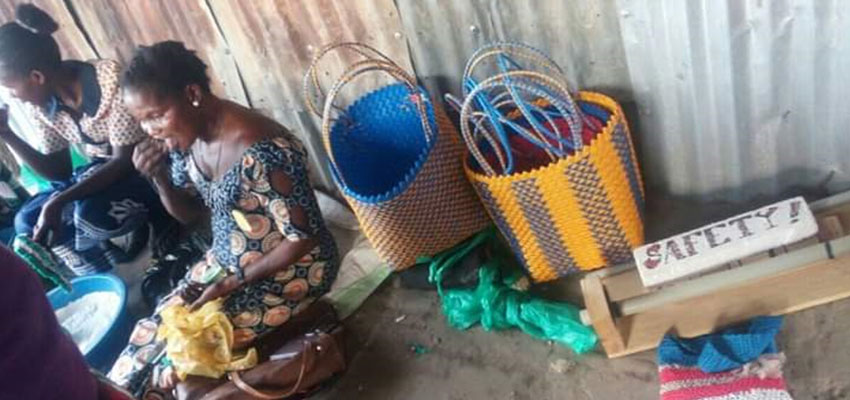 Richard reports that current challenges for these fledgling businesses include how more funding is needed to improve and repair prototypes. For example, Saka's press has not been fixed since the final showcase. Some projects like Gelba A Simsim and Ecowuzi may take some time for the community to become adapted to new methods, because people are more used to making simsim sweets by hand and making bags out of materials other than recycled plastic yarn. Many team members are figuring out how to "balance the equation" between their family responsibilities and projects. His suggested next steps include raising more funds to support these businesses, connecting with more experts in the field for support and advice, as well as generating additional ideas for new businesses that could be launched in the future.
Please contact us if you'd like to join in on our efforts to support the refugee livelihood projects launched out of this year's summit. We are currently seeking funding, in-kind donations, technical mentorship, publicity, and other forms of support – let us know your ideas!
Read here for more on the six IDDS Uganda 2019 project teams.
Read here for an interview with Richard, a refugee participant in the summit.
Read here for a first person reflection from summit participant Faith Kathoka.
---
Jessica Huang is a doctoral candidate in public health at Harvard, and she has co-founded and co-taught two undergraduate classes at D-Lab as well as led D-Lab's youth engagement in partnership with school teachers from around the world. Jessica has been involved in IDDS and the broader IDIN community since 2008, helping with summits in the US, Ghana, Brazil, India, Colombia, and Guatemala. Most recently, she helped to organize the 2019 summit in Uganda on refugee livelihoods and served as a representative at the UN Solutions Summit, where she helped to bring IDIN on as a new Acceleration Partner.
---
More Information
International Development Innovation Summits
Contact