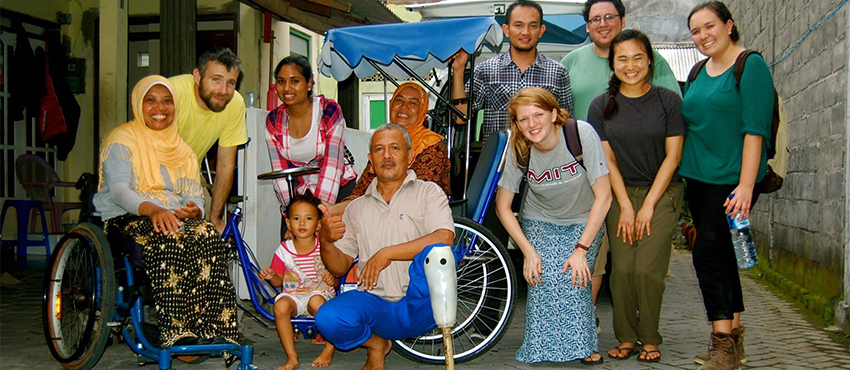 D-Lab: Development and D-Lab: Mobility students in Yogyakarta, Indonesia to work with United Cerebral Palsy Wheels for Humanity, January 2016.
Giving to MIT D-Lab
Thank you for considering a gift to MIT D-Lab that supports our work with students and people around the world to develop collaborative approaches and practical solutions to global poverty challenges. It is the generosity of our friends and supporters that makes D-Lab's ongoing work possible. 
Ways to support MIT D-Lab
Please click here to make a donation to one of D-Lab's two funds: 
D-Lab Annual Fund (3854550)
D-Lab Endowed Fund (3137510)
Once you complete the simple online process, MIT will email you an electronic receipt suitable for tax purposes.
What your gift can accomplish
Sponsor a D-Lab student's trip to a developing country to work with a local community partner during IAP, spring break, or the summer. $3,000
Underwrite a D-Lab class project including the research, development, and prototyping of an affordable technology for use by a D-Lab community partner in a developing country. $5,000
Advance D-Lab's monitoring and evaluation program to enable tracking, capture, and reporting of the real-world impact of our classes and field programs. $10,000
Supply the D-Lab shop with a year's worth of materials needed by students and resident designers prototyping technologies for resource-poor settings. $25,000
Sponsor a one-year Scale-Ups Fellowship in social entrepreneurship to bring a hardware-based, poverty-alleviating product or service to market at scale. $30,000
Fund a D-Lab research project (lab, supplies, travel, and salary) to make a real difference in a community living in poverty. $100,000+
Endow an MIT graduate fellowship to strengthen D-Lab's unique research portfolio. $500,000 
---
Contact
For more information about MIT D-Lab or making a gift, please contact Mary Ellen Flather, D-Lab Resource Development Officer.