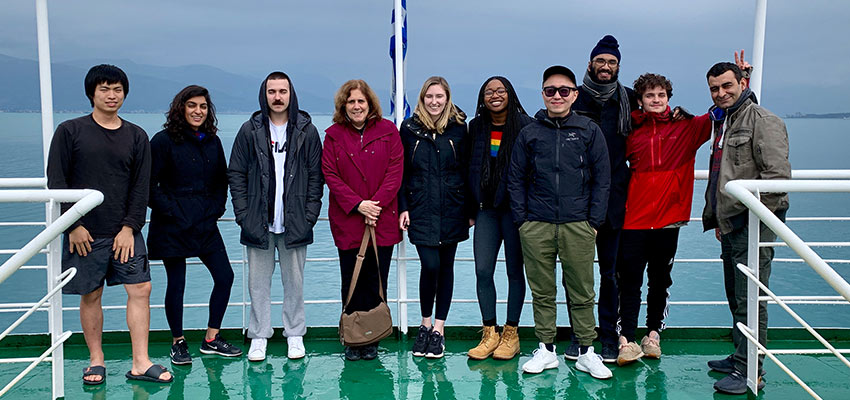 D-Lab students, staff members, and community partners in Athens, Greece. The staff and students were working on a D-Lab Humanitarian Innovation program with the Greek NGO Faros, which provides support to unaccompanied refugee minors and women refugees. January 2019. Photo: MIT D-Lab
To fulfill our mission to advance collaborative approaches and practical solutions to global poverty challenges, MIT D-Lab strives to foster diversity, equity, inclusion, and belonging in all we do.
We strive to do so as a moral imperative and also because:
Diversity drives richer ideas and solutions.

Equity ensures that all voices are heard and valued.

Inclusion results in a seat at the decision-making table.

Belonging means that we all feel welcome and confident in our roles.
As such, D-Lab is committed to:
Dedicating time and creating safe spaces for people to voice diverse perspectives in decision making, teaching, research, and in our work with community partners.

Acknowledging, working to understand, and repairing the power imbalances that have historically marginalized many voices, including in the field of international development.

Progressively becoming more diverse, equitable, and inclusive, and ultimately becoming an anti-racist organization.
In this way, we aim for D-Lab staff, students, and collaborators around the world to be able to design for a more equitable world.
Goals
1. Demonstrate a clear commitment to DEIB
Publicly communicate our DEIB goals, values, and approach on the D-Lab website and in print materials.
Embed DEIB in the organization's strategic priorities and internal processes and systems.
Incorporate DEIB into the organizational budget to cover the DEIB committee's key activities and staff time.
2. Establish an equity culture
Engage D-Lab staff, students, and affiliates in learning, reflection, and conversations under the leadership of the DEIB committee.
Ensure that all who represent MIT D-Lab, particularly those with decision-making power (e.g., supervisors, project leads) and who engage with key audiences (e.g., instructors, trip leaders), have the training and tools they need to effectively design for inclusivity in their courses, research, and projects.
Progressively improve diversity and representation, particularly in decision-making roles at D-Lab, by utilizing bias-free hiring, fair and transparent annual review processes, and transparent promotional pathways and milestones, and progressively working towards becoming a diverse, equitable, and inclusive organization.
3. Model best practices
Systematically track progress against DEIB goals both internally and externally through the measurement of key indicators each year.
Advance and disseminate participatory and inclusive approaches to address global poverty challenges in pursuing our mission at MIT and abroad.
Highlight and communicate that D-Lab was founded as, and is committed to always being, a values-based organization.
---
Contact
MIT D-Lab DEIB Committee
Nancy Adams - Communications Administrator
Megha Hegde - Research Associate & UROP Coordinator
Libby Hsu - Associate Director of Academics, Lecturer
Kendra Leith - Associate Director of Research
Ana Pantelic - Executive Director
Martha Thompson - Humanitarian Innovation Specialist, Lecturer
Past members: Amanda Epting, Romita Mitra, Bob Nanes, Asif Obaidee, Sher Vogel
MIT Resources
MIT Institute Community & Equity Office
MIT Strategic Action Plan for Belonging, Achievement and Composition
MIT Values Statement Committee
Council on Diversity, Equity, and Inclusion (Office of the Vice Chancellor)