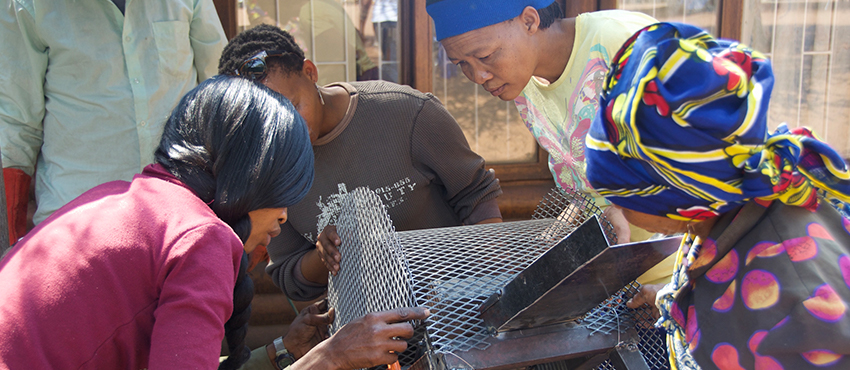 IDDS Botswana, 2016. Photo: Courtesy MIT D-Lab/These Hands
Created and launched by MIT D-Lab Founding Director Amy Smith in 2007, International Development Design Summits (IDDS) are hands-on design trainings that bring together a diverse group of people to co-design low-cost solutions to challenges faced by people living in poverty.
International Development Design Summits
The IDDS Steering Committee solicits and oversees summit proposals, provides mentoring to summit organizers, facilitates the coordination of and opportunities for the network, and more. D-Lab's Amy Smith is one of seven international members of the committee.
Summits emphasize the idea that designing with communities is more powerful than designing solutions for them. During a summit, participants work in teams with community members to learn the design cycle, identify problems and solu­tions, and test prototypes.
Design summits can last two weeks or a month, and typically take place in a developing country. Some sum­mits delve into a specific topic such as urban waste sys­tems, while others address broad topics like agriculture, health, and education. All result in viable prototypes.
To date, there have been 29 summits in 11 countries. Impact and outcomes of the summits are closely moni­tored and evaluated. One study showed that two-thirds of respondents taught design and co-creation to others in the 12 months after IDDS, over half were working on an innovation or venture, and over half applied col­laborative design in their work.
Learn more about IDDS: Apply to organize a summit or Apply to attend a summit
International Development Innovation Network
After a summit is over, IDDS participants become a part of the growing International Development Inno­vation Network (IDIN) of more than 1,000 members. In addition to individual members, some local groups of network members (chapters) and local innovation centers also bear the IDIN name.
Supported by USAID funding, 14 of D-Lab's Scale-Ups Fellows have been IDIN members, including three of the 2017-2018 cohort.
D-Lab Student Engagement
IDIN member projects are typically the focus of half a dozen D-Lab class projects each year and IDIN members host many D-Lab student fieldwork projects during MIT's Independent Activities Period in January.
Communications & Technical Support
MIT D-Lab is a proud organizational founding sponsor of IDDS/IDIN. As such, D-Lab provides communications and other technical support to the IDDS Steering Committee and to the network.