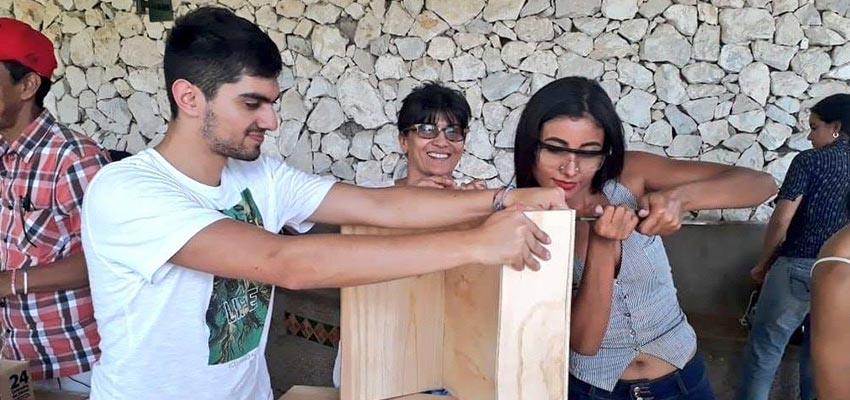 Participants working together at the 2018 International Development Design Summit Coastal Communities, Colombia. Photo: MIT D-Lab
IDDS: 2007-2012
From 2007 to 2012, the International Development Design Summits were run by volunteers from MIT D-Lab, Olin College of Engineering, and host communities around the world. During this period, six summits took place at MIT (2007 and 2008), Kumasi, Ghana (2009 and 2011), Colorado State University (2010), and São Paulo, Brazil (2012). These early summits were funded through small grants, donations, and attendance fees.
The birth and growth of IDIN: 2012-2017
In 2012, D-Lab won funding from USAID's Higher Education Solutions Network. With this funding, the International Development Innovation Network (IDIN) was created as a consortium of institutional partners, led by MIT D-Lab with a full-time staff of eight. IDIN staff coordinated summits, increased the frequency and geographic reach of summits, created and oversaw opportunities for IDIN members, and established research and student programs. Seventeen summits took place from 2012 to 2017 and 14 IDIN members were selected for D-Lab Scale-Ups Fellowships. Also during this period, IDIN projects and ventures were increasingly taken on as "clients" for D-Lab class projects, and one of D-Lab's research scientists led a summit.
The next generation of IDDS & IDIN: 2017-present
Since the fall of 2017, IDDS has been run by an international volunteer steering committee of dedicated and experienced individuals from the network. D-Lab's Amy Smith is one of the seven committee members overseeing and supporting the annual program of summits. D-Lab remains a founding institutional sponsor of IDDS and IDIN and provides communications and other technical support to the IDDS Steering Committee and to the network. D-Lab students engage with the IDIN network through class projects and fieldwork.