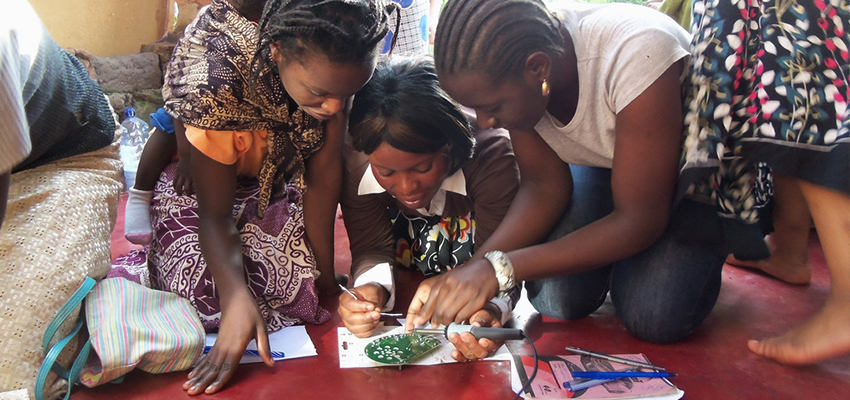 D-Lab student-led radio-building workshop, Zambia.
"Impact is not just the product of innovation – it is the process of innovation."
– Amy Smith, MIT D-Lab Founding Director
And the process of measuring our impact – on D-Lab students, on the communities around the world with which we work, on how research is carried in vulnerable communities, and much more – is something we take seriously.
MIT D-Lab has professionally trained, deeply experienced staff members who thoughtfully and systematically measure the impact of our work. Their approach to impact measurement is guided by three principles: integrity, learning, and participation. Read more about MIT D-Lab's approach to measuring impact.
Theory of Change
D-Lab's theory of change illustrates how the work we do leads to the impact we aim to achieve. It forms the foundation of how we design, execute, and evaluate our work.
Download MIT D-Lab's Theory of Change
Impact Goals
D-Lab founder Amy Smith has said, "Impact is not just the product of innovation; it is the process of innovation." In that spirit, D-Lab drives toward two goals. The first is better solutions: we strive toward a world where more effective products and services reach the users who need them, improving their incomes and their quality of life. The second is better development: we dream that a more inclusive approach to tackling poverty challenges becomes the rule and not the exception.
Pathways
We work towards these goals in three ways: we design, we teach, and we influence. In collaboration with innovators, entrepreneurs, and end-users, we develop and support solutions that can be delivered at scale. Through our classes and global workshops, we teach inclusive design and development to people at MIT and around the world. And by developing new findings and approaches, and sharing them through global communities of practice, we can influence others to adopt effective methods and inclusive practices.
Touchstone
All of our strategies hinge on a central point: the learning and transformation of individuals. Across our work, people come away with new skills, knowledge, mindsets, and relationships. Whether we are designing a product, teaching a class, conducting a study, or convening a summit, people and their learning are at the center.