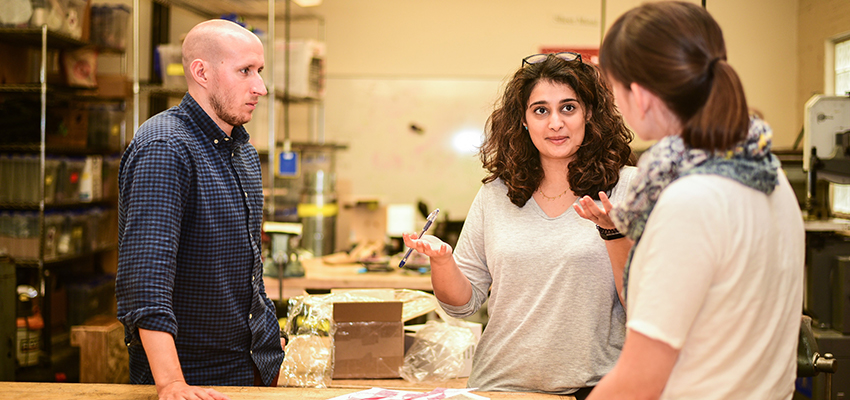 Presenting findings and learning to the Innovation Ecosystem Builder team back at MIT D-Lab.
"Developing the monitoring and evaluation framework for each organization got me thinking about what metrics incubators and accelerators should look at when it comes to measuring success."
Startups and social enterprises are widely regarded as key to addressing development challenges, especially in emerging economies. They can create employment, drive growth and deliver much-needed products and services to communities. This is especially true in India, which is fast emerging as a leading center for startups. Globally, it is ranked third with more than 4,000 startups creating over 80,000 jobs. This has led to a growth in the number of incubators and accelerators supporting these organizations, with an estimated 45 percent of these located in three major hubs – NCR (ie. Delhi, Gurgaon and Noida), Mumbai and Bangalore. These supporting entities play a pivotal role in providing early-stage startups with mentorship and can help nurture new ideas, build networks, and support the mobilization of financial resources.
During the summer of 2018, I worked as a Monitoring & Evaluation Fellow with MIT D-Lab, supporting their India-based Innovation Ecosystem Builder Fellows to design, test and implement tools and strategies to measure the social impact of the organizations these fellows work for - InnovatED (Delhi) and Capria Venture BaseCamp (Bangalore). Both organizations provide early-stage startups in India with the support, skills development and resources needed to set up, grow and scale their ventures. The core mission of these organizations: to increase the number of successful grassroots entrepreneurs and organizations addressing various challenges and local needs.
As each organization's challenges were unique, I worked on two distinct projects this summer.
Part I. Developing a growth tracker for innovative startups working to eliminate educational inequality
I kickstarted my summer in Delhi, working with the team at InnovatED: an incubator operating under the Teach for India umbrella. InnovatED works with alumni of the Teach For India Fellowship program who have spent two years working as full-time teachers in low-income schools across the country. Having gone through this intensive and deeply personal program and witnessed first-hand the challenges and gaps that exist in the education system, these alumni are committed to setting up their own education social impact ventures with the support of InnovatED. 
Now at the start of the selection process for the second year's cohort, the InnovatED team was keen to establish a measurement framework which helped them monitor impact on two levels: (1) the impact their program was having on entrepreneurs and their organizations and (2) the impact that these entrepreneurs and organizations were having on their direct and end beneficiaries.
Using this as our jumping off point, we built a Google Drive-based monthly growth tracker modeled around the Building Blocks of an Organization which had been identified by and were core to InnovatED's offering. These building blocks are known as the 6 P's and comprise Proposition, People, Proceeds, Processes, Partnerships, and Promotion. A prototype of the growth tracker was sent to InnovatED's first cohort, the team as well as partners for feedback. Their comments and inputs helped us iterate and improve the framework in order to make it more intuitive and user-friendly.
The final tool that was developed included personal dashboards for each entrepreneur to track their organization's growth in addition to a program-wide dashboard for InnovatED to monitor and track the success of its program.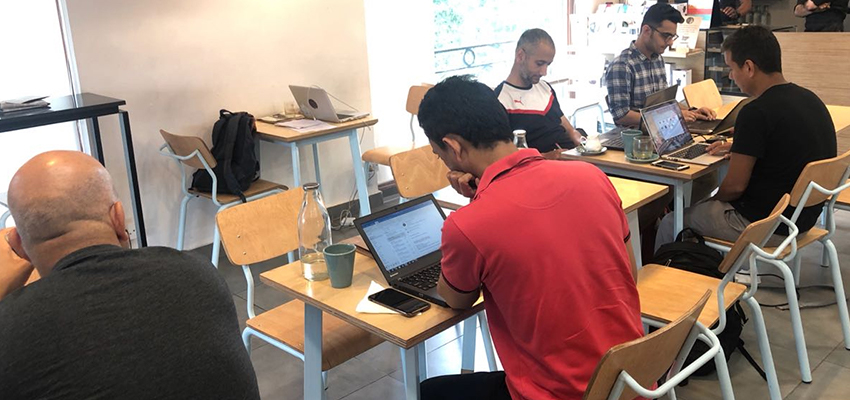 Part II. Designing a diagnostic tool to assess an entrepreneur's starting point
The latter half of my summer was spent in Bangalore, often described as the Silicon Valley of India because of the number of IT companies who have made this vibrant city their hub. On the ground, I worked with Capria Venture BaseCamp (VBC), an initiative of the global impact investment firm, Capria Ventures. VBC strives to bridge the skills gap that exists in the Indian startup ecosystem by providing incubators and their entrepreneurs with the right skills and training needed to build scalable ventures.
As the VBC team worked towards developing learning modules for their September 2018 beta launch, they needed a way to determine where learners should begin. Their strategy was to develop a diagnostic skills assessment that entrepreneurs would take at the start of the program to help place them in one of six levels, using VBC's Critical Success Framework for startup growth. Based on their level, they would get access to catered learning modules to help them and their organizations in their current growth stage. 
The diagnostic tool that we developed was a two-tiered questionnaire that allows entrepreneurs to self-assess their current level of growth across each of the 12 Critical Success Elements. In addition, the tool allows VBC to cross-check and confirm that entrepreneurs have assessed themselves accurately. The beta model of this tool is currently being developed by the VBC team and will be tested in September.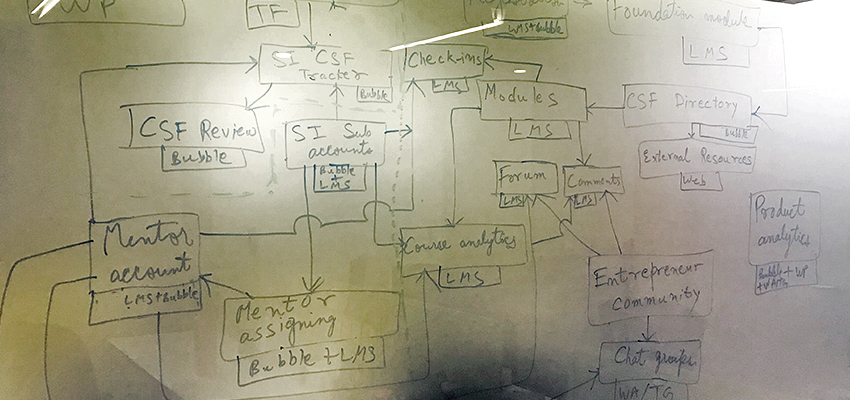 Takeaways and lessons learned
Developing the monitoring and evaluation framework for each organization got me thinking about what metrics incubators and accelerators should look at when it comes to measuring success. Should it be driven by outcomes — how much funding the organization has attracted, the growth in the number of employees, and the number of beneficiaries or customers reached? Or alternatively, should we be looking at the factors that lead to success of the organization — whether they have the necessary tools and systems in place to attract investors, whether they have a balanced team in terms of experience and skills, and if they have a concrete and well-developed strategy in place to reach and impact their beneficiaries and customers? My work this summer allowed me to experience both ends of this spectrum and understand better the benefits and pitfalls of each evaluation method.
As I look back on my time in India, one of my biggest takeaways was understanding the important role that startups and incubators like InnovatED, Venture BaseCamp and others across the country play. I'd like to take the opportunity to thank the InnovatED and VBC teams for welcoming me into their team, being open to new ideas and providing a great learning experience and environment. The skills and knowledge I acquired were extremely beneficial and ones I hope to take forward and use in the future.
---
Rachita Mehrotra is an MPA in Development Practice candidate at the at Columbia University's School of International & Public Affairs (SIPA) where she is specializing in development practice and management. Prior to SIPA she worked in executive education and development consulting across Asia and the Middle East.
---
Contact
For more on MIT D-Lab Monitoring, Learning, and Evaluation:
Laura Budzyna, Monitoring, Learning, and Evaluation Manager
For more on MIT D-Lab Innovation Ecosystem Builder Fellowship:
Molly Rubenstein, Innovation Ecosystems Manager