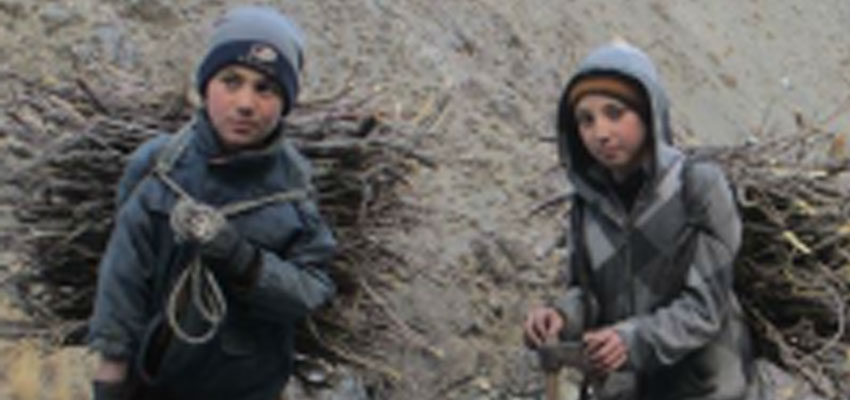 Children collecting firewood
Raised in Pakistan, Zehra is a current D-Lab Scale-Ups Fellow who completed her SB in Mechanical Engineering in 2007 and her SM in Technology and Policy in 2009 at the Massachusetts Institute of Technology. She is the founder and CEO of Ghonsla, an innovative technology company that provides sustainable and affordable insulation to underserved markets starting with Pakistan. 
To date Ghonsla has installed over 160,000 square feet of insulation in over 325 homes, schools, offices and places of worship being used by 2,000 people in different parts of Pakistan. In the process of manufacturing insulation- over 350 tons of paper waste and two tons of plastic PET bottles have been utilized and annually they estimate a saving of 100 tons of wood (30 percent of current consumption for space heating amongst 100 customers). 
-----------------------------------------------------------------
The focus at Ghonsla has been on expanding our operational reach and increasing the volume of insulation retrofits. Since theD-Lab Scale-Ups fellowship was announced, Ghonsla has increased its insulation footprint by over 60 percent -- serving over 120 customers in the past eight months and growing operations to another district, Gilgit, in northern Pakistan. 
As we grow our customer base, our efforts are focused on three main areas:
Adding to the product portfolio
Last fall we made a decision to hold the production of insulation fiberboard from recycled paper till we had more options available for higher capacity, cost–effective and quality manufacturing of the insulation that could be used both for the roof (ceiling) and walls as well. 
Instead of focusing on one product, we sought out other economical green building insulation materials being manufactured locally and also abroad. These have included insulation made from recycled PET bottles and we are currently also working with a German insulation fiberboard manufacturer and a Finnish cellulose insulation company to see if there is a product market fit prior to making modifications in the insulation production. 
For independent insulation production, we plan to raise investment of $800,000- $1,000,000 by the end of the year, including a separate source of energy generation. 
Shifting focus from a technology to a service company
This past year much of our effort has been on improving our customer service model and optimizing the value chain to reduce costs and also increase efficiency of insulation retrofits. Much is to the credit of the dedicated operations team that is working in the community.
The operations in the northern areas of Pakistan are being led by Hidayat Rehman- a historian and anthropologist turned entrepreneur, under whose leadership over 60 installers have been trained (of whome 35 are actively employed) and who has built a local network of champions and promoters leading insulation drives in their communities. Currently, Ghonsla champions are in over 30 main villages across the Chitral district in Northern Pakistan. 
At Ghonsla, customers comes first, especially since they invest a significant proportion of their income or savings  (~$300-$500) to insulate their homes. Our installers do not shy away from insulating homes- be it at altitudes of 5000 feet or more, or temperatures below freezing. 
Product financing
In line with our customer service model, we have also developed a line of product financing. Over 50 of our customers have availed of it last year with $15,000 in disbursement and nearly 100 percent recovery. On seeing the demand and workability of product financing for insulation, one of the main microfinance institutions operating in the area has approached us to add our insulation service to their product portfolio as well. In the next three months, we also plan to deploy a scheme using mobile money to pay for insulation in installments. This is in line with our plans to engage with our customers and field team via mobile phone –from getting a quote on insulation requirements to scheduling installations and following up with customers on energy use.
By June this year, we are confident that through our focus on customer service and also building on our product portfolio; we should be able to triple our reach and insulate a minimum of 75 homes per month.
- Visit Zehra's D-Lab Scale-Ups page.
- Visit the Ghonsla website.
- Find out more about D-Lab Scale-Ups fellowships.