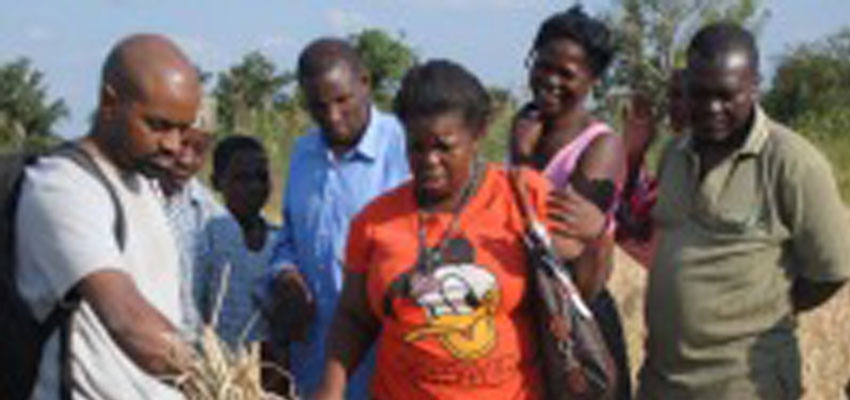 July has been a big month for Global Cycle Solutions (GCS).  With the second half of its Scale-Ups Phase II grant and a funding boost from the Gates Foundation, GCS now happily welcomes many new faces to its team including Hope Gabone, MultiCrop Thresher Project Manager and Liaison Officer, and Godfrey Mwinama, Project Engineer who will be a part-time consultant, and Gussai Sheikheldin, our product fellow who started in March.  Joining the team for the summer are D-Lab alum April Zhu, a rising senior from Wellesley, and Elliot Avila, a rising senior from MIT. April is helping with MultiCrop Thresher branding and exploring incorporating design thinking into our field efforts. Elliot is working on a MultiCrop Thresher prototype to optimize rotor speed and design for the device. The next month or so will be quite eventful as we head into the field with a commercial thresher and Elliot's prototype, while we explore other issues on a prototype in the shop.
The overall goal of Elliot's prototype is to optimize throughput based on speed, moment of inertia, and beater design. Elliot's role during trips to the field is to collect data from paddy, wheat, and sorghum that will inform these functional requirements. This prototype is designed for testing and data collection—it runs on a generator-powered drill that allows us to control speeds, it accommodates Lab Quest and LoggerPro so we have accurate readings for rotational speed, and the beaters on the rotor are removable and can easily be changed.
We will also be bringing an ACME thresher to the field to control for "finished-ness," in order to explore market interest, receive feedback, and observe interactions with a machine that is already being marketed and used extensively elsewhere in the world. How much are people willing to pay for this thresher, and why? Could farmers share a single machine and how would that work? What do existing agribusinesses think of this thresher? Having a fully functional physical thresher is key to helping us prototype user interactions and explore business and distribution models. In addition, using the ACME thresher in the field will allow us to confirm if the throughput is as high as reported, and may highlight some features or problems that we can address in our own future prototypes.
A third prototype, which we will not bring to the field, is more of a sketch-up which we can play with and fabricate ideas back at GCS. We built this in order to begin exploring design options in three dimensions. For example this rough prototype has an adjustable rotor that allows us to easily vary rotor radius and interchangeable beater bars. At this point, it is not ready to be taken out to the field for serious threshing, but we would like to see it progress to a point where it could become a useful test for ergonomic or structural design requirements because it is so loosely calibrated and easy to transform. Tanzanian inventor and engineer, Bernard Kiwa, has been working on this thresher at the GCS workshop, so stay tuned for updates on this one after we return.
We are now gearing up to head to Morogoro, one of Tanzania's most rice-abundant regions. Under Hope's leadership we will be exploring business models and getting in contact with local agribusinesses and farmers' co-operatives, as well as going back to the drawing board and asking human-centered design questions in preparation for the field: What can we learn from users' interactions with the prototypes?  How can we improve our design to increase its impact on the customer value chain? 
We look forward to the results to come as we try out the IDEO's Human Centered Design methods.  Stay tuned for more updates!
More on the newest members of the MultiCrop Thresher team!
Hope Gabone, MCT Project Manager and Liaison Officer, has worked in over a dozen regions of Tanzania. Holding Bachelors in Communications from St. Augustine University, and with four years of experience doing field work for the World Bank, Hope is excited to join us in Arusha to take this project to the next phase.
Godfrey Mwinama, MCT Project Engineer, has joined GCS as a part-time consultant.  He holds a Bachelor's and Master's in Agricultural Engineering from Sokoine University of Agriculture and is the Production Manager at CAMARTEC (Tanzania's "Centre for Agricultural Mechanisation and Rural Technology"). Godfrey brings connections from nearly six years in agricultural engineering, and he is excited by taking on this new project.