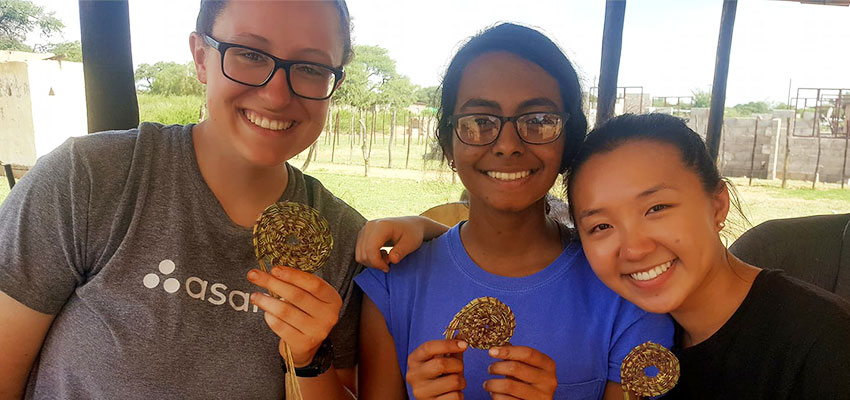 Proud traditional basket weavers with their hand crafted coasters! Three D-Lab: Development students in Botswana: (left to right) Rebecca Sloan, Smita Bhattacharjee, Anna Wan.
MIT D-Lab
First Peek into Botswana
The month of January saw a colorful kaleidoscope of extraordinary experiences and incredible people for Team Botswana. Composed of three students from the D-Lab: Development class, the team built upon their Fall 2018 coursework by traveling to Botswana and collaborating on technological projects with a country partner, These Hands.
These Hands, an organization that seeks to foster innovation at a local level, is led by Thabiso "Blak" Mashaba who has founded multiple innovation centers around the country. A major focus of the class was to contribute to sustainable technologies that could improve the quality of life in rural, low-income communities and work towards understanding one's role in making the world a better place.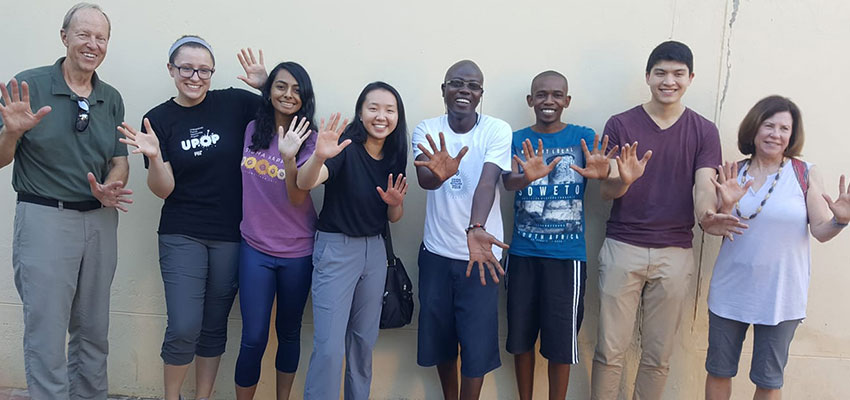 The objective of the field work in Botswana was to advance such projects and conduct collaborative workshops on low-cost technologies. Anna Wan (Wellesley '21), Smita Bhattacharjee (MIT '21) and Rebecca Sloan (MIT '20), along with their trip leaders Justin Carrus (MIT '17), Tom Lewis, and Marcia Verploegen worked on multiple projects:
bean thresher
hydroponic fodder apparatus
evaporative cooler
two "Build-It" sessions
Beginning in the capital, Gaborone, they were able to travel to many parts of Botswana's diverse land – experiencing the dry heat of the Kalahari Desert in Dutlwe, the tropical lushness of Maun, and the blindingly reflective white sand in Rakops. In three-and-a-half weeks, the team faced challenges and triumphs that allowed them to grow as engineers, students, and world citizens, focusing on learning from and serving other fellow humans.
First Stop: Dutlwe, Botswana
The bean thresher project was borne out of the 2018 IDDS summit held in Botswana. The bean thresher functions by breaking the bean pod, separating the bean from the chaff. The traditional method consists of hitting the bean pods with sticks to achieve separation and winnow the chaffs using natural wind. While the prototype was functional, it often did not fully thresh the beans and its stand caused large amounts of weight and tension on the hand crank.
Through co-creation with the community, the D-Lab team helped to create a sweeping mechanism for the beans made from a recycled conveyor belt and a new metal stand that is collapsible so the entire bean thresher can be disassembled and transported by donkey cart to the farms. The current plan for the bean thresher is to create it into a service so that the bean farmers around Dutlwe can pay a small price to have their beans threshed, saving them the hours of hard labor required if they were to thresh them by hand. With the improvements made to the prototype, the bean thresher is in position to be used this harvesting season out in the fields.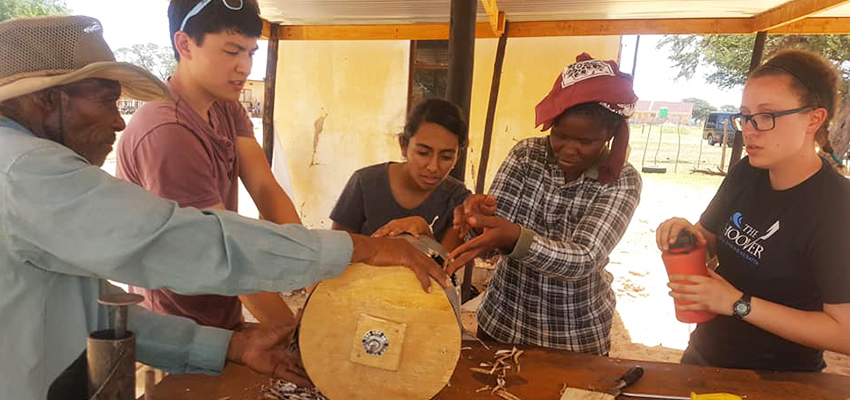 The evaporative cooling project (stemming from current research at D-Lab on Evaporative Cooling for Vegetable Preservation) focused on food preservation, which is an important issue related to people's health and well being in many countries including Botswana. Since electricity is often expensive or unavailable, an evaporative cooler is a viable solution. Created using local materials, it cools its contents through the evaporation of water and can take two main forms: 1) a portable clay pot cooler and 2) a sedentary brick cooler. In Dutlwe, we began by visiting multiple potters in order to scout out materials for clay-making. Once we had gathered the materials - anthill termite soil and clay soil - the local community became galvanized by the prospect of a clay pot-making workshop. Engaging the community in pot-making provided a platform for evaporative cooling through which we led workshops on making both the clay pot cooler and the brick cooler. As this project is a marriage of indigenous knowledge and modern science, a bulk of knowledge came from the community members who were extremely generous with the sharing of their personal resources and materials.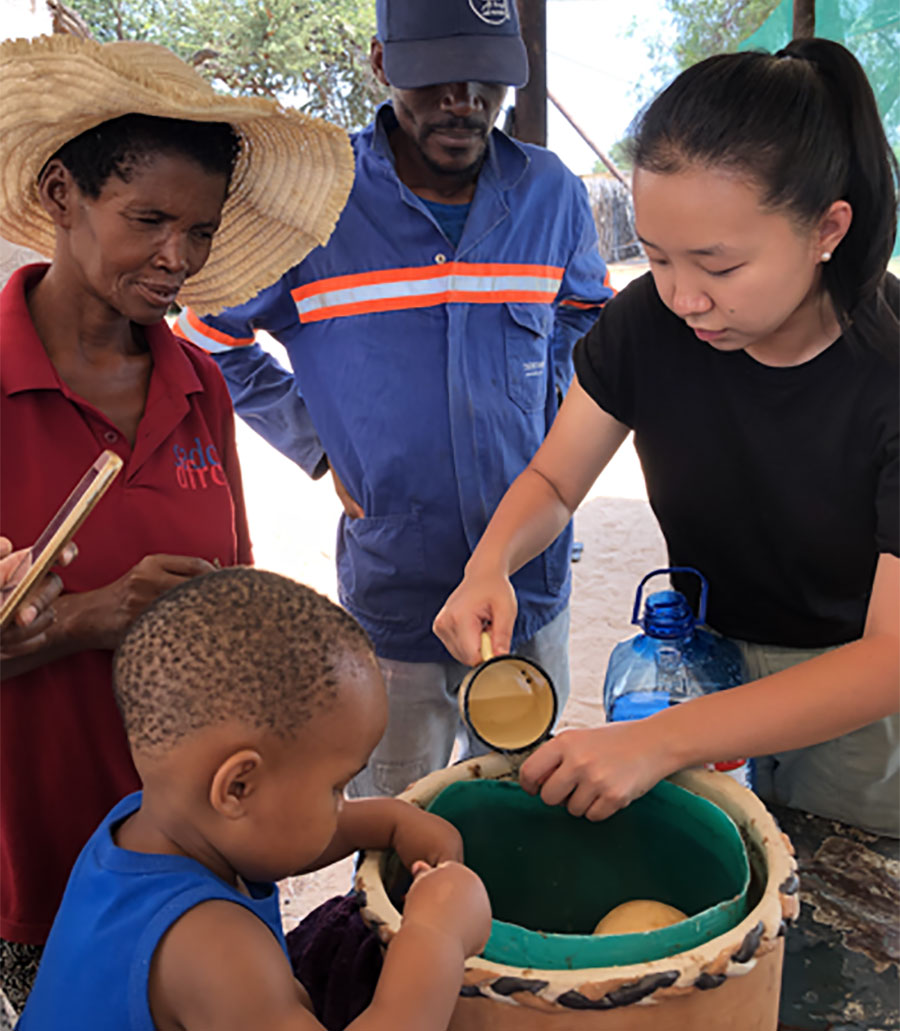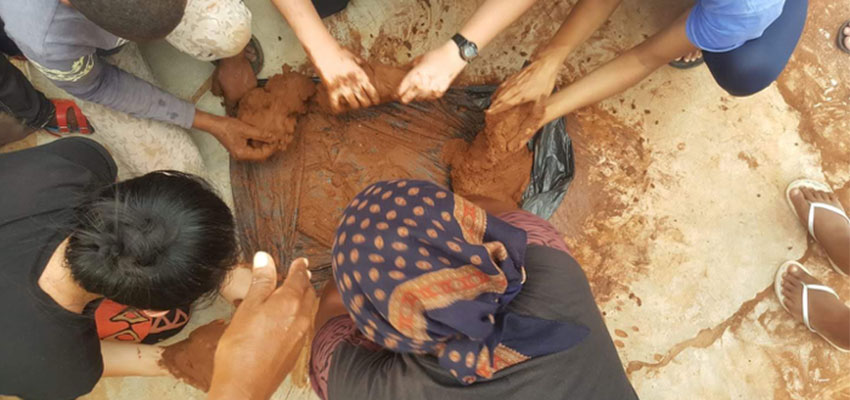 The team took a day off of the main project work in Dutlwe to hold a Build-It session with community members. The goal of build-its is to teach community members new skills and to inspire confidence working with tools while creating helpful tools.
The build-it projects in Dutlwe were the evaporative cooler along with a bucket washer and a dish scrubber. The bucket washer was created using three plastic buckets and a plunger in combination to create a hand-powered washing machine so that the user's hands do not have to come in contact with the harsh soaps for long periods along with saving time and water. The dish scrubber was a simple project to help community members learn how to use basic tools and create a pot scrubber using metal wool and wood. The final dish scrubber helped community members clean large pots in a more effective and less labor intensive way. The community members all had a great time learning to drill holes in plastic buckets and plungers for the bucket washer and learning to use hammers, hand saws, and a jig saw for the dish scrubber. A diverse range of participants came to the day of build-its, created their own team songs and dances, pulling the team alongside for hours of laughter and community building. All participants came away with a new set of skills and new confidences in their ability to use tools.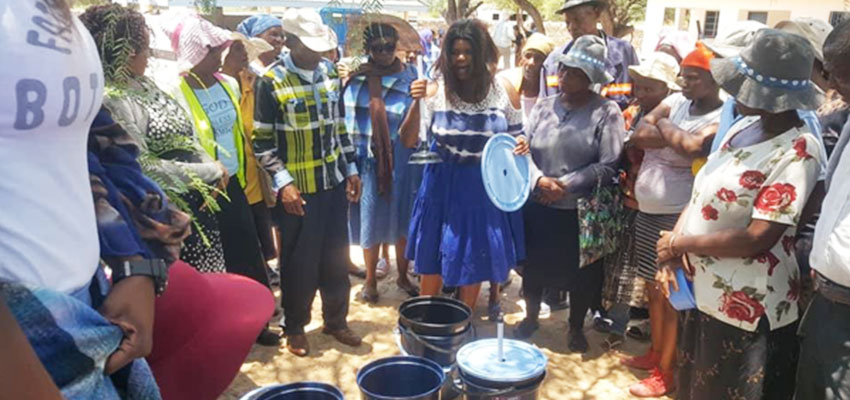 Second Stop: Maun, Botswana
After project work in Dutlwe, the team ventured on to Maun, a spectacular village that lies in the heart of the Okavango Delta. The Okavango is an beautiful land that acts as home to some of the world's most endangered species along with diverse flora and fauna. Anna, Smita, and Rebecca went on a safari game drive in Moremi Game Reserve and had the delight of getting up close and personal with elephants, zebras, giraffes, and impalas, amongst other amazing animals.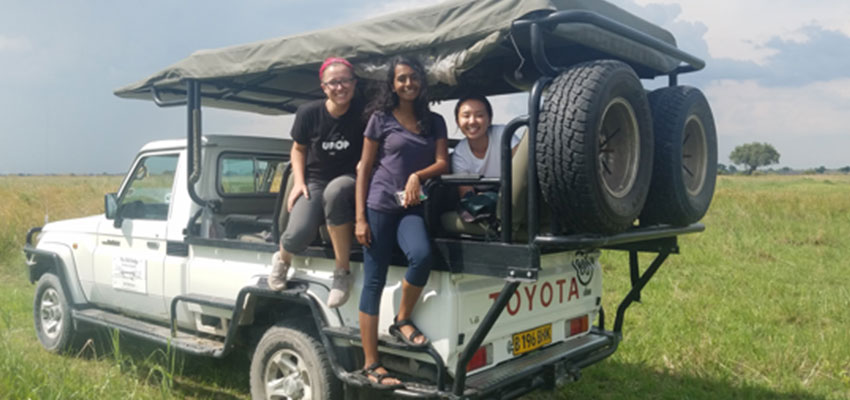 Final Stop: Rakops, Botswana
The main project in Rakops was the Hydroponic Fodder project. During the dry season, 30 percent of cattle die out due to starvation and lack of fodder. The Nosa Momela Hydroponic Fodder project was developed first in the 2018 IDDS summit in Botswana as a wooden prototype with slanting trays that facilitate drip irrigation to help promote the growth of fodder. With the goal of creating a new prototype that was disassemblable, lightweight and modular, we co-created a design using PVC and sheet metal. The final design consisted of a PVC frame with slanted plastic trays that allowed water from a bucket at the top to drip down to promote the growth of fodder in the trays. With the frequent passage of water through the system, questions of water quality arose. We decided to test different ways of measuring pH using common items such as tea. The tea was an effective indicator because it turned darker when the water was basic and lighter when it was acidic. Ideally, farmers would be able to test their water for irregular pH to inform when water needs to be replaced.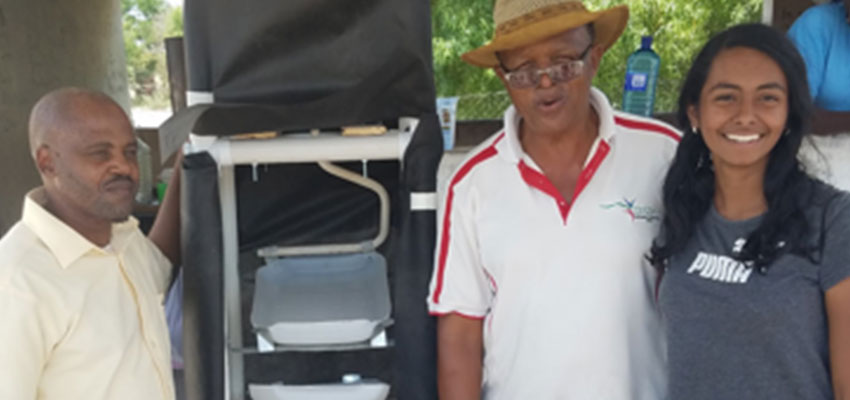 In Rakops, evaporative cooling looked different due to the different resources available. No longer in the Kalahari, this village lay near the Makgadikgadi Pans, one of the largest salt flats in the world. With an absence of the clay needed to create pots or an industry of pot-making, we focused on creating a brick cooler. In order to use to optimal brick, we tested multiple materials, settling on a mud-clay brick. The brick used was in fact the remnants of a community member's house. The intense winds of Rakops had blown a portion of her house down, so the bricks were repurposed into a cooler.
The stay in Rakops also included another build-it day for the team during which they again taught community members about the evaporative cooler, bucket washer, and dish scrubber. The community participation was incredible, and the community members were able to teach the D-Lab team as much about their community as the team was able to teach about tools.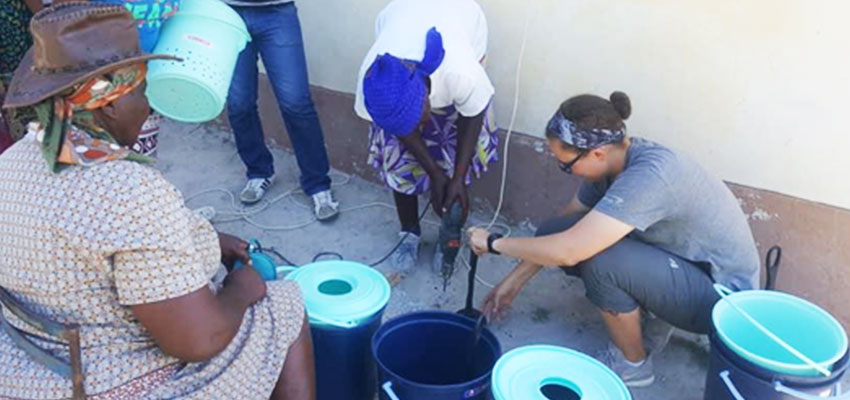 Reflections on the Month
Before leaving each village, Blak organized a cultural night where the team and the community members held a braai, a traditional Tswana barbeque, accompanied by singing, dancing, and magnificent music. Local performing groups showcased their talents and inspired us to connect with the rich and long history of the land. Working daily with the community members was extremely rewarding, and spending cultural nights dancing and singing with them was a deeply moving experience. Our time in Botswana was an intimate learning experience that left us keen to serve the world and other fellow humans in the future. We hope that as we re-adjust to life in Boston, we will be able to carry some of Botswana with us.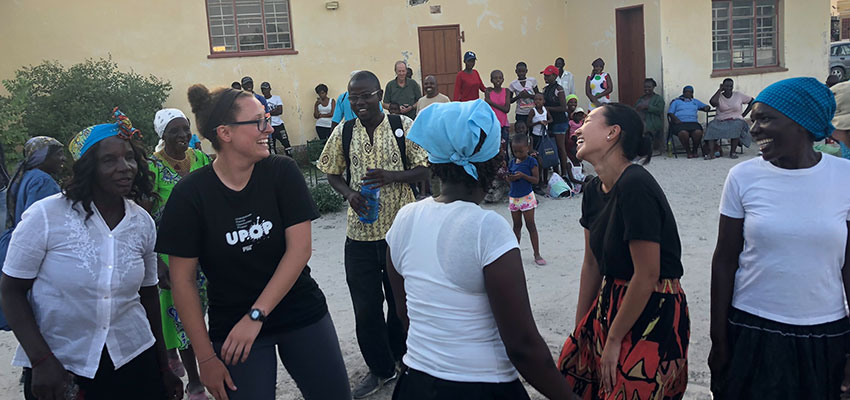 ---
About the authors
Anna Wan is a sophomore at Wellesley College studying Political Science with a focus on International Relations. She took D-Lab: Development in Fall 2018 and is currently in D-Lab: Education and Learning pursuing equitable, collaborative learning methods.
Rebecca Sloan is a junior at MIT studying Chemistry and Biology with a minor in Polymers and soft matter. She is currently enrolled in D-Lab: Smallholder Agriculture and hopes to stay a part of D-Lab project work throughout her time at MIT.
Smita Bhattacharjee is a sophomore at MIT studying mechanical engineering with a concentration in medical devices. She is currently continuing her project work from D-Lab: Design in Spring 2018.
---
Contact
Libby Hsu, lecturer and MIT D-Lab Academic Program Manager