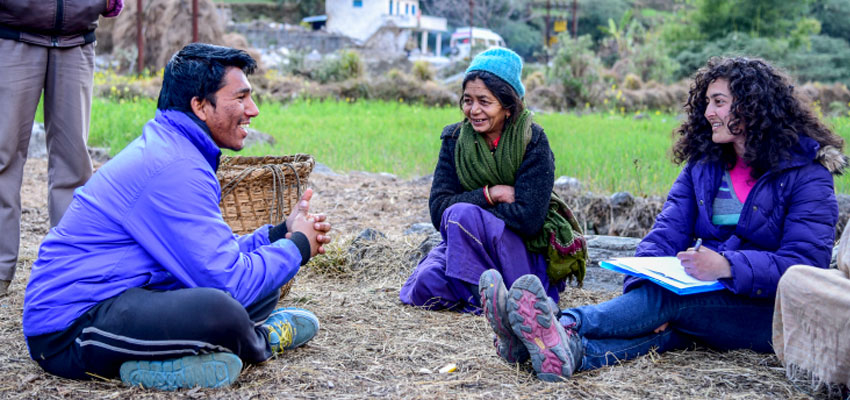 Nupur (right) and her translator Deepak Bhatt (left) interviewing a woman in a village in Bageshwar district of Uttarakhand (center).
The Project and its key take-aways
The purpose of the project was to gather market data for a current MIT research project Development of Low-Cost Water Filter Using Sapwood Xylem in process under Rohit Karnik, Associate Professor of Mechanical Engineering and Amy Smith, Senior Lecturer, Department of Mechanical Engineering and Founding Director of D-Lab. Our goal was to gain an understanding of the user needs and preferences of rural people in India to determine design criteria for this kind of low-cost water filter. Although Professor Karnik has found that xylem from coniferous trees could be used to filter bacteria from water, no market data was available to determine if a product would be accepted in the market and what types of needs the product needed to address. 
I traveled to Uttarahand with D-Lab Research Associate Megha Hegde as trip leader and D-Lab student researcher and Wellesley student Caroline Morris to conduct this study. We started our project in Dehradun where we met with local partner organization People's Science Institute (PSI) representatives to review the project details and gain local and team alignment on the projects goals, itinerary, and interview guide. Over a period of three weeks in India, we travelled to Almora, Kapkot, and Bageshwar, three towns at the base of the Himalayas to conduct the research activities. 
Working with local university students as interpreters, we hiked up and down the hills into various villages in each of the towns and approached villagers to conduct interviews. After completing nearly 100 interviews and a few design workshops, I was able to use what I learned in classes such as Global Engineering and New Enterprises to develop a set of market findings. 
The interviews gave me an inside perspective on villagers and their way of life. Some people had to walk for over an hour to gather their water several times a day. For many, water quality is not a priority as providing food for their families took precedence. Filters and maintenance parts were difficult to find in local markets as the villages were so remote. 
Other learnings and experiences
Aside from bolstering my academic learnings here at MIT, this trip has absolutely changed my outlook on life. In addition to learning about water filtration and water use, I learned so much more about a simpler way of life. I saw students walking for an hour each way to attend school. I laughed with a child as he ecstatically ran across the field when we fixed his broken plastic flip flop with duct tape. I tried on a crop basket and felt the enormous weight of the mustard plants against my back as I climbed the hill to the house. I was greeted with a cup of chai in every house I went to in spite of the fact that only enough electricity to power three LEDs was available in the entire house. I watched ladies lug gas tanks from the base of a hill to their kitchens in order to cook.
Each of these experiences has made me aware of the immense world outside the bubble I live in. Despite the challenges these villagers face, they never hesitated to offer whatever they had to ensure we were comfortable. This generosity and positivity is something that resonated with me throughout the trip and I hope to live my life with that level of positivity and generosity when I get back to my everyday routine.
Having been to Mumbai and Delhi for family trips before, I did not expect to be affected by culture shock; however, being in rural India was an incredibly different experience. I realized just how much of an adventure we were on when we had to go to ten different stores to find bottled water and had to drive for another hour to find toilet paper and gasoline! The food, though incredibly spicy, was so fresh and some of the best Indian food I have ever had. When handed an orange in a village, I was promptly given salt and spices to smear on the peeled orange. The mix of tangy and spicy flavors was unforgettable!
I was very surprised at how much I had in common with the villagers. We met one of the local guides at the town center and throughout the day we chatted about our interests and families, despite my only being able to speak in terribly broken Hindi and her being able to speak in terribly broken English. I was surprised at how quickly we were able to understand one another and become friends despite being from opposite sides of the world.
I learned to not take my life for granted and to be in a constant search for how to make a positive impact on others. Being in India made me miss seeing familiar food chains and not having to watch out for cow dung on the streets when I walked outside, as well as basic amenities such as access to electricity and light for 24 hours of the day. This experience has given me a new appreciation for a simpler life and the beauty of India. Additionally, it has given me a different perspective on how to view day to day challenges, and realize how they pale in comparison to other larger issues in the world. 
As a first generation Indian American, this trip not only allowed me to get a small taste of what life was like in my country of origin, but also gave me the opportunity to give back to a country that has defined a part of who I am. After cultivating some strong relationships with PSI, the Kumauni interns and the D-Lab team at MIT, I hope to continue to work on the development of the design of this filter during the upcoming semester. Though I loved my former work as an automotive engineer and have accepted a full time position in the industry after I graduate with my MBA and MS in Mechanical Engineering, I hope to actively participate in MIT's social impact projects as an alumna.
I'm grateful to D-Lab for this once in a life opportunity. I know I wouldn't have been able to learn many of these life lessons solely from the classroom. I am incredibly fortunate to have had this opportunity and will never forget the relationships I made, experiences I had, and lessons I learned!