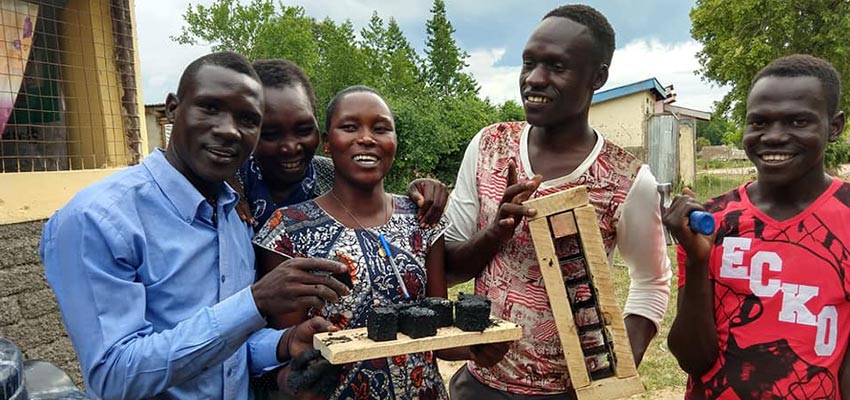 Participants in a May 2019 D-Lab Creative Capacity Building training of trainers with Youth Social Action Team in Uganda.
NextBillion
Original blogpost on NextBillion
Participation and inclusivity have been discussion topics in international development since the 1970s. But only more recently have they become prominent topics in the technology and innovation sectors. Whether it's done by companies, governments or other organizations, technology is often designed for people – not with them or by them. In some cases, designing for users may be the most efficient design method. In other cases, it can lead to well-meaning technologies that don't get used – or that can't be easily repaired because they were based on inaccurate assumptions about the users or the context of use.
In the development and design fields, we must be mindful of a few truths that exist in tension: Everybody can be active creators of technology, not just passive recipients of it – yet not everyone has the desire to co-create, or has equitable access to the resources necessary for generating and sustaining the development of that technology. As leaders, innovators and catalysts in these fields, we have the opportunity to determine when and how to give people access to the tools, time and space necessary to create together — especially in places where individuals may have fewer opportunities or less access to those resources. In this time of national and international crises caused or exacerbated by a lack of equity and equality, we can improve access to opportunity by our own decisions when designing development-focused innovations. Making those decisions can be difficult. Fortunately, there are tools and frameworks that can help.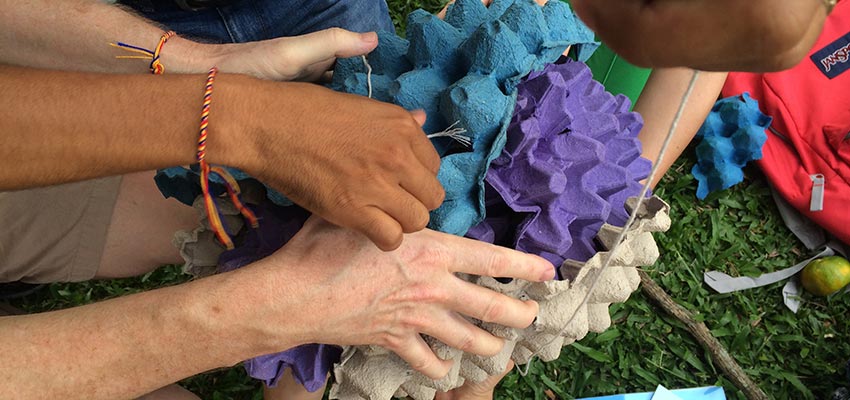 Inclusion and Innovation at a Global Scale
Over the last 18 years, MIT D-Lab has worked with people around the world to develop and advance collaborative approaches and practical, low-cost and sustainable solutions to global poverty challenges. We pursue our mission through an academic program of more than 20 MIT classes and student fieldwork opportunities; research groups spanning a variety of sectors and approaches; and a group of practitioners and programs that apply an inclusive innovation approach to these challenges.
Participatory design is one key element of our work. The term refers to a family of design approaches that actively involve end-users. Participatory design processes not only produce products aligned to people's needs, they can also build skills and confidence in participants as they practice the design process together.
D-Lab's work in participatory design and inclusive innovation teaches leaders and learners how to discern when (or if) to use a participatory design process to solve a challenge. Through participatory design, we learn how to connect more meaningfully with people of diverse perspectives, and to make decisions with them collectively and quickly. This can lead to more desirable and sustainable solutions – but participatory design is not a silver bullet, and there are times when it can be more costly than other approaches. However, when participatory design is the appropriate approach, we advocate for taking the time to include the people who are facing the challenge that the innovation will address. If necessary, this may involve covering the costs that can limit their full participation (e.g., childcare, transportation, lost wages, etc.).
Three Types of Participatory Design
At D-Lab, we practice three types of participatory design: design for the user, design with the user and design by the user. In the first type, solutions are designed for a particular user need, and users are consulted throughout the process. In the second, designers and users work together throughout the entire design process to co-design a solution together. And in the third type, users are taught the basics of design and provided access to tools and resources necessary for the design process, as they frame their own challenges and design their own solutions.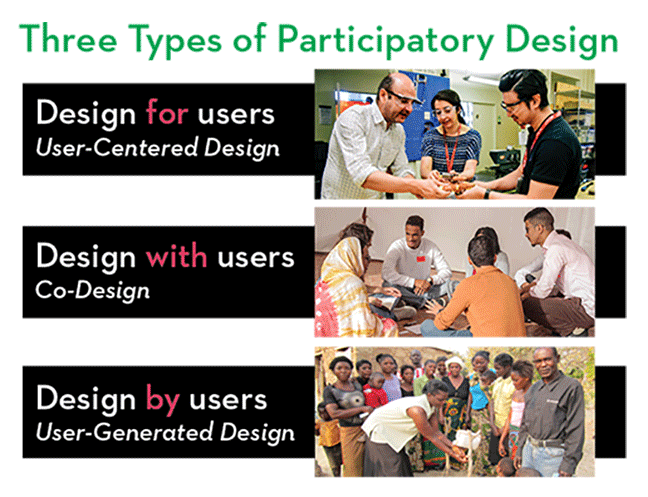 The type of participatory design approach we choose depends on the type of challenge or opportunity at hand. User engagement in a non-participatory design approach is often limited to the beginning of the design process (when gathering information) or the end of the design process (when requesting feedback). The questions that participatory design brings to the forefront are: Whom should we invite to actively participate in the design process, when and how?
Participatory Design in Technology and International Development
Early on in our history, D-Lab focused mainly on technological solutions. Over time, we noticed that developing these solutions was resulting not only in lower-cost, more sustainable products and tools, but also in the growth of an international network of designers. In the process, the mindsets of participating designers were transforming, as they evolved from passive recipients of solutions to active co-creators of them.
One recent example is our 2018 Transform WASH Co-design Summit with PSI Ethiopia. PSI Ethiopia was trying to improve water, sanitation and hygiene (WASH) in the country. Instead of engaging only their staff and a few external organizations in the design of solutions, PSI invested in bringing together rural health care workers, government officials, student designers and engineers to work on design teams for 10 consecutive days. They learned the design process together, shared their WASH experiences, and began to ideate and build solutions together.
The design teams co-created six prototypes — one was a lower-cost, more sustainable latrine cover constructed with local bamboo instead of imported iron rod. The design had notable advantages, and it continues to be refined for production at scale. And there were many other unplanned benefits of the co-design experience, including more meaningful connections between health care workers and government officials. The co-design summit transformed the mindsets of many participants on personal hygiene. Before the summit, many had noted that they valued good hygiene practices for themselves, but after focusing deeply on WASH technology designs at the summit, they began talking about hygiene with their households and neighbors. The experience illustrates how participatory design can help public health workers and others encourage behavior change — an essential step for addressing public health issues.
Participatory Design in Business and International Development
As D-Lab works with organizations around the world to co-create low-cost technological solutions to poverty challenges, we've realized there is also a need for businesses to bring those technologies to market – and a need to learn how to co-create them. In response to these needs, D-Lab facilitated another co-design summit in 2018 — this time focused on supporting social enterprises and young entrepreneurs in Laayoune. The OCP Foundation of Morocco invited D-Lab to guide them in connecting NGO, government and business leaders with local entrepreneurs to co-create businesses supporting youth across the region.
Traditionally, young startup entrepreneurs rarely have the opportunity to sit at the table with C-level executives and government officials. But at this co-design summit, young entrepreneurs and senior business leaders ate and worked together for six days, helping to kickstart eight businesses.
One executive participant commented that he had rejected a request for large financial support in the region before the summit, as he saw no young, trustworthy entrepreneurs in the area. However, through his participation in the summit, he met and built relationships with several young entrepreneurs: Upon seeing their dedication, his mindset shifted, and he signed a contract to accept and unleash over 10 million dirhams (US $1.1 million) of funding for young entrepreneurs in the area. This illustrates how participatory design can not only spark behavior change, it can also catalyze businesses.
Participatory Design in Humanitarian Aid
D-Lab also has a history of working with refugees and internally displaced people, to develop low-cost, sustainable solutions for this unique context. Just as in other settings where we practice co-design, solutions for these communities work well for people when they are part of the team that designs them: This allows a diverse network of changemakers to be built, transforming how participants see themselves and others as capable agents of change.
This approach is not the norm in humanitarian work. Because of the rapid nature of emergency relief programs, the vast majority of humanitarian initiatives are top-down. The clients are the humanitarian aid organizations, and the "users" are the affected populations, who have no direct line of communication back to suppliers. In some cases, especially immediately after a crisis, these populations may be too traumatized to participate in the design process to meet a basic need.
Yet we have seen that participating in the design process can be the first step to restoring a person's hope, rebuilding their confidence and catalyzing their healing. That's why D-Lab works with NGOs and refugee-led organizations in places like Athens, Greece (with displaced people from Afghanistan), and in Northern Uganda (with people displaced by civil war), to guide them through the participatory design process.
At a recent International Development Design Summit in the Rhino Camp refugee settlement in northern Uganda, diverse teams (including people affected by conflict) worked on design projects to improve household livelihoods. The residents of Rhino Camp provided insight into the needs, opportunities and unused resources in the camp. The other team members brought their experiences and enthusiasm. And over the course of the three-and-a-half-week summit, each team developed a prototype and designed a business around it. Some of the prototyped business models focused on producing organic waste briquettes and fertilizer, growing mushrooms, and transforming livelihoods through plastics. A week later, Rhino Camp participants were already earning income from the designs, and working to improve them for a more robust business. Participants' confidence levels grew, and they started to teach others about the technologies they had created. They also felt empowered to tackle other challenges: Some of them are now starting a radio station to combat misinformation in the camp.
Challenges of Participatory Design
Those who have tried participatory design before realize that it requires significant investment in time, money and effort. There are many times when the approach is not useful. Sometimes participatory design can lead to more difficulties and lower-quality results – especially if there are no project champions, the challenge is not scoped appropriately, or there is poor facilitation. Obstacles also arise if there is not the right expertise at the table, if participants aren't diverse or inclusive enough, if their input is not heard or acknowledged, or if the appropriate long-term follow-up structures do not exist for the project after the design process. Additionally, sometimes a solution is needed more immediately, requiring a level of expertise the user does not have.
A participatory approach may be most helpful when the risk of design bias is high, participation barriers are low, and there is a specific enough outcome to attract all the right stakeholders – with enough pivot space to co-create something new together.
Learning More — Together
Deciding when and how to invest in a more inclusive and participatory design process is one of the greatest design challenges. We at D-Lab have learned much over the years from our own experiences, and from those of people we have worked with around the world. Through our professional education courses, D-Lab has expanded this learning network, built meaningful connections, transformed mindsets and added a few new tools to practitioners' toolkits. If you'd like to learn more about these approaches to design and innovation, we hope you'll join us in one of our upcoming course offerings: Inclusive Innovation and Inclusive Business. We'd love to learn alongside you.
---
About the author
Sher Vogel is MIT D-Lab's Global Trainings Manager. Sher oversees and supports D-Lab's three main types of participatory design experiences: Creative Capacity Building Workshops, Co-Design Summits, and the Inclusive Innovation Professional Education courses.
---
More information
Contact
Sher Vogel, MIT D-Lab  Global Trainings Manager