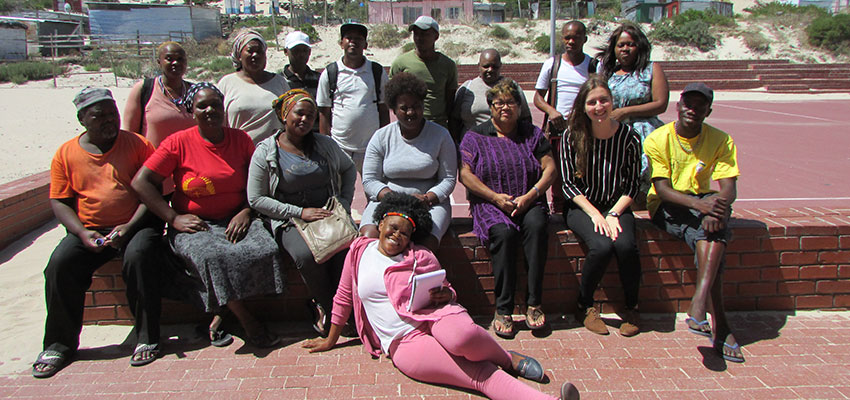 Community members who participated in the focus group with blog post author and MIT graduate student Abigail Anderson (front, second from right), Cape Town, South Africa.
MIT D-Lab

I went to Cape Town, South Africa, for two weeks this January to continue a water project that my team began in D-Lab: Water, Sanitation, and Hygiene (WASH). With Cape Town as a beautiful backdrop, I met with officials and community members to discuss moving forward with this project.
Project Background
In D-Lab: WASH last fall, my team worked with MIT alumna Priyanka Chatterjee ('15, '17) to help her nonprofit, EqualityWater, prepare for the installation of a small-scale water desalination and purification system in an informal community in Cape Town. Avril Kenney ('11, '12) and I made up the D-Lab team. The system we plan to install, after past research by Priyanka and her team, is called an OffGridBox—a 6' cube with solar panels which uses solar power to purify and desalinate water and provide electricity.
We collaborated with Violence Prevention through Urban Upgrading (VPUU), a nonprofit that has been working in informal and formal communities in Cape Town for over a decade. Their mission is to improve community services, rather than individual houses, in order to reduce crime; their goal is prevention, not punishment. The EqualityWater OffGridBox project will be located at one of their community centers to contribute water and electricity to its activities. There is a borehole and rainwater harvesting system on-site which will supply water to the system.
Thanks to MISTI-Africa, I was able to spend two weeks in January continuing this project in Cape Town. During my time there, I aimed to determine the approvals process for installing the OffGridBox and talk with community members to learn how they would use additional water and electricity.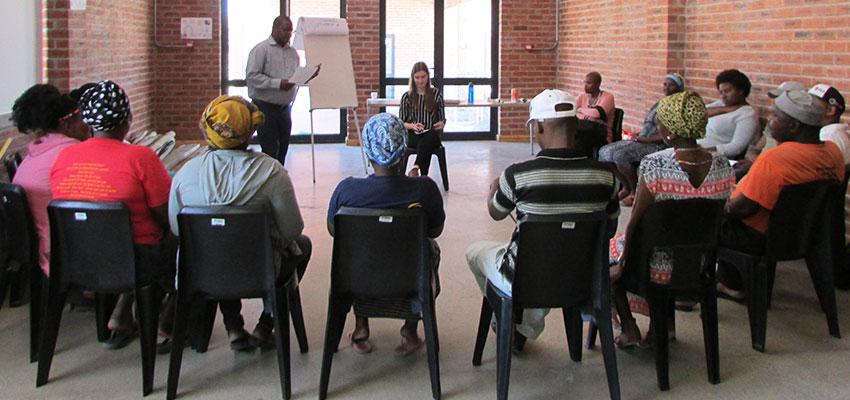 Preparing for the OffGridBox
What is the approvals process for installing a small-scale water treatment system like an OffGridBox in South Africa? During my time in Cape Town, I met with officials at the City's Water and Sanitation Department and at the National Department of Water and Sanitation. These meetings were helpful in clarifying the bureaucratic processes our project will need to go through to be recognized by both Departments. It was encouraging that the officials with whom we met were enthusiastic about our project and its potential to service VPUU's community center, especially since the City's water supply to the center has not been turned on a year and a half after the application was submitted.
In manufacturing the system, OffGridBox will need to work closely with VPUU to learn about conditions on the ground and adjust the system accordingly. One important component of site conditions is the quality of the water in the borehole. While in Cape Town, I solicited quotes from several labs, selected one, collected the water samples on site, and delivered them to the lab for testing according to different parameters.
Monwabisi Park Informal Community
The current plan is for the OffGridBox to be installed at VPUU's Monwabisi Park Neighborhood Center. This center currently houses a daycare center, a community meeting room, a garden, sports fields, a small kitchen, and bathrooms. All of these are serviced by the on-site borehole, rainwater harvesting barrels, and an emthonjeni, or water tap, connected to the City's water, about 80 feet away. All of these water sources are unpotable. These activities are also connected to the City's power grid, but that electricity is expensive and unreliable.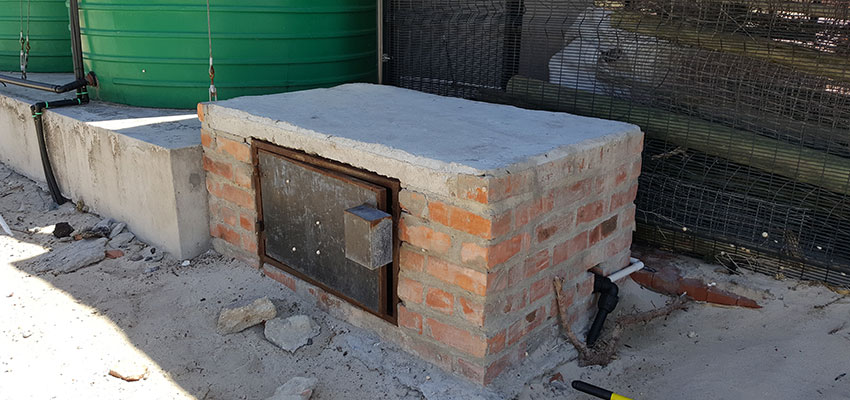 VPUU's offerings at the center are constrained by this expensive electricity and lack of clean water. I ran a focus group with community members at the center to discuss their current usage of water and electricity, and then to brainstorm ways that VPUU's centers could better meet their needs if more water and electricity were available. We did a D-Lab-style activity, brainstorming questions, grouping them, and voting to determine which would be most helpful to individuals and to the community as a whole. Several ideas and priorities emerged in this focus group, including starting a restaurant business; cooking for children at the daycare center; building a student center equipped with water and electricity; and starting a car-washing business.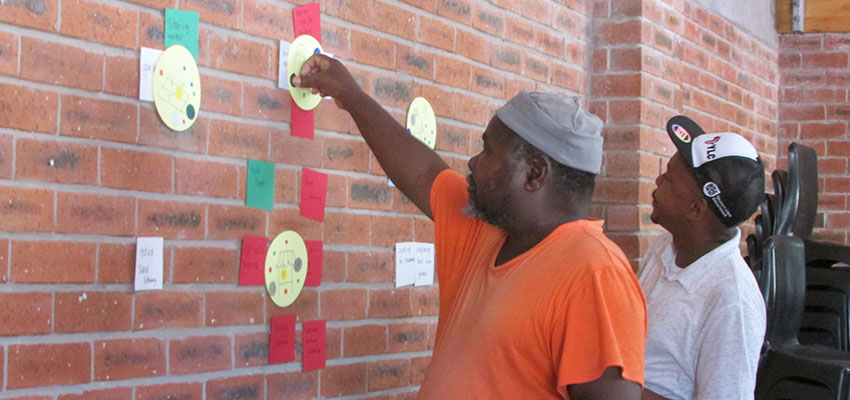 The Monwabisi Park community is built on the sand, just a kilometer from the ocean. It is part of the bigger area of Khayelitsha, a former township under apartheid South Africa. Some parts of Khayelitsha, such as Lotus Park (where VPUU has been active for years), have been formalized: the government built permanent houses for people living there. Now, people lucky enough to receive those homes have a tremendous asset, but crime is still rampant in the community as a whole. Most houses are swallowed up by informal shacks built in their small yards, and Monwabisi Park is entirely informal homes—mostly small houses built of corrugated metal. The first time I visited, I was constantly afraid of getting mugged: you hear the crime statistics and see the barbed wire and assume that everyone is out to get you. But as I visited more, I realized that these are just people living their lives: students coming home from school, women scrubbing laundry, men and women waiting at the emthonjeni for water. As an architect, I was impressed by the construction: how do these square, thin-walled houses stand on the sand? Yes, there is crime, but the majority of people are just trying to make the most of life in the community where they were born.
Life in Observatory: Beauty + Drought
Outside of work, I lived at a house for students in the Observatory District. I met people from around the world and grew surprisingly close to some. We explored Cape Town together, from Table Mountain to Kirstenbosch Gardens to Boulders Beach (where I swam with penguins!). Cape Town is absurdly beautiful, nestled between rugged mountains and pristine ocean waters. Everywhere you look is photo-worthy.
I felt the impact of the early 2018 drought in Cape Town. Compared with the first time I visited in 2015, I noticed massive water usage habit change. All appliances that use water have signs not only entreating you to use less water, but also revealing how much water each uses—a toilet is nine liters per flush, using a dishwasher uses less water than washing by hand, showers use 10 liters per minute. The toilet at work has been disconnected from the water supply; instead, we use a bucket to collect greywater from handwashing and use that to flush the toilet (on the infrequent occasion that it needs to be flushed). I was impressed by the habit changes that are now a part of life in Cape Town, despite that the worst of the drought has passed and Day Zero was avoided.
My trip to Cape Town, while frustrating at some points as I learned about the bureaucracy involved in such a project, was informative and eye-opening. After seeing the community and meeting people on the ground, I believe more than ever that this project can have a powerful, positive effect on the community. Now, EqualityWater is working to raise the funds for the OffGridBox as VPUU continues to work through the approvals process.
I thank MISTI-Africa for giving me the opportunity to travel, and D-Lab for educating me about water issues and community brainstorming sessions. This experience was truly priceless.
---
Abigail Anderson is a master's candidate at MIT in Civil and Environmental Engineering focusing in structural mechanics and design. She finished her bachelor's degree at MIT in 2018 in Architecture Studies, and has always been interested in the intersections of engineering, architecture, and international development. She has taken D-Lab: Schools - Building Technology Laboratory, D-Lab: WASH, and in the fall of 2018 was teaching assistant for D-Lab: Development. In January of 2018 she participated in the MIT D-Lab - Population Services International WASH Summit in Ethiopia and did follow-up work related to the summit in July (see blog post).