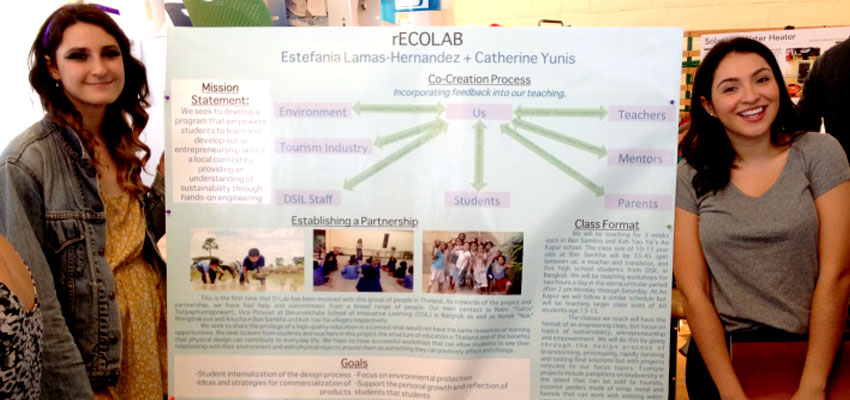 Students from D-Lab: Earth 2016 presenting a poster of their project rECOLAB at the end-of-semester D-Lab Showcase.
Concerned about the earth and its people? Want to take meaningful action at the intersection of biodiversity and poverty?  Want to express your passion?  D-Lab: Earth is a project-based seminar in which students have the opportunity to join an existing project or conceive their own project that addresses challenge(s) in resource-limited, biodiverse regions. Existing project sites include Zambia, Nicaragua, Ghana, and Thailand. Or, you can identify your own site location. Travel over the summer if you want to continue your work overseas is an option but not a requirement. 
Below are some questions students frequently ask as they consider this seminar. Feel free to contact Susan Murcott or Ariel Phillips with other questions.
How much work is involved?
Since this is a weekly seminar, the requirements are fewer than they would be for a full course. They are (i) conceptualization and creative engagement with the identified challenge, (ii) active participation in the class, (iii) participation in regular, out-of-class team meetings, and (iv) a small number of readings. In addition, students engage in periodic project check-ins and two design presentations, as well as final documentation of their work to allow others to benefit from it. There are no exams.
What types of projects are involved? 
We'll go over the criteria in more detail on the first day, but, in brief, we want projects to:
Relate to environmental issues, as well as to low-resourced (usually this means economically poor) human populations.
Be do-able in the timeframe we have, which, for most students, is the spring semester. This can be longer for students who want to continue their work after the semester ends.
Have the potential to be further developed, either by the student or by specific other people. For example, if the project involves a D-Lab community partner, the student must ensure that the partner has a way to maintain momentum and connection with D-Lab, if they want to do that.
Be documentable. This relates to our concern that projects have the potential to be conceived and implemented comprehensively, and available to be picked up by future students, if appropriate. 
Is there a strong focus on design?
We especially care about and welcome students selecting topics they are truly interested in and excited about. Even though one hallmark of D-Lab pedagogy is experiential, hands-on learning, D-Lab: Earth projects don't have to be design projects. In addition, they can be technology-focused, but they don't have to be. Earth students are a diverse bunch, and no one will be pressured to conform to any one type of project. 
Some examples of the memorable projects that students have engaged with in this class include: 
Grassland restoration on the Tibetan Plateau
A structured workshop on "creative capacity building" for City Growers, a local, community-supported agriculture (CSA) organization
rECOlab – an engineering and design workshop for youth in Thailand
A "living machine," a living water filtration system built in the D-Lab classroom
Can you tell me more about the "experiential activities"?
We'll do several activities that we think will be useful to students and will help illustrate ideas from the seminar, such as value-chain mapping, one or two role-play games and a "Council of All Beings" workshop    
Is there an expectation to continue the project over the summer? And is there funding?
There is no requirement regarding summer work. There is funding for students, but each person's situation is a little different. We'd be glad to discuss options with you one-on-one in the first weeks of the class to be sure we find a good fit for your interests and the major themes of the seminar.
Here's how one former D-Lab: Earth student sums up the seminar: 
"I think the intersection of poverty and environmental stability is uniquely taxing, on the mind, hand, and heart, but also uniquely rewarding in each of those areas. Interacting with this area has given me a deep appreciation of humanity and its efforts toward a better world. 
I have never before had a project that I had such complete control over. From design to fundraising to buying materials to construction, the entire project was totally in our own hands, which was both incredibly empowering and also sometimes stressful. In my other hands­on lab classes, all of the material purchasing and most of the experimental design was done by professors and teaching assistants. In D­-Lab: Earth, we had to consider potential stakeholders, risks, legality concerns, as well as the timeline and actual logistics of finishing our project within a semester timeframe."
We welcome your participation in this adventure in engaged learning and look forward to working with you on your project(s) and getting to know each other in the weeks and months ahead!