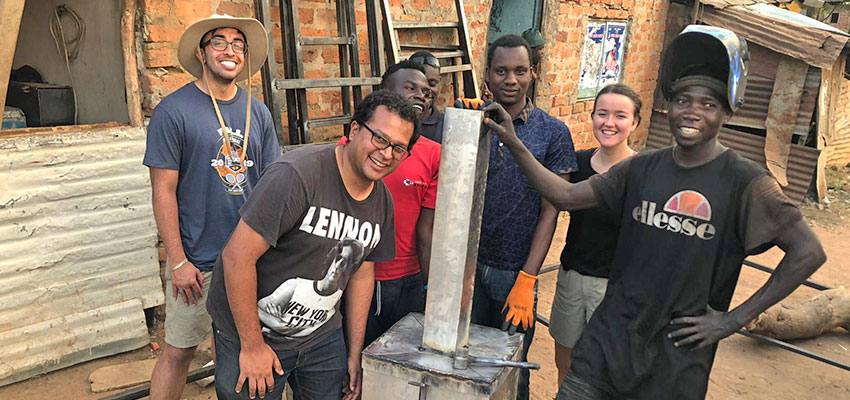 Biomass powered heat exchanger built by the MIT D-Lab team and TEWDI Uganda staff. January 2020.
MIT D-Lab
In January 2020, we (Lucy Jackson, Harvard Class '22, Arnav Patel, MIT '21, and Anish Paul Antony, MIT D-Lab Postdoctoral Researcher) visited Uganda to work on developing a biomass powered fruit-dryer. The trip stemmed from a project that we, along with Caroline Boone (MIT '21), began during the fall D-Lab class Applications of Energy in Global Development (EC.712) co-instructed by Anish, Eric Verploegen, and Julia Heyman.
---
East Africa suffers from food insecurity, and part of the problem is that a high percentage of fruit spoils post-harvest due to a lack of proper food supply chain networks and reliable cold chains. In this context, fruit drying is one solution that allows for fruit to be preserved for longer periods of time. Off-season, dried fruits can be distributed, sold, and eaten, decreasing food waste and providing additional income to local entrepreneurs in the region. Additionally, dried fruit also allows for more nutritious meals for children in boarding schools who currently eat a diet constituting of rice and beans for each meal every day.
To address this problem, D-Lab has been working with TEWDI Uganda, an NGO in Soroti, Uganda run by Betty Ikalany and Helen Grace. Betty and Helen currently operate their fruit drying business with a solar dryer. However, the solar is less effective in the rainy season, running from March to May and September to November in Soroti, and limits the quantity of fruit that can be dried during these times.
To approach this problem, we designed a metallic heat exchanger and coupled it with TEWDI's current solar dryer. This heat exchanger was placed above a biomass stove. When the stove is lit, the heat from the burning briquettes is transferred through the heat exchanger into the solar dryer where fresh fruit is placed on racks to be dried. This is done without allowing smoke from the cookstove to contaminate the fruit.
Throughout this process in Uganda, we were assisted by Francis Eteku (Chief Engineer for TEWDI) and Manufacturing Specialists Banda Juma and Okello Abdullah. They not only helped us in the construction of the device, but also provided invaluable support in testing the system to determine how to scale up the design and manufacture it with locally available materials and manufacturing techniques including metalworking and welding.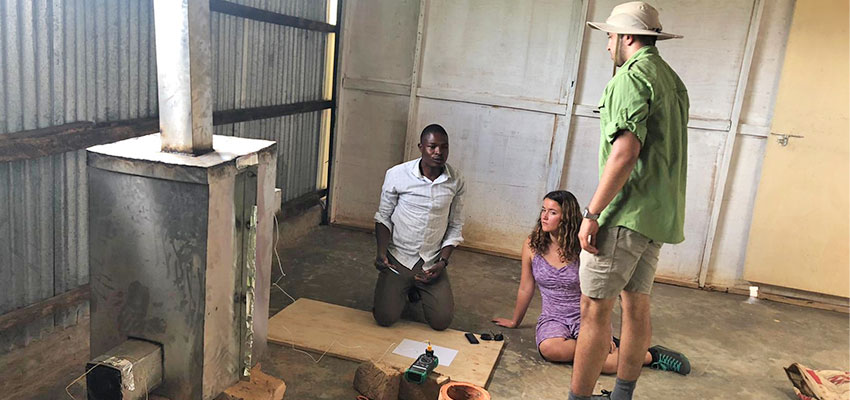 The results from our tests showed that when our heat exchanger was paired with the solar dryer, drying time was reduced from three days to one day.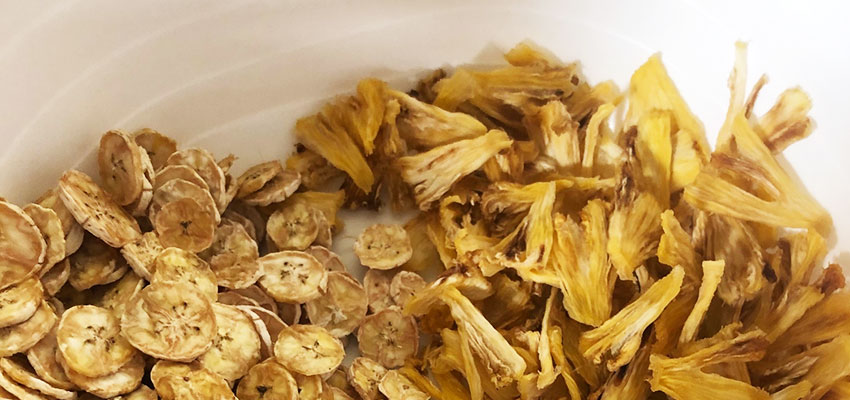 Going forward, Francis, Betty, and Helen plan to add additional heat exchangers to their current setup in order to decrease drying time and increase dried fruit production.
We had a great time working and learning with the TEWDI staff! We ate fantastic food (both dried and fresh), learned about Ugandan history, and were welcomed into an incredible community.
It was an amazing trip for our team, and everyone is excited to see this project continue during spring semester in D-Lab's Introduction to Energy in Global Development class (EC.711)!