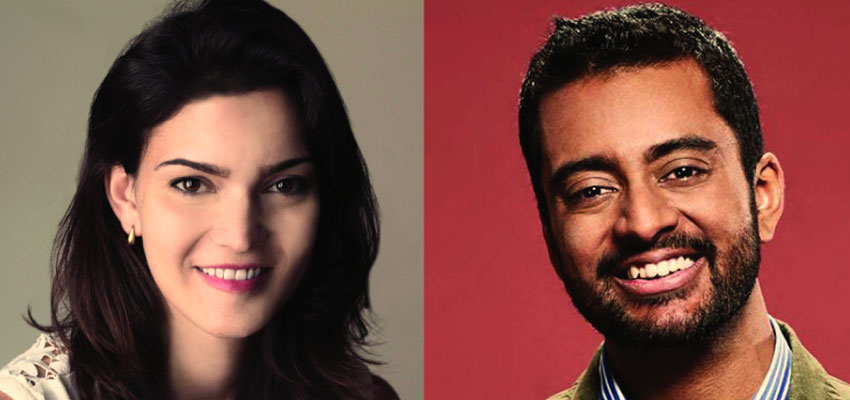 Keynote speakers Ella Peinovich of Seko (left) and Teju Ravilochan of Unreasonable Institute (right).
On Friday, April 28, programs around MIT committed to advancing and supporting social entrepreneurship will join forces to present the fifth annual MIT Scaling Development Ventures conference. 
Keynote speakers will include Ella Peinovich, SMArchS '96, founder and CEO of Soko and Teju Ravilochan, Co-Founder and CEO of the Unreasonable Institute. In addition to the keynotes, the conference will feature:
Vision Talks by three accomplished MIT social entrepreneurs, Tunde Alawode (dot Learn), a PhD candidate in Mechanical Engineering; Fernanda de Velasco (Play Business), an MBA candidate at the Sloan School of Management; and Kwami Williams (MoringaConnect), a 2012 graduate of the Aeronautics and Astronautics department
Lighting Pitches by an additional 21 MIT social entrepreneurs
Six panels and workshops
A closing session, "Pathways for Impact in the Developing World"
The Scaling Development Ventures conference highlights the depth and breadth of social entrepreneurship at MIT. Launched in 2013 by MIT D-Lab, the MIT Media Lab Entrepreneurship Program, the MIT Public Service Center (now the Priscilla King Gray Public Service Center) and the now defunct International Development Initiative, the conference has since expanded its circle of collaborators. This year, the Legatum Center for Development and Entrepreneurship, MIT D-Lab, and the PKG Public Service Center have led conference organizing with contributions by the MIT Media Lab's Emerging Worlds program and Radius, an initiative of the Technology and Culture Forum.
The morning keynote speaker is Ella Peinovich, CEO of Soko, a jewelry company that uses distributed manufacturing and technology to employ previously marginalized artisans. Peinovich's work in supply chain innovation has been celebrated for its novel approach and social and economic impact by the World Bank, DEMO, Vodafone and USAID. She is an Entrepreneur in Residence at INSEAD Business School, an Ashoka Fellow and a member of Forbes' Young Entrepreneurship Council. Ella was awarded the The International Alliance for Women's 'World of Difference' Award in 2013 and was recognized by the BidNetwork as the Female Social Entrepreneur of the year in 2012.
Keynote speaker Teju Ravilochan will kick off the afternoon sessions. The Unreasonable Institute, which Ravilochan co-founded and where he currently serves as CEO, runs mentorship and training programs for entrepreneurs tackling social and environmental problems around the world. To date, Unreasonable Institute has powered 40 programs in 26 countries, which have raised over $160 million and benefited 16 million lives. Ravilochan is also a Forbes 30 Under 30 Entrepreneur, an Inc. Magazine 30 Under 30 Entrepreneur, and a TEDx speaker. He graduated from Colorado University, Boulder in 2008 with a degree in international affairs.
Afternoon panel and workshop topics will include:
Is Your Social Venture Ready for Scale?
It is one thing is to launch a successful social enterprise; another is to grow and operate it sustainably to serve a sizable number of customers. In the context of Base of the Pyramid markets, scaling social ventures is an even greater challenge. This session will explore what can be learned from the journey of the few social enterprises who have succeeded in bringing their products, services and social impact to hundreds of thousands and millions of people living in poverty.
Unpacking Impact
This interactive workshop will introduce the tools and frameworks that form the foundation of impact measurement in the social sector. During the workshop, participants will apply these tools to map out a theory of change and advise on a monitoring plan for a burgeoning developing world enterprise on a path to scale.
Ethics & Community Engagement
We may have the best of intentions when we undertake projects that we believe will have a positive social impact, but what does it take to actually work wisely, effectively, and ethically when doing community-based work? Participants in this session will explore topics such as working with a community to gain buy-in and support, the potential adverse effects of an innovation on stakeholders, institutions, and markets, and the way in which insider/outsider status affect entrepreneurs' work.
Raising Capital: Paths for Developing World Entrepreneurs
The path to securing capital for any venture is long and arduous. Entrepreneurs in the developing world face even greater hurdles. This panel will explore the roles of different players in a successful fundraising journey and address ways in which developing world entrepreneurs can best position and prepare themselves to raise capital.
Moving your Product from Lab to Factory
What are the options for manufacturing your product for emerging markets? This workshop will explore several case studies of hardware in emerging markets, and discuss the benefits and drawbacks of: manufacturing locally versus moving to Shenzhen, outsourcing versus your own production facility, navigating tradeoff decisions and other concerns. 
Collective Problem Solving for Development Solutions
More and more, social entrepreneurs see the value of co-working, social networking, partnering, and collective problem solving to address large development and innovation challenges. Participants will have an opportunity to workshop solutions through collective problem solving methodology. 
The conference, to take place on the sixth floor of the MIT Media Lab (MIT E14), will run from 8:30 am to 6:30 pm. A full program and list of speakers is available on the Scaling Development Ventures website. A limited number of tickets is still available for the conference—register for the conference here.
This year's MIT Scaling Development Ventures conference is made possible by generous support from the Legatum Center.