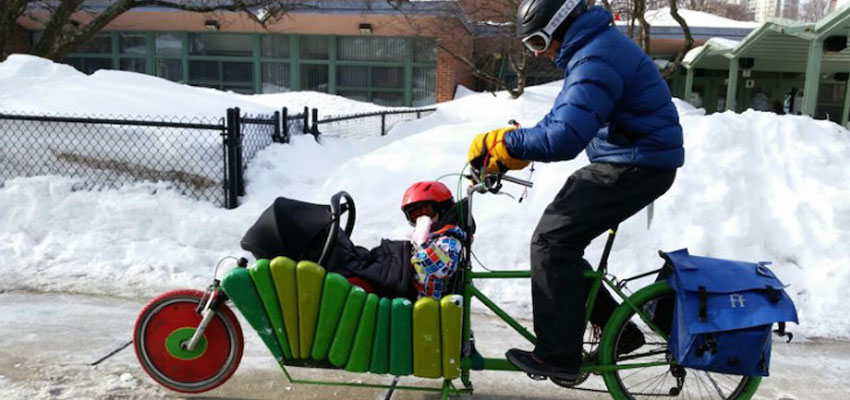 Victor Grau Serrat served as D-Lab Co-Director from 2008 until the beginning of this month. Below, he reflects on eight years at D-Lab!
It was an otherwise unremarkable morning in the early fall of 2003, when I stopped by Amy Smith's shared office at the Edgerton Center, and I shyly introduced myself from the doorway. She was busily working on her laptop but paused, smiled welcomingly, and we chatted briefly. I was fresh out of graduate school looking for a job, she offered a couple of suggestions, and I landed not one but two part-time jobs within weeks. Two phenomenal jobs, I should add, one with Partners in Health, and one with an MIT Media Lab spinoff.
The previous year, the D-Lab we know today had come into being, started by Amy—an inventor, educator, and "MIT lifer" as she likes to describe herself. People were talking about Amy's new hands-on course at the intersection of low-cost technology and international development that included a field trip. What a great value proposition. I tagged along with my wife Marta, who was a PhD candidate at MIT at the time, and joined D-Lab in the early years, first as a participant, and later as a trip leader, accompanying groups of passionate and curious MIT undergraduates in their journeys of discovery and reflection into rural Central America and East Africa. 
Fast forward to the summer of 2008, when my dreams of becoming the CTO of a promising online-ads startup were crushed by the subprime mortgage crisis. I happened to meet Amy again, this time under the shade of a tree on campus (nothing bucolic, it was a tiny patch of grass in a parking lot) when she essentially asked me one question: "Do you want to work at D-Lab?" and I said "Yes"—the shortest, most successful job interview ever. I became D-Lab's first full-time employee. I had no orientation, no signing bonus, not even an office; but it was all good. I started contributing from day one: teaching, ideating, and tinkering.
Amy and I played as a team, in which I progressively took over the teaching—D-Lab: Design and parts of D-Lab: Development—and program management and she spent an increasing amount of time in the field, working alongside people living in poverty in remote communities abroad. As a result, she developed the Creative Capacity Building methodology in collaboration with back-then graduate student Kofi Taha, currently D-Lab's Associate Director.
We dreamt big along the way, wrote grants and successfully raised millions of dollars to first launch D-Lab Scale-Ups, and later the International Development Innovation Initiative (IDIN) and the Comprehensive Initiative on Technology Evaluation (CITE) in collaboration with others. During my tenure, D-Lab moved from a shipping and receiving room, to a condemned building, to the fantastic suite of classrooms, offices, and workshops that it occupies today above the MIT Museum. And we, as an organization, grew from a staff of two to the 26 people we are today including teaching staff, researchers, program managers, administrative personnel and more.
All this growth inevitably leads to the question of D-Lab's impact in the world. One of the very few of its kind when we started, D-Lab has been a pioneering program at the nexus of experiential learning and poverty alleviation in higher education. Today, similar offerings abound nationally and internationally, and there is a growing impetus for measuring and understanding their impact. This is essential within the broader context of international development to identify success stories among the high number of failed interventions and wasted resources with the lives of others in the balance (people living in poverty take high risks in spending their meager income on any promising solution).
As I reflect on the impossibility of quantifying life-changing experiences, inspirational lectures, friendships, hopes and dreams, the effect of which lasts throughout your life, long after you graduate, I have come to realize that measuring this kind of impact is no small task. From listening and talking to those that have gone through the program, as students, staff, partners and collaborators I do know that D-Lab has left a profound mark on all their lives. And it also has changed mine.
An electrical engineer by training, with mechanically-inclined genes, and a computer geek at heart, I felt at home at D-Lab and MIT at large. I embraced the hands-on culture of experiential learning that we preach and practice, and benefitted over and over from one of the best job perks that D-Lab has to offer: a fabrication workshop. I designed, I learned, I tinkered, and prototyped and built to improve my family's life—the most notable outcome of my tinkering being a cargo bike themed after the children's book 'The Very Hungry Caterpillar.'
Despite being an engineer, there is one thing, possibly one of the most important things, that I do not engineer: my career. I seize the opportunity when I see it, and when I can. Before coming to MIT, not even in the wildest of my dreams had I thought of working here. I had been rejected twice when I applied at MIT for graduate school, yet later I ended up teaching here. I don't know where I will be in 10 years, but I leave now to start an investment fund in social enterprises that is a continuation of some of D-Lab's work.
Long life to D-Lab!