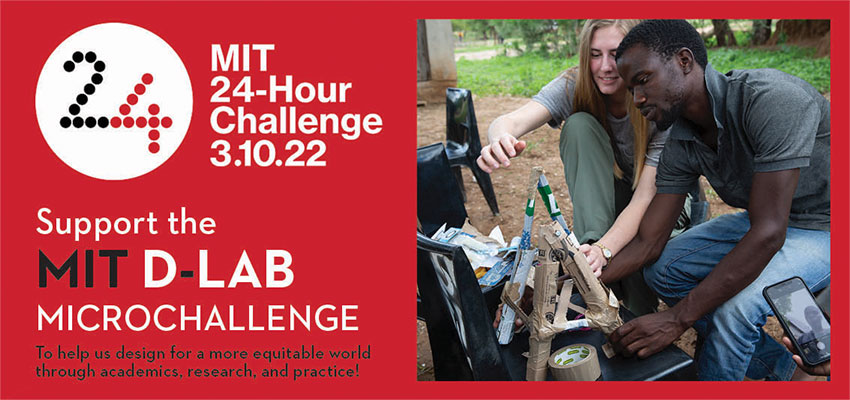 MIT D-Lab
The MIT 24-Hour Challenge is returning for the sixth year on Thursday, March 10, and the MIT D-Lab will be holding a microchallenge that day to support our work developing and advancing collaborative approaches and practical solutions to global poverty challenges.
Our 20 years of experience working with MIT students, researchers, and community partners around the world have shown us that transformative breakthroughs are possible when people come together with creativity, optimism, and respect to make change that matters.
Here's how the MIT 24-Hour Challenge will work for D-Lab: If 65 donors make gifts of any size to D-Lab, our challenge donors will donate $5,000. If an additional 60 donors make a gift to D-Lab the donors will contribute another $5,000.
Thanks in advance to our challenge donors, Dom Ricci '99, Ash Dyer '06 and Deirdre Offenheiser, John B. Morrell PhD '96 and Kjirste C. Morrell '84, SM '86, PhD '93, and Johnny Yang '04! Mark your calendar and stay tuned for the live link March 10th!
We are proud and thankful that in this last year, we have nimbly adapted to online work and hybrid work as needed, and have been grateful when we were able to work safely together in the classroom, in the workshop, and abroad. We know it's been another tough year for many – but if you are in a position to contribute to D-Lab through the MIT 24-Hour Challenge on March 10 we would be so grateful.
 
Thank you!