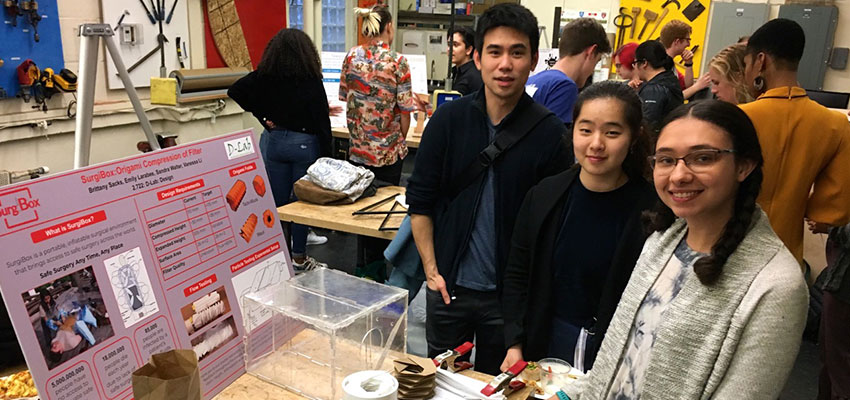 D-Lab: Design students and SurgiBox's Stephen Okajima (left) with the poster and project the students prepared.
MIT D-Lab
Friday, May 3, 5:00-7:00 pm - D-Lab, MIT N51 3rd floor

Students from the eight Spring 2019 MIT D-Lab classes and an independent project presented posters and prototypes developed during the semester. Project teams were available for questions and feedback from other teams of D-Lab students as well as from guests!
The evening kicked off with a brief welcome and overview from Academic Program Manager Libby Hsu.
Addresses problems faced by underserved communities with a focus on design, experimentation, and prototyping processes. Instructors: Jerome Arul & Sorin Grama
BENIN: Green Keeper       
Partner: Green Keeper
Students: Riley Ennis, Kedi Hu, Rachel O'Grady, John Michael Reyes, Max Drake
INDIA: Graviky       
Partner: Graviky
Students: Leah Pettit, Mary Dahl, Varsha Sridhar, Wendy Wang, Christopher Kiel
INDIA: LoadLifter       
Partner: LoadLifter
Students: Hamilton Forsythe, Gabriel Scimeme, Kiara Wahnschafft, Aiden Foucault Etheridge, Shweta Aprameya (Listener)
GLOBAL: SurgiBbox       
Partner: SurgiBox
Students: Sandra Walter, Emily Larabee, Brittany Sacks, Vanessa YiRan Li
MEXICO:        
Partner: Prothesia
Students: Isabella Chiurillo, Naomi Dereje, Alexandra Shade, Chris Sacha, Luisa Apolaya
UGANDA: Raising Gabdho        "
Partner: Raising Gabdho 
Students: Peter Sudermann, Nathan Hernandez, Olivia Yao, Phoebe Piercy
Explores learning in the international development context and how innovative approaches and researched best practices can overcome challenges such as limited resources, language barriers, large class sizes, and entrenched pedagogy. Instructor: Lisa Nam
COLOMBIA: Business Basics for Coffee Farmers       
Partner: De Finca
Students: Pilar Cuesta, Jazib Zahir, Anna Wan, Vida Solorio-Fielder
GHANA: Teacher's Guide for Kinesthetic STEM Learning       
THAILAND: Engineering and Sustainability for Rural Thai Youth       
Combines hands-on practice in a variety of essential skills needed to conduct quality field research with exploration of a set of questions that challenge practitioners, donors, policymakers, and researchers in international development. Instructor: Elizabeth Hoffecker
KENYA: Give Directly       
SRI LANKA: Samurdhi Community Growth Program       
RWANDA: Seven United        
GHANA: PEN (Practical Education Network)       
Explores the ideas behind, and actions toward, alternative economic systems aimed at reclaiming the power to control and build inclusive local and regional economies; secure rights to food, water, land, and healthy environments; build resilience; restore value systems; and ultimately improve quality of life. Instructors: Libby McDonald, Kate Mytty, Joost Bonsen
BRAZIL: Mapping Wastes Pickers in Sao Paulo       
GHANA: NeXT: A transformational social venture incubator
NICARAGUA: Adapting to Climate Change and Improving Livelihoods for Smallholder Coffee Farmers       
Offers a hands-on, project-based approach that engages students in understanding and addressing the applications of alternative energy technology in developing countries where compact, robust, low-cost systems for generating power are required. Instructors: Amit Gandhi, Dan Sweeney, Anish Paul Antony, Eric Verploegen
NEPAL & INDIA: Himalayan homes    
UGANDA: Cookstove liners   
UGANDA & INDIA: Air filtration    
Explores the scientific basis and environmental impacts of agriculture, the dynamics of smallholder farming, social, and business systems, and the experiences of farmers themselves. Instructors: Gwyn Jones & Bob Nanes
TANZANIA: Avocado oil preservation       
Students: Natalie Northrup, Robert Powell, Vivian Zhong
MOROCCO: Drip irrigation in Morocco       
KENYA: Kijani Demo Farm       
Students: Ngina Kariuki, Avril Kenney, Jordan Browne
US: Mapping Agriculture at MIT       
NEPAL: Low cost greenhouses        
By 2025, more than half of the countries in the world could be experiencing water stress or scarcity. Water stress and scarcity are exacerbated by climate change. This class is about real-world answers to climate change as it relates to water. Instructors: Susan Murcott & Julie Simpson
 
NEPAL: Educational Materials for E.coli Test Kit in Nepal     
Partner: EpoConcern
Student: Riwaj Thapaliya
POLAND: Planet Warrior  
Partner: N/A
Student: Alex Kozera
NEW ENGLAND, US: Seabin in New England   
US: Pop-up Green Infractructure  
20 COUNTRIES: 1001 Stories on Water and Climate Change    
Partners: Anna Chung, Samia Bouzid
Students: Devi Lockwood and Jeff DelViscio
Explores the role innovation can and does play in how humanitarian aid is provided, and how it can change people, products, and processes. Instructors: Amy Smith & Martha Thompson
Four groups of students are organized around different conflicts - Mali, Uganda/South Sudan, Syria/Greece, Bangladesh/Rohingya and Yemen. Each conflict group will set up a display with a poster that includes:
background about the humanitarian setting
an updated stakeholder map
background information on a design for a lighting project for the camp
BANGLADESH
Students: Roohi Abdullah, Ashley Beckwith, Mariam Dogar, Kimaya Lecamwasam, Afeefah Khazi-Syed
GREECE/SYRIA
Students: Sally Beiruti, Dana Dabbousi, Riley Ennis, Flora Klise
MALI
Students: Fidelia Gaba, Shruthi Venkata, Sandra Walter
UGANDA/SOUTH SUDAN
Students: Hanna Kherzai, Megan Ochalek
YEMEN
Students: Faran Haider, Tooba Shahid