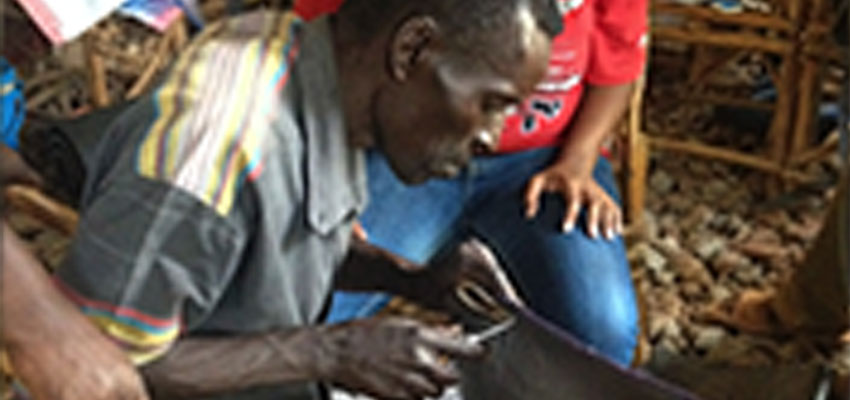 D-Lab Scale-Ups' research team recently completed a needs assessment project on water transport, storage and treatment in Kenya. Funded by a gift from Greif, Inc., the project began in September 2013 and culminated in five weeks of fieldwork in January and February 2014, followed by data processing and analysis.
When I last posted, our team was still in Kenya, conducting fieldwork to understand needs related to water transport, storage, dispensing and treatment in rural and peri-urban communities. By the end of the trip, we carried out nearly 70 interviews, held five focus groups and two day-long co-design sessions, and observed water collection at 13 water sources. In focus groups, we shared a variety of water collection, storage and dispensing technologies, both locally sourced and brought from the US, that participants were able to compare and critique. Co-design sessions introduced participants to the design process and had them work in groups to build a prototype for a water collection and transport device. Both activities elicited information on needs and desired features for technology solutions, which complemented the insights gained from interviews, informal conversation and observation into current collection, storage and treatment practices.
We learned that most water collectors make a number of trips, daily or several times per week, with small containers – commonly 20-liter plastic jerrycans carried on the back. Urban and peri-urban collectors visit taps on the premises or kiosks for purchasing water, and rural collectors utilize natural sources such as springs or streams. Seasonal changes can affect behavior, with increasing collection time due to drying up of sources during the dry season, or decreasing trips to other sources when rainwater is in abundance in the rainy season. A large number of people harvest rainwater to complement their water needs, but lack sufficient rainwater storage. Household water storage capacity, averaging about 250 liters per household, is often made up of a number of smaller containers. Treatment behavior varies, with some people choosing not to treat, while others boil or chlorinate their drinking water.
In analyzing the data collected using qualitative coding techniques, a number of needs related to water collection, transport, storage, dispensing and treatment were identified, including:
People wish to pay less for their water and spend less time and energy collecting water.
People want to be able to dispense water easily and in a way that will not re-contaminate the water.
People want to be able to store as much water as possible.
The team was interested to understand the wide-reaching effects that increased storage capacity can have. Those with the ability to collect and store rainwater can save time (if otherwise traveling to collect water) and money (if purchasing water from kiosks or paying a monthly bill for tapped water). In addition, increased storage allows those with taps to use reserved water when the taps run dry (rather than needing to go to a kiosk or other source), and increases the possible uses of water. Some tap users indicated that they faced restrictions on using water for agriculture purposes, and would keep more animals or plant crops given increased storage capacity for rainwater.
Scale-Ups is currently working with its partners to explore possible next steps for addressing the identified needs. A complete report on the project's findings will be published this fall.