Yvonne (BrightGreen's intern) and Moses (BrightGreen's delivery man), helping set up the display shelf for Rosemary, one of BrightGreen's distributors.
InclusiveBusiness.net
Original blog post on InclusiveBusiness.net
The inclusive business (IB) sector and base of practitioners who champion its merits is growing year on year. Yet, as the sector grows and more innovations and technologies are designed for the Global South, IB professionals continue to face key challenges in three core areas: viability, scalability, and resilience. Base of the pyramid (BoP) markets are complex, fragmented, and characterised by limited infrastructure and informal networks. These qualities make it challenging to design viable routes to market and profitable business models. At the same time, appropriate solutions that may work as pilots often struggle to scale cost effectively in these heterogeneous markets. Thirdly, as the current pandemic has shown, IB innovations and their impact can dissipate rapidly unless these products and services are designed with sustainability and resilience strategies at their core.
These IB challenges were at the forefront of MIT D-Lab's mind when we launched the Practical Impact Alliance (PIA) in 2014, which operated until 2019. A network of social intrapreneurs from the non-profit, government and private sectors, PIA was designed to advance BoP innovation and knowledge exchange around inclusive business themes through collaborative action and learning. Building on the knowledge gained through PIA and drawing from D-Lab's partnership with BoP market leader Bopinc, D-Lab and Bopinc developed the Inclusive Business Canvas as a practical framework for building actionable IB strategies.
Drawing from the well-known 4A framework developed by C.K. Prahalad, the IB Canvas explores the 5 A's of Acceptability, Awareness, Availability, Affordability and Actionability, with considerations for scalability challenges and barriers at each step of the canvas.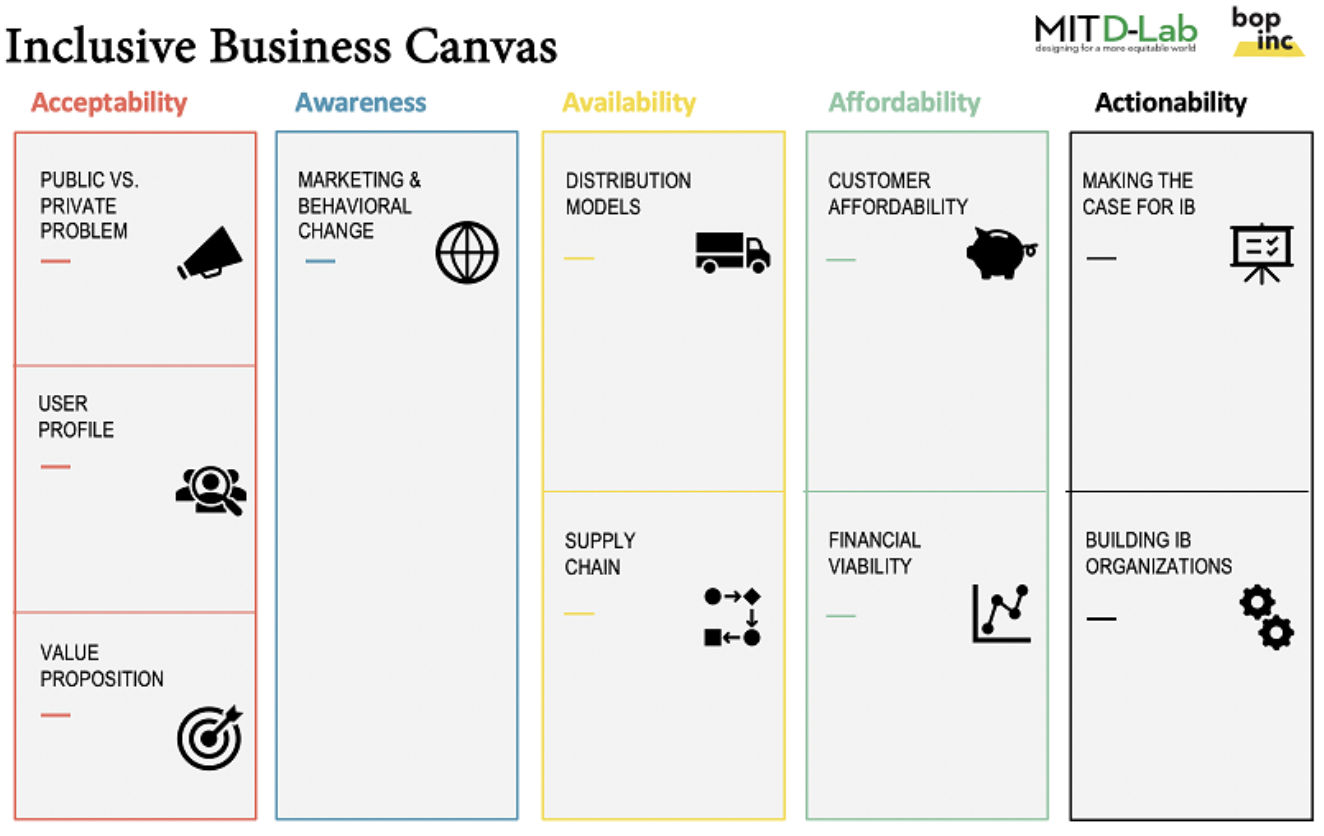 Scaling Awareness: Balancing demand generation and profitability
One of the greatest challenges faced by IB practitioners is how to cost effectively scale demand for social impact products or services when driving behavior change at the BoP requires extensive investment. This challenge is central to Awareness, the second "A" in the IB Canvas.
In 2018, D-Lab and Bopinc explored this challenge, and co-developed The Demand Engine, a practitioner-oriented framework for product and service providers seeking to 'hack demand' for their products in BoP markets. The framework presents five key marketing strategies for accelerating adoption at the BoP in a cost-effective manner. To gain customer attention and trust at a larger scale, many organizations have succeeded by leveraging existing networks of trust such as schools or clinics who bring immediate credibility and legitimacy to new products and services. We have also seen evidence for the effectiveness of offering low-risk trials to trigger higher adoption rates with competitive returns on investment (ROIs). Investing in multilevel agent networks, where a business focuses on incentivizing high-performing and motivated agents, is another strategy that companies deploy to optimize their return on investment in agent training and development. We have also noted the emergence of innovative models for incentivizing referrals to grow demand faster and more cost effectively. Lastly, digitizing loyalty programs has proven to be a very effective demand lever in a variety of sectors. Each strategy can be deployed individually, but when multiple strategies are leveraged jointly, an organization is propelled further, faster on their demand generation journey.
The Demand Engine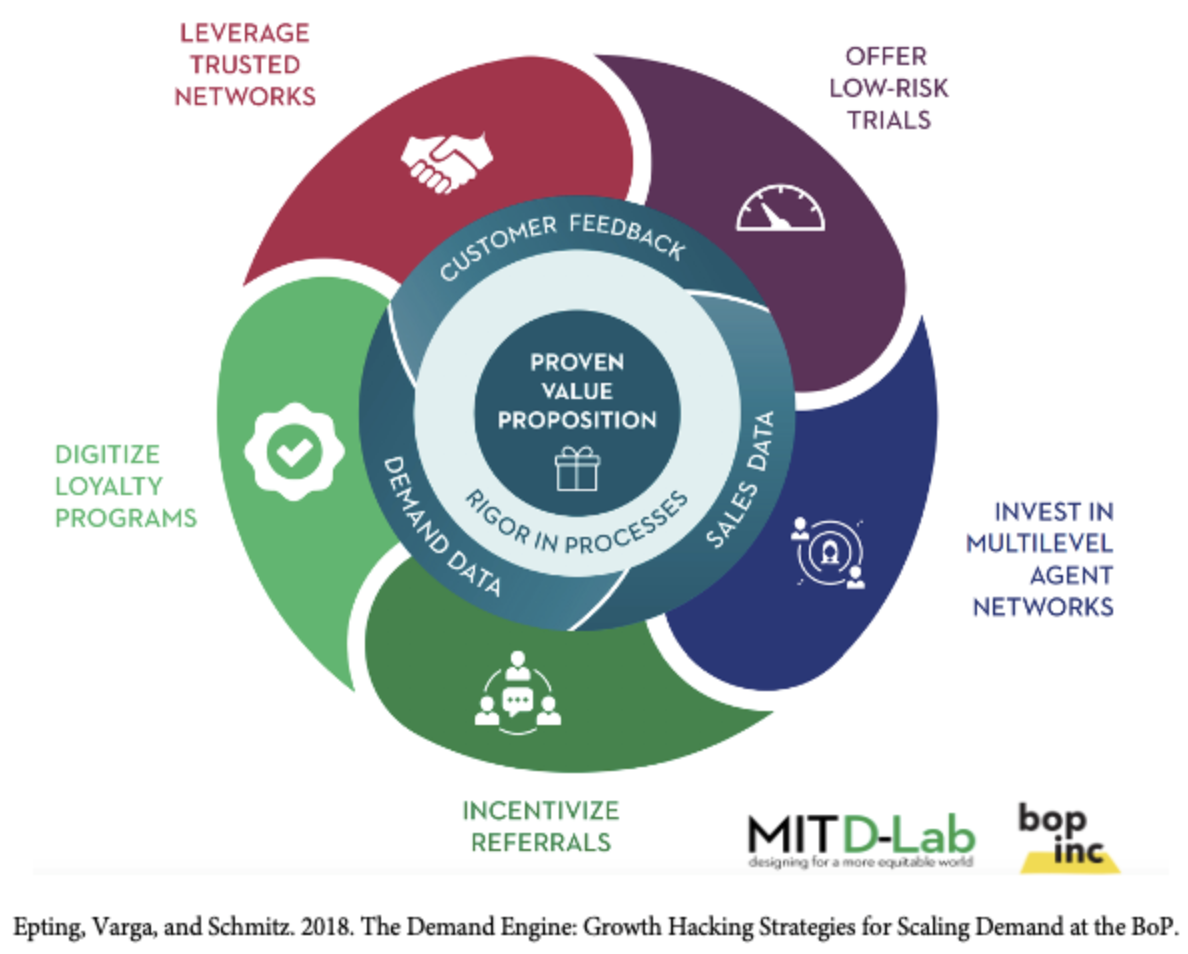 The digital revolution has seeded tremendous opportunity for the use of digital tools in building awareness and addressing challenges of marketing and behavior change. Through the Demand Engine framework, we explore how Copia, Kenya's first rural e-commerce business, leveraged all five of the Engine's growth hacking strategies. The company used digital loyalty and rewards for both its customers and its trust agent networks. Copia's journey to scale relied largely on its agent network, and yet agent development and retention proved to be a significant cost. The company invested in a tiered digital loyalty program with new rewards unlocked at each sales level and a commission structure that depends on total monthly sales. These strategies allowed Copia to invest in and develop its high-performing agents while also allowing reducing the time and costs to find and train them. Copia also introduced a digital reward program for customers, offering digital vouchers rather than physical gifts. This strategy made it easier for customers to track rewards online and reduced costs to Copia for the loss or replacement of physical gifts.
Rethinking IB teaching and learning
Over its five years, PIA generated a dozen knowledge products like the Demand Engine, each designed to assist IB practitioners build their capacity in designing impactful IB strategies. The PIA experience also showed us that IB practitioners learn best and translate learnings into action faster through experiential and peer learning. They profit most from a learning approach that is practical and applied, that includes a real connection to the BoP user and that is focused on fostering collaboration through building inclusive mindsets. The result is Applied Inclusive Business: Scaling technology for low-income markets.
A week-long professional education course developed by MIT D-Lab and Bopinc in collaboration with MIT faculty from Sloan and the School of Engineering, Applied Inclusive Business seeks to equip inclusive business practitioners with the tools they need to move ideas into action, and is designed with the following maxims in mind:
Keep it practical – The course introduces and applies frameworks and tools, providing opportunities for course participants to apply these tools to their real-life cases and get pitch ready by the end.
Make it experiential – Taught by practitioners and drawing from Bopinc's depth of market experience, Applied Inclusive Business offers a real connection to BoP markets and users by bringing their voice into the classroom and through opportunities for real-time feedback on participants' cases.
Foster collaboration – Learning from and connecting with peers was a core asset of PIA, and connection will also be central to this course, where a diverse community of business and international development practitioners will have the opportunity to build community with one another.
Build mindsets – Fostering inclusive mindsets is in our DNA and this course will focus on building and fostering empathy and understanding to better work in and design with BoP markets.
How can IB practitioners define the future of the sector?
Now more than ever, the business community realizes that we need to build for inclusion and resilience, that it is important to move to action, and that there is a need to accelerate innovation and peer learning amongst IB practitioners. The good news is that the tailwinds have begun and are pushing us further forward. IB professionals current or aspiring have a real opportunity to define the future of the sector and take advantage of several opportunities.
Lead in a growing industry — Inclusive Business is no longer a nice to have. It is essential for any organization operating at the BoP. CSR and compensating for negative externalities no longer cut it; the world expects and demands that large organizations have lasting positive impacts on the communities where they operate. Also, IB pays back in the end, both in terms of building market resilience and financial performance. As such, companies that embrace IB are establishing themselves to lead the way in future markets.
Leverage connectivity — Historically due to geographic dispersion and infrastructure limitations, reaching and understanding BoP stakeholders was a challenge. Advancements in connectivity makes reaching these stakeholders now easier than ever and these digital innovations also offer increasing opportunities to engage in IB more cost effectively.
Embrace Collaboration — The divide between development actors and business is narrowing in the sense that while previously these two groups found more difference in their approaches, today there is an increased openness to collaboration and learning from one another. The last years have seen a shift in mindsets towards collaboration as both parties recognize that sustainable solutions will only come from leveraging the strengths of both sectors and an increased collaboration towards advancing market-based solutions.
We invite you to join the first MIT Applied Inclusive Business course to explore these opportunities alongside our global IB community.
---
Contact
Amanda Epting, MIT D-Lab Inclusive Business Manager