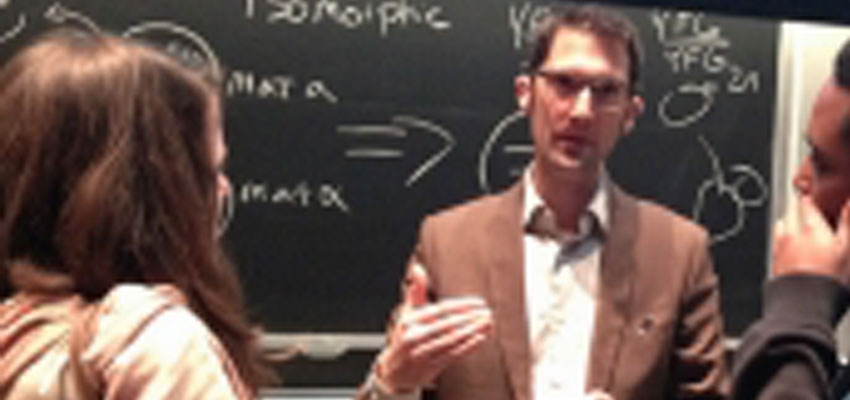 On Friday, February 7th, ahead of the 2014 MIT Scaling Development Ventures (SDV) conference, 18 representatives from 15 organizations including multinational corporations, foundations, and NGOs joined D-Lab's leadership team at the Nokia Collaboration Center in Cambridge to discuss the creation of a global network of organizations actively engaged in scaling up innovative, market-driven solutions for global poverty reduction.
The workshop participants, who included representatives from companies such as Unilever, General Electric, Vodafone, and Mars, responded enthusiastically to the proposition. While many such organizations are exploring inclusive business models to create global shared value in Base of the Pyramid markets, this kind of innovation often happens in relative isolation, potentially duplicating efforts to build capacity and generate knowledge. By participating in the working group, members from diverse organizations with well-aligned missions will be able to share learning, collaborate, and develop best practices, and thereby increase their individual and collective impact – all while leveraging and supporting the work of MIT programs focusing on global poverty alleviation.
Momentum from the afternoon session carried on into Friday evening. D-Lab Scale-Ups convened workshop participants, SDV conference speakers, Scale-Ups fellows, and leaders from key MIT centers such as J-PAL, the MIT Public Service Center and others to start conversations over a friendly dinner that would plant the seeds of future collaborations. The following day, the 2014 Scaling Development Ventures conference gave participants an additional opportunity to share and learn from each other, providing a timely preview of the working group's value.
Just two months later, those initial conversations are beginning to bear fruit. D-Lab is currently exploring several concrete research collaborations with workshop participants. Scale-Ups fellows and MIT centers were able to make numerous strategic connections that are already helping them to move their work forward.
Encouraged by the positive response and the momentum created during the workshop, D-Lab Scale-Ups is accelerating its efforts to make the MIT working group for social impact a reality. Scale-Ups aims to bring together multinational corporations, social enterprises, and NGOs to continue to foster active learning and collaborations that will help scale up poverty solutions globally. The initiative is currently in development, with a pilot scheduled to launch in the fall of 2014 with the participation of a select number of corporations and social ventures. Scale-Ups is excited to build a practical, member-led working group that will make an impact on some of the world's most complex problems.