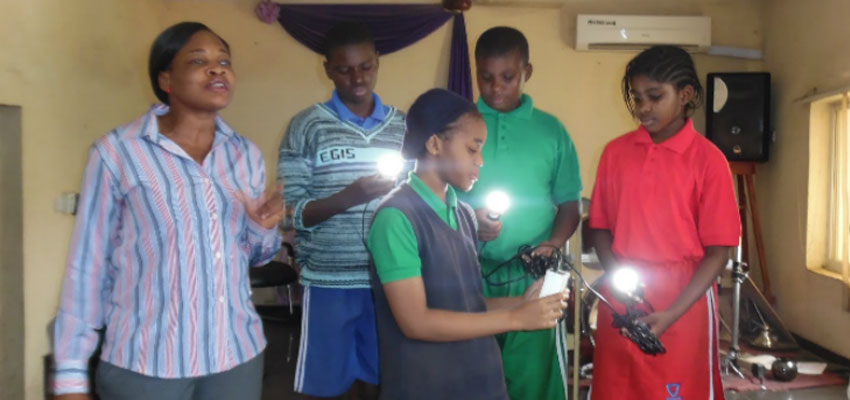 Angela Amaka Onah (left) giving a solar lantern demonstartion at a local school (Nigeria).
D-Lab's D-Lab's Energy Research Group supports the development of energy access programs driven by community-based organizations by creating publicly available resources and providing technical assistance. One such resource is the Solar Lighting Product Comparison which provides consumers and distributors information about more than 60 products ranging from solar lanterns to solar power and lighting systems capable of powering small appliances.
After seeing the Solar Lighting Product Comparison, Mrs. Angela Amaka Onah of Nigera contacted Eric Verploegen, D-Lab's Energy Research Group lead researcher, to learn more about solar lighting products and how she could introduce this technology in her community. Angela is a graduate of Electronics Engineering, University of Nigeria Nsukka. The Founder and Executive Director of Global Youth and Women Awareness for Positive Lifestyle Foundation, she is also the author of Youths' Reformation - The way forward and has other un-published works. Angela is happily married with children.
Read below for how Angela put this resource to work.
1. Tell us a little about yourself and the Global Youth and Women Awareness for Positive Lifestyle Foundation that you founded in Nigeria and how do you hope to benifit your community.
My organization's aim is to become an agent of positive change for youth and women. My passion is to develop communities by finding for opportunities to make direct impact on the lives of youth and women, by organizing trainings to educate them about green energy technology. Through these activities I want to bring hope to the students that will be the future leaders of the community.
The first step for developing communities is to change the mindset of the youth so that they are empowered to make life better for themselves. The youth need to have access to the right information, on how to achieve their goals (how to set the goals?).
Before connecting with Eric Verploegen at D-Lab, I did not have the right information on solar lighting products to know which product was best for the communities in my region.
I hope to improve my community by introducing new innovation, such as solar lanterns, which can improve health, improve business, allow students to read longer hours, create business opportunities, and expose adults and school children to solar energy technology.
2. What activities does the Global Youth and Women Awareness for Positive Lifestyle Foundation conduct?
My program is promoting renewable energy by selling solar lanterns and providing energy education in Nigeria to address the problem of climate change. I not only sell the lanterns but also train young people — especially women — to operate, use, and maintain the device through lectures on solar energy technology and through practical training and demonstrations.
3. Why are you interested in solar lanterns and STEM education?
I am interested in solar energy technology and STEM education due to power failure in Nigeria, especially in off-grid areas where kerosene lanterns cause respiratory problems, also cripple businesses, and affect school children in their studies. Students do not have enough time to read and study at night. With solar lanterns, they will be able to complete their assignments and do better in school, which will enable them to continue their education and at the end of the day they will gain employment and better their lives. One of the biggest challenges we have in Nigeria is that most people are not aware of this new technology.
4. How did you get started selling solar lanterns?
I first heard about solar lanterns through a US based company, and recognized the benefits compared to kerosene, but the price of these products was too high. I heard about D-Lab thought an email newsletter and found the Off Grid Energy Group and the Solar Lighting Product Comparison. I draw information from database and product sheets and also with the help of Eric Verploegen who is D-Lab's Food-Water-Energy Lead.
5. What products are you selling and how have sales been so far?
I am selling the d. light A1 solar lantern. The sales are really encouraging. I have sold over 250 solar lanterns in the past few months in Abuja and Enugu State.
6. Tell us a little about your target customers and how you market the products?
I sell directly to students, employees at hospitals, shop owners who want to stay open after dark, and also to resellers.  I go to communities to create awareness through the village chiefs and youths. I also reach out to the individuals. At first it was not easy for me to break into the market because you will do a lot of talking for people to understand it, and many people find it difficult to buy even though it is for their own advantage. I have built a good business relationship with my customers, and I allow them to pay for the solar lanterns on installments over one month. A major challenge is that manufactures require larger orders to give the best price.
7. How has working with D-Lab helped your work?
I normally draw my information about products from the database and product sheets. The resources have facilitated my decision making because Eric Verploegen who developed the Solar Lighting Product Comparison has always provided help and solutions to all my questions. It would have been very difficult for me to actually find out what the people need and what products are right for the community. I would recommend these resources to others because it has given me the information to start my project and establish my solar business.
8. What are your goals regarding your product portfolio, geographic reach, profit, the business overall?
My goal is that I want to see this project help Nigerian people have a better life, business opportunities, and improve in their education!