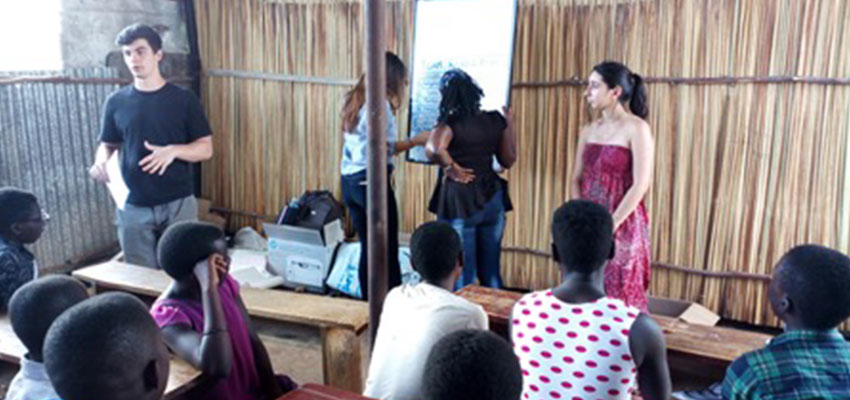 Starting the day with a design challenge for the students. Soroti, Uganda, January 2019.
MIT D-Lab
Week One: Energy Projects in Kampala
We spent our first week in the busy capital of Uganda - Kampala - where we met local entrepreneurs working on solving the biggest problems in the cooking and energy sectors. We stayed in a backpackers hotel called Bushpig, and it was about as touristy as it can get. It is interesting to note that when some of the local students from Makerere University joined us there for a few days, they remarked that they had not heard of most of the food on the menu! "A mini-America in Uganda", one of the students called it. Thankfully, we did not spend much of our time in mini-America.
We met up with Virginia and Robert Ssemakula, a couple who run the local charcoal briquette making company Goodfire Limited. We were introduced to all parts of their business, beginning at the metal fabrication work site in town where their machines are built and fixed. The site was busy, hot and filled with huge machines all operated by hand and powered by diesel engines. From there, we entered the countryside, where Virginia and Robert showed us their briquette making and drying factory. We discussed some of the problems associated with the drying process, the main bottleneck in briquette making.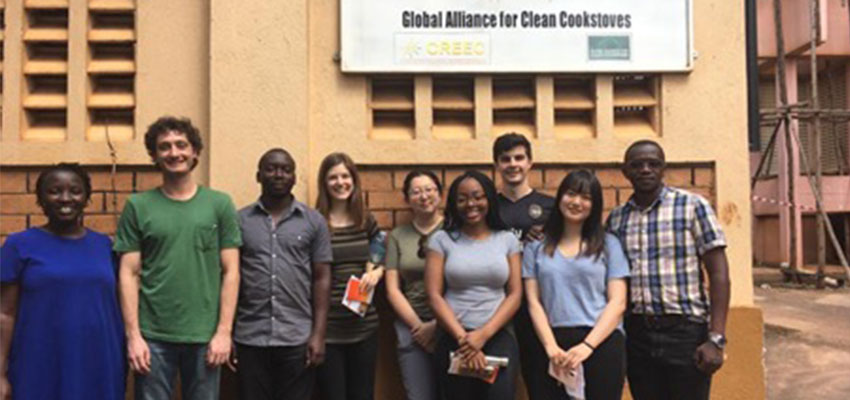 The highlights of our second day included a visit to Makerere University and the Center for Research in Energy and Energy Conservation (CREEC). We spoke with some of the local research scientists about their work on the systematic testing of stovetop and solar panel quality. It was exciting to learn about how their work is used to help both families and businesses make more informed choices, and how this is working towards improving the lives of everyone in Uganda. Our day concluded with a delicious dinner at Virginia and Roberts beautiful home, where we tried local cuisine such as matooke and groundnut sauce.
Our final day in Kampala was certainly our busiest and excitingly our group continued to grow as three students from Makerere University joined us for the rest of our trip. Kabali Saulu, Maximo Mugisha and Liven Kabandize were going to assist us in our work on the youth summit in Soroti, but began by helping us to complete the exciting and exhausting task that is shopping in the centre of Kampala. While at first it was rather intimidating to stand out so clearly in the area as the only Muzungus, a simple "Oli Otya Ssebo/Nyebo" ("How are you Sir/Madam?") to a local was enough to show that we meant well. After returning from our shopping trip, we then went to visit Kasubi tombs, a UNESCO world heritage site where the royal family of the Buganda region of Uganda are buried. The site contains the largest grass thatched hut in the world, but, as we learnt, it was the target of an arson attack in 2010, and despite an ongoing rebuilding project, the haunting remains of the previous hut were still there.
Next we took the long trip to Soroti, through the town of Jinja at the shore of Lake Victoria. We basked in the beauty of Uganda's claim to the source of the nile, and heard tales of its discovery, before continuing our journey to Soroti.
Week Two: Teaching in Soroti
We started off the weekend with a visit to the TEWDI (Teso Women Development Initiatives) headquarters for the first time, where the Youth Summit would be held. Here we met Betty Ikalany, the founder of TEWDI and our host for the next two weeks. The next day, on our last day of rest for the week, we paid a visit to Betty's parents in her home village and were welcomed as usual with warmth and kindness. We visited the various fields in the village, drank the local brew with Betty's parents, and played with the children in the village, for an afternoon of rest and laughter.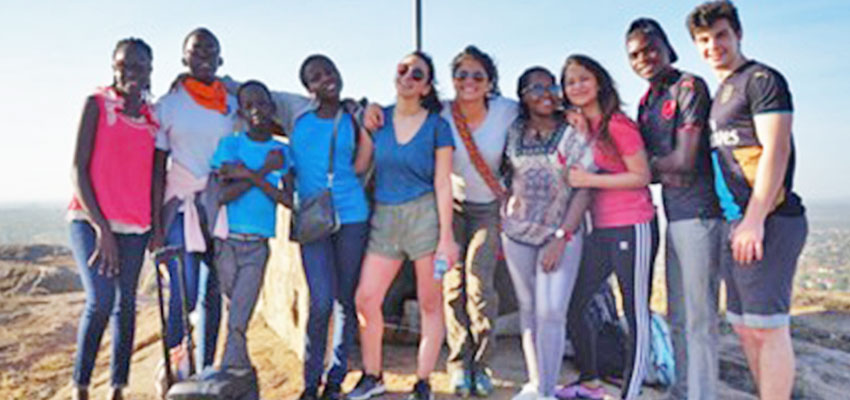 On Monday, the Summit began. Our objective for the first week, and the lessons we had accordingly planned, was to teach the children at the camp about entrepreneurship, solving problems using local materials, mechanical design, computer science thinking and basic electronics, in order to give them the tools to design and create their own group projects during the second week. Lessons and games included:
Banana stacking using only 1-2 pieces of paper (A D-Lab classic)
Combining everyday household items to make a product and pitching it
Design and building a Parabolic Solar cooker - using the sun's energy and mathematics to solve problems
Building a simple mechanical actuation device to pick up items of different shapes and sizes
Making a corn sheller (Another D-Lab classic!)
Learning to think like a computer – algorithm games like sorting Kings and Queens and the Chili and Chocolate game
Using electronics to make a smart home – creating a servo powered door that reacts to light using a photoresistor
Innovation using Arduino
Understanding what makes a good entrepreneur
At the end of the week, the students were split up into teams and began brainstorming potential solutions with our guidance, and worked on their team flags with the objective of establishing a certain branding and marketing strategy for their product (as well as build team rapport). It was a very fun afternoon since we added some music on a speaker to the flag-making activities, which may or may not have led to a bit of a dance party.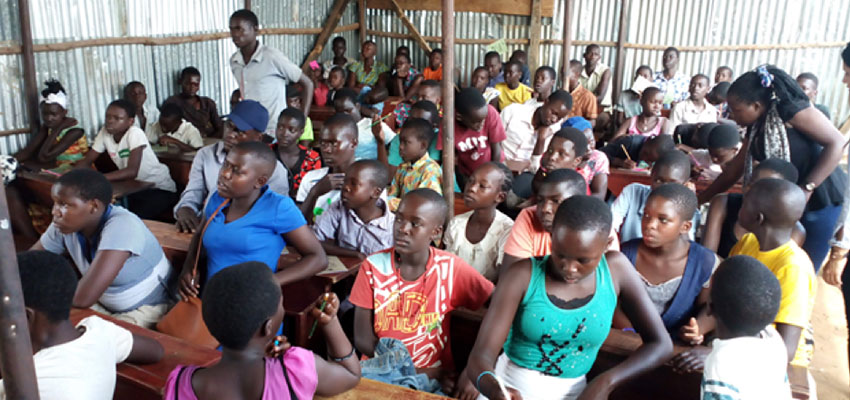 Week Three: Student Projects
Over the weekend, we went to a village to celebrate Immaculate's (an employee at TEWDI) wedding/introduction. The ladies had all practiced wearing the local dress (Gomezes) and marching in them before we got there. Following the long and dusty journey, we changed into our outfits and marched Immaculate to the celebration. It was the best way to celebrate the end of our first week in Soroti!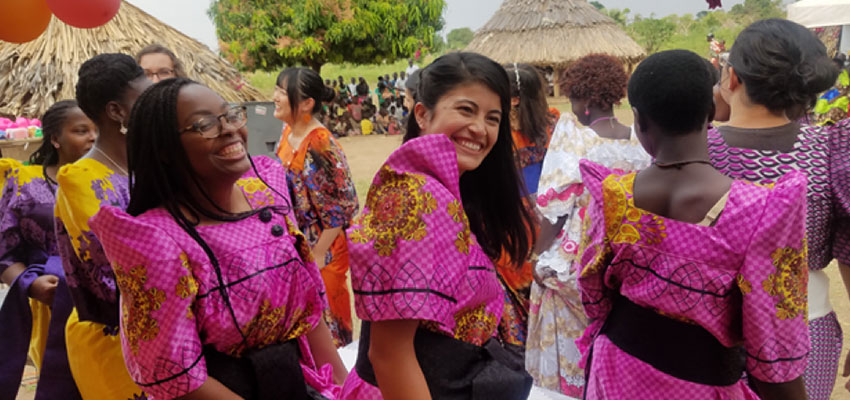 The second week of the summit began with each group brainstorming a problem that they found in their communities and then attempting to create a solution for this problem. Once they had a project in mind, we encouraged the students to use sketch modelling to build 3D models. We also attempted to lead the students to people who are experts in their respective projects.
Once they had their ideas and models in place, we asked the students to make a budget. This was essential for us to get the materials they needed. Expectedly, we were not able to get all of the materials ourselves. It was exciting taking the children into town and getting what they needed. From exploring scrap yards, hopping from one hardware store to another and observing metal welders, this was a learning experience for all of us.
At the end of the summit, each team prepared a pitch to sell their projects to the audience. The children worked on their marketing skills and created enticing pitches for each of their projects. Each student confidently spoke of the work they had done, answering questions from the parents and facilitators. These pitches were dispersed with other performances by the students-- displaying their dance and musical talents. It was a beautifully planned event that brought the summit to its end. It was at this time that we said our final goodbyes to the children, and to Uganda.
Final Reflections
Conor: Spending a month in Uganda made me reflect a lot on how disconnected media and the digital world can make me feel from the real world. I can't remember the last time I just aimlessly explored the environment with friends in Boston, but in Uganda I just wanted to do that all the time, and I learnt so much from it. "Hanging out" in college usually just boils down to being on your phones in the same room together or watching the same media, but very rarely does it getting up and just seeing where the world takes you. I know which one I preferred.
---
About the authors
Conor Kirby is a senior at MIT studying Mechanical Engineering and Physics. He wants to go into the field of assistive technology and has hopes of exploring the world to better inform his technology innovations