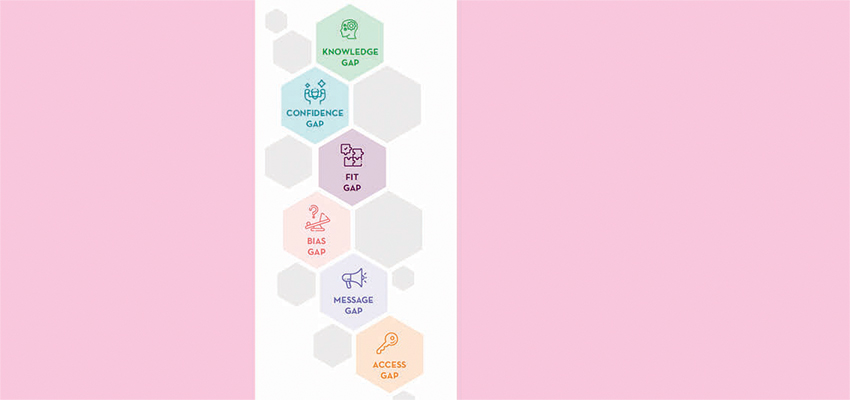 MIT D-Lab
Despite the growing evidence for the business case of Gender Lens Investing (GLI), many established investors are still struggling to identify investable female-led ventures. While there is undeniably work to be done to build the pipeline of female entrepreneurs, the profile of the female entrepreneur remains a relatively new market segment for most of these investors. Therefore, investors who want to adopt GLI need to review their criteria, tweak their value proposition, their channels, and their processes to attract and capture this new segment. However, these changes can be very challenging to implement within organizations that have been operating with established teams and processes for a certain amount of time.
On October 19, 2021, MIT D-Lab and Intellecap convened an online workshop focused on sourcing practices in India, as part of a Co-design Sprint: Towards Gender Inclusive Investing Practices. Over 40 investment and gender practitioners came together to support Accion Venture Lab and Villgro in exploring the following question: How might we improve our sourcing practices to attract and identify relevant female entrepreneurs?
The workshop drew investors, entrepreneurs, gender experts, and practitioners from the investment ecosystem in India and globally. Participants included representatives from ANDE, AVPN, CDC Group, Global Innovation Fund, the GIIN, ICRW, the Palladium Group, Sarona Fund TSIC, UBS, UNConventional Capital, Value for Women, etc.
The virtual workshop kicked off with the Privilege Walk, an exercise designed to provide participants with an opportunity to activate their empathy mindset. In taking stock of their own privilege as it relates to a broad set of diversity considerations, participants opened their minds to exploring how sourcing practices may be perceived and lived from the unique perspective of female entrepreneurs. As they transitioned into design teams of five to seven people, participants were invited to put themselves in the female entrepreneurs' shoes and listen with empathy to the entrepreneurs on their teams to unpack the barriers that women encounter in navigating investors' sourcing practices.
Mapping barriers faced by female entrepreneurs along sourcing processes
A first step in an investor's GLI sourcing journey is to identify the constraints that women face as they interact with their current sourcing processes. To help organize the brainstorm, MIT D-Lab offered a simple five-step framework that highlights key milestones along the female entrepreneurs' journey as they attempt to enter investor pipelines.
 

I become aware that I need investment: Often the journey starts with gaining awareness of the need to seek investment in order to scale or move the business forward. This can take a certain amount of time and it encompasses starting to understand the pros and cons of bringing in investors, and what characterizes the different kinds of investors and capital. 
I begin to prepare myself and my venture: This step encompasses both material preparation like learning to build a pitch, prepare financial plans, document and size the investment ask; as well as psychological preparation: self-confidence and feeling worthy of investment. This also develops over many rounds of trial as entrepreneurs grow their knowledge of the space, their confidence as well as their network, and their capacity to pitch their venture.
I identify target investors: Due to lack of exposure opportunities, female entrepreneurs can sometimes waste a lot of effort trying to connect to the wrong investors. Being part of support programs or networks can help tremendously to accelerate this milestone but it can also take a long time and great effort to identify those investors who are looking specifically for their profile and with whom they have a larger chance.
I connect to the right investors: Even when the right match is found, it can still be difficult to connect as often investors have their preferred channels and formats for engaging with entrepreneurs, which are often not obvious.
I pitch: Various pitching opportunities can occur at various stages of the journey and provide an opportunity for learning and growth. At more advanced stages of the journey, this step is not about just making a pitch, it often includes several rounds of conversation with the fund manager that serve as screening and allow both parties to validate the fit and clarify expectations.
Although these milestones were presented in a sequence, in reality, this is not a linear process as entrepreneurs each carve their own unique path, often going back and forth between these different steps along their investment journey.
Six gaps for investors to address in sourcing processes
In breakout rooms, participants contributed their diverse perspectives to unpack the biggest challenges along the female entrepreneur journey. Six distinct themes emerged from these conversations, resulting in an insightful list of gaps that investors need to address as they design and implement their sourcing practices. 
THE KNOWLEDGE GAP: Are we building the capabilities of female entrepreneurs in our pipeline? - Due to the lack of exposure and limited networks, female entrepreneurs often enter their fundraising journey with a limited understanding of the breadth of options that exist in terms of investors, type of capital, and investment models. Existing training and capacity-building programs rarely take a gendered approach to their program design and can even contribute to growing the gender divide. /Women require tailored capacity-building programs that can cater to their specific needs, and gender-forward investors can influence capacity builders to adopt more gendered approaches.

THE CONFIDENCE GAP: Are we boosting the confidence of female entrepreneurs in our pipeline? - As was the case for many industries in the past, the field of entrepreneurship is not a plain level for women to compete. With so few success stories and role models, women entrepreneurs need encouragement and reassurance from GLI investors to believe in an equitable future that is yet to be built. /Whether it is through recognition awards, exclusive cohorts. or specifically earmarked funding, investors have the power to signal their belief in women entrepreneurs' potential and inspire them with the confidence they need to break the glass ceiling of entrepreneurship.

THE FIT GAP: Are we offering the right product and service for female entrepreneurs? - Many investors want to increase the number of women in their portfolio but resist adapting their investment products and structures to meet their needs. Research suggests for example that female entrepreneurs are less inclined to give up a lot of equity; they favor collaborative rather than competitive processes and require tailored technical assistance. /Gender lens investors can leverage sex-disaggregated data to gain a deeper understanding of female entrepreneurs they want to bring in their pipeline and design products and processes that fit their unique needs.

THE MESSAGE GAP: Are we using the right message to attract female entrepreneurs? - Too often investors' outreach messages do not resonate with female entrepreneurs, thus missing an opportunity to build trust and communicate a strong commitment to gender lens investing. /By carefully crafting messages that speak to female entrepreneurs' pains and desires, promoting success stories, and engaging role models as ambassadors, investors can better attract female entrepreneurs and inspire trust. 

THE BIAS GAP: Are we adequately mitigating the risk of bias against female entrepreneurs? - In India, as it is in many other countries, cultural norms and gender stereotypes hinder women's advancement in the workplace and in society. The heavy male dominance in the investment world increases the risks of cognitive bias and power dynamics in sourcing processes. /Investors can address the bias gap by hiring gender-diverse teams, investing in staff training, and actively mitigating gender bias in the design and implementation of their sourcing processes.

THE ACCESS GAP: Are we using the right channels and processes to reach female entrepreneurs? - Whether it is networking over drinks, late evening or offsite convenings, or heavy reliance on referrals, many common practices adopted by investors contribute to perpetuating the gender divide. /GLI investors can bridge the access gap by intentionally diversifying their sourcing channels, targeting networks with larger women representation, and joining forces with like-minded peers and ecosystem allies to shift the industry practices towards more gender-inclusive ones. 

In reflecting on the breadth of barriers that emerged from this exercise, the investors noted that these challenges are all interconnected and that it takes a holistic approach to make sourcing really gender inclusive.
Generating ideas to improve sourcing practices
During the ideation session, investors chose to focus on developing solutions for the confidence gap, the bias gap, and the access gap. The teams generated a broad range of idea starters, including several around the following themes:
Tailored design: Participants stressed the importance of breaking from the one-size-fits-all models. They suggested ideas that encourage investors to cater to the specific needs and wants of women entrepreneurs. These included redesigning screening criteria, diversifying investment vehicles and terms, employing women-friendly sourcing channels, sponsoring pre-investment awards, and running exclusive cohorts. 

Role models: Whether it is to boost the confidence of female entrepreneurs, to gain their trust, or to build their capacity, participants suggested various ideas that call for investing in documenting and promoting relatable success stories of female entrepreneurs, and actively engaging those that succeeded in playing a mentor or advisor role for promising female entrepreneurs in the pipeline.

Strategic partnerships: Both for addressing the knowledge and access gaps, participants suggested engaging in collaboration with strategic partners who are well-positioned to develop women's investment readiness with gendered approaches and who are open to reimagining channels and networks that cater to women's needs and preferences. Others suggested that investors engage in collective action by joining forces to build the pipeline and address the ecosystem shortcomings. 

Bias mitigation: Participants recognized that gender bias is at the root of many of the sourcing gaps identified and suggested investing in bias-mitigation strategies such as introducing gender-blind assessments as well as investing in investor staff training to reduce unconscious bias and power dynamics.

An emerging tool: The Sourcing Maze
We analyzed the emerging themes from the problem framing and idea generation exercises and used them to develop the Sourcing Maze, a tool to help GLI investors diagnose their sourcing practices and identify opportunities for improvement.
By reviewing the question checklist, investors can gain a broader understanding of the challenges female entrepreneurs may encounter while navigating their sourcing processes. Investors can use the checklist to identify where they may be focusing their efforts and where there might be opportunities for improving their sourcing practices. Rather than presenting an exhaustive list of best practices, the Sourcing Maze invites investors to question their current sourcing practices in specific areas and to think of targeted solutions.
We hope that you will find this tool helpful and invite you to share your feedback on it by writing to Jona Repishti.