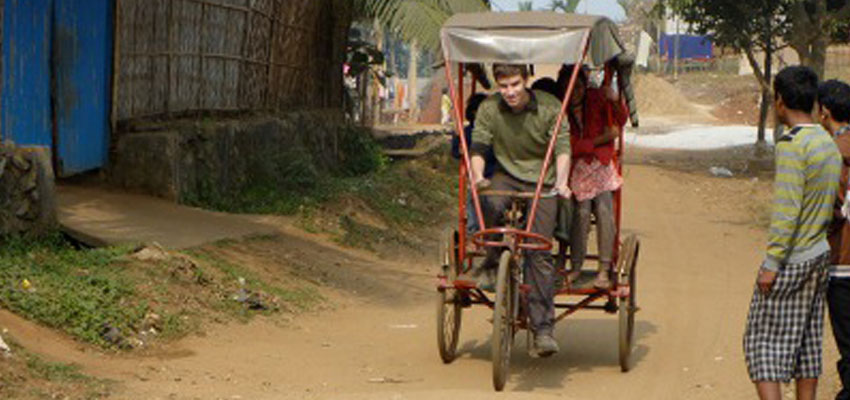 Ned considering leaving academia for life as a rickshaw wallah...
After two days in Delhi we arrived in Guwahati, Assam, in India's Northeast about ten days ago.  Since then we have been working at the rickshaw factory making some minor changes to a prototype we built last summer, building a cargo bicycle and a lighting system for rickshaws to use at night.  
On days when the factory is open we join the commuters of Guwahati, walking the mile and a half until we turn off the main road and take a small unpaved shortcut where dozens of children wave and yell "hi bye" as taught to them by one of last year's students.  When we arrive at the factory we are warmly welcomed by the staff of 20.  It is a curious place by the standards of factories in the US.  Although they build an average of over 20 rickshaws a week the work gets done in a relaxed atmosphere and distractions are often indulged.  Today three of the staff spent half an hour assisting three kids, newly born to the factory goat, getting started nursing.
Today Ned Burnell, the only student with me on this trip, tried out a couple of options for powering the lighting system from the motion of the rickshaw.  The first approach used magnets from a discarded disk drive attached to the wheel rim where they passed by a coil extracted from an automotive relay to power an LED,  total cost of parts under $3.  It worked but was marginal at the slow speeds that rickshaws sometimes travel when laden heavily.  The second approach involved driving a miniature electric motor bought as surplus directly from the sidewall of the tire so that it became a generator to power the LED.  Ned tried several motors and some worked better than others.  Next step; look for a source for a supply of the type of the motors that worked best.  
I spent my time at the factory today helping Ned and preparing parts to assemble a second cargo bicycle prototype.