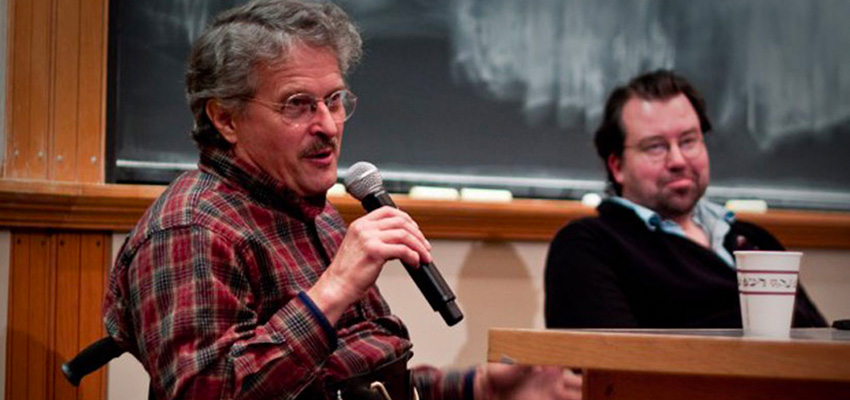 Presenter Ralf Hotchkiss sharing his experiences in his wheelchair. Photo: Nathan Cooke. Source: D-Lab Archives.
MIT D-Lab
International. Innovation. Invention. Ingenuity. Inspiration. Are you IN?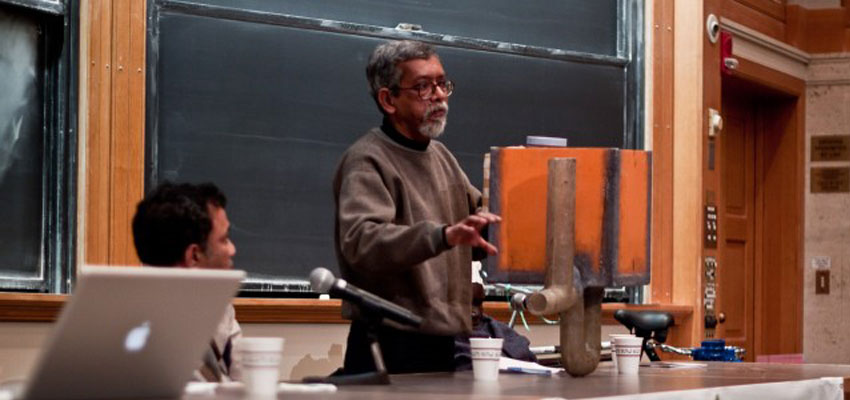 Last Wednesday, D-Lab hosted the first inaugural Innovators Night, a panel discussion with inventors and social entrepreneurs from around the world. Over 130 people from MIT and the greater Boston community came to hear from our featured innovators:
Fatuma Acan ~ Uganda ~ Director of MADE and the Pan-African Wheelchair Association. Fatuma is a wheelchair user herself and was the first woman to train as a wheelchair technologist in Africa. 

Suprio Das ~ India ~ Independent Inventor and Senior Adviser to Aqua Welfare Society. Suprio is a D-Lab Designer-in-Residence and has invented several devices for human power generation and water treatment.

Harish Hande ~ India ~ Co-Founder and Director of SELCO Solar, a social venture that promotes sustainable technologies in rural India. Harish has won 2 Ashden Awards and been named an Ashoka Fellow, Schwab Foundation Social Entrepreneur of the Year and Fellow of the World Economic Forum.

Ralf Hotchkiss ~ USA ~ Co-Founder of Whirlwind Wheelchair and Advisory Board Member of Women Pushing Forward. Ralf is a wheelchair user with over 35 years experience in 42 countries teaching people who need wheelchairs how to build and maintain them for themselves. He has won a MacArthur Foundation Fellowship and received numerous other honors for his work.
Another featured innovator was unable to join us for the evening after his flight was delayed in the aftermath of the Icelandic volcano, but was represented by his colleagues at MIT:
Bernard Kiwia ~ Tanzania ~ Head of Technology at Global Cycle Solutions. Bernard is a D-Lab Designer-in-Residence and a prolific inventor of pedal-powered technologies, including a hacksaw, a drill press, a windmill, a water pump, and a cell phone charger that attaches to a bicycle.
The panel was moderated by Joost Bonsen, Co-Founder of Howtoons and Fellow at the MIT Program in Development Entrepreneurship. Joost is an innovation ecologist at the MIT Media Lab studying global transformations and teaches the D-Lab Development Ventures class. Named Boston's "Venture Catalyst" by WorldChanging.org, he has advised several start-ups and sits on the Board of Directors of the MIT $100K Competition.
D-Lab plans to continue hosting such events to engage the MIT community and general public in discussions about international development, appropriate technology, and social/environmental entrepreneurship. Video footage of the entire event has been posted on MIT TechTV, and can be viewed by visiting the TechTV D-Lab Collection. More information about the event and featured innovators is available on the D-Lab website at http://d-lab.mit.edu/innovators.