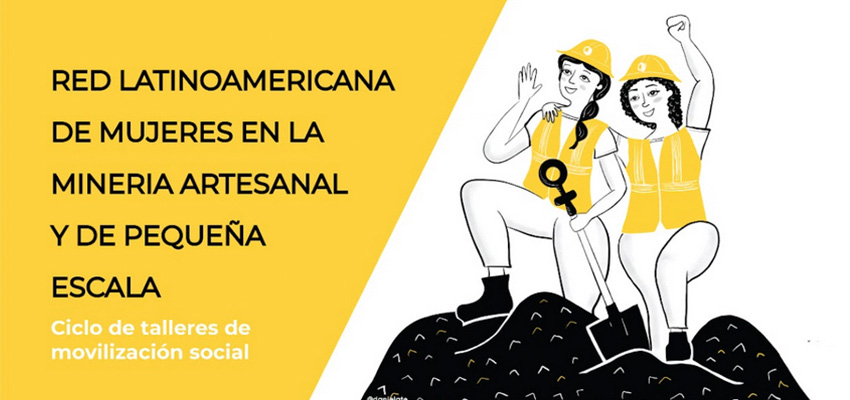 MIT D-Lab
In June of 2020, the Alliance for Responsible Mining (ARM) and MIT D-Lab launched a project to address gender-based violence (GBV) in the artisanal and small-scale mining sector. This project is supported by the American people through the United States Agency for International Development's (USAID) RISE Challenge. ARM and D-Lab's program consists of movement-building workshops that weave together elements of Public Narrative developed by Marshall Ganz out of the Harvard Kennedy School and MIT D-Lab's Creative Capacity Building (CCB) methodology to enhance voice, agency, and opportunity.
Workshops and exchanges of women miners from five mining communities offer women artisanal miners a safe space to tell individual and common stories related to their day-to-day reality of GBV. Ultimately the workshops provide them with a framework to identify the particular GBV challenges they face along the gold mining supply chain and together build appropriate solutions to those seemingly insurmountable challenges.
The movement-building process allows women artisanal gold miners to see themselves as agents capable of devising a path forward, working together to mitigate GBV along the gold supply chain through solidarity and self-determination.
Journey Map
In an attempt to deeply understand the emotional and intellectual highs and lows of the workshop participants, the implementation team (including students from D-Lab's 2020 Gender and Development class) mapped the experiential journey of women participating in the program. A journey map is a tool commonly used in design practice to visualize a series of actions that a person goes through to fulfill a particular objective or goal.
It can be as simple as the linear visualization of these actions or one can add layers of related components, both emotional and intellectual, that complement the process a participant experiences as they move through various program components. The use of this tool allowed the implementation team to gain a greater understanding of each program engagement and identify key moments where women participants might struggle with the particularly challenging and sensitive subject matter.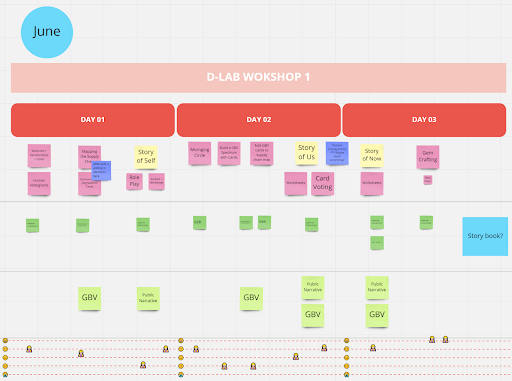 The journey mapping experience allowed the implementation team to identify key insights and inflection points before walking into the first program workshop, which include the following:
We could likely face the challenge of cultural relativism as the participants may not conceptualize violence, and particularly gender-based violence, in the same way that we do.
Workshops needed to be extremely sensitive to the potentially complex and traumatic nature of the topics we planned to address. Therefore time was woven into the workshop curriculum and short activities were added at the end of each day,  allowing each session to end on a positive, forward-thinking note.
Material developed by ARM, regarding power dynamics, stakeholder mapping, and market inclusion could be seamlessly included in each of the workshops to strengthen the curriculum and effectively reach the learning objectives.
Before the Trainers traveled to participating mining communities to facilitate the workshops, a visual rendition of the journey map was created,  allowing participants to understand and comment on each step of the movement-building process.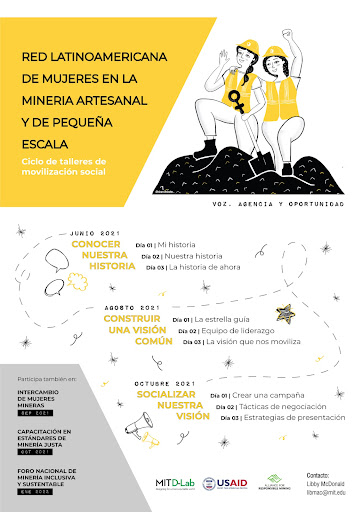 ---
About the author
Daniela Teran Endara is an Ecuadorian designer, social impact innovator, and educator. She works to find creative solutions to complex challenges and transform systems towards a more equitable future. For this, she uses a design and systems practice process. She is passionate about local innovation and intersectional feminism. She engages with communities, especially women, to support them and build their capacities to find new and improved ways of addressing their challenges and finding opportunities. Daniela holds a Bachelor's degree in Architecture from Universidad San Francisco de Quito. In May 2020, she graduated from the Master in Design Engineering program at Harvard, a highly collaborative multidisciplinary program focused on solving complex challenges using design and systems thinking.
---
More information
RISE Challenge: CCB for Movement Building with Women Miners - Colombia
Contact
Libby McDonald, MIT D-Lab Lecturer, Inclusive Economies program lead