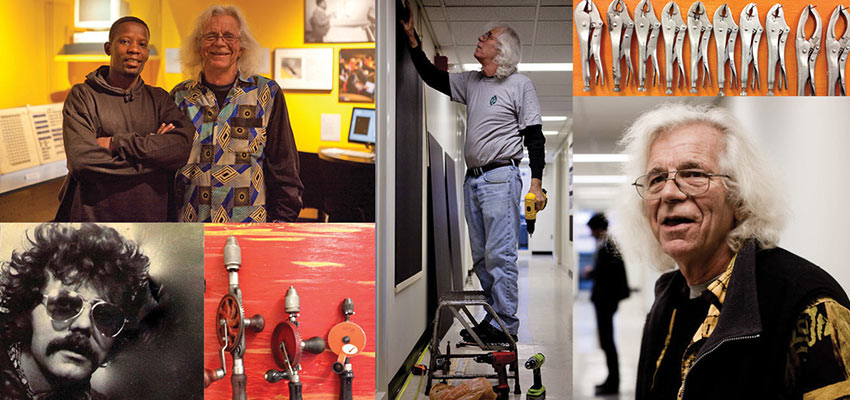 MIT D-Lab
Dear Friends,
It is with sadness that I share the news of the passing of Dennis Nagle, long-time friend of D-Lab, and as he liked to call himself: "shop gnome."
Dennis first walked into D-lab about 15 years ago, eager for a change in his life. I remember his unruly white hair and his equally unruly sense of humor. In those days, the "shop" was in a small closet in the old shipping and receiving room in the basement of MIT's infinite corridor. Dennis began bringing order to the shop, and brought so much to our community with his unique collection of skills and stories. His legacy has stayed with D-Lab through several moves: the colorful tool boards, the hand-held hot wire foam cutters, the funky tubes to store backpacks in. He was a fiercely loyal mentor to many students over the years and was a staunch supporter of the need to balance creativity and order, fun and work, and anarchy and kindness.
Dennis was part of the IDDS (International Development Design Summit) community and helped manage the workshop for the first several summits at MIT, Colorado State University and Kwame Nkrumah University of Science and Technology in Ghana. He loved this international community, and the way that people came together from all over the world and worked together so effectively. He also was a long time team member and mentor to the SurgiBox team, spending countless hours helping to develop prototypes and move that project forward.
Dennis passed away at 5:45 pm on Friday, April 24 at the Bedford VA hospital of complications caused by Covid-19. Our hearts go out to his family and all the friends who will miss him. Soon, we will have a zoom-memorial for Dennis, so please, if you knew him, think fondly about his memory and think of a story to share; if you didn't know him, feel free to join and learn a little bit about the quirky, zany, wonderful person that was Dennis.
Warmly,
Amy