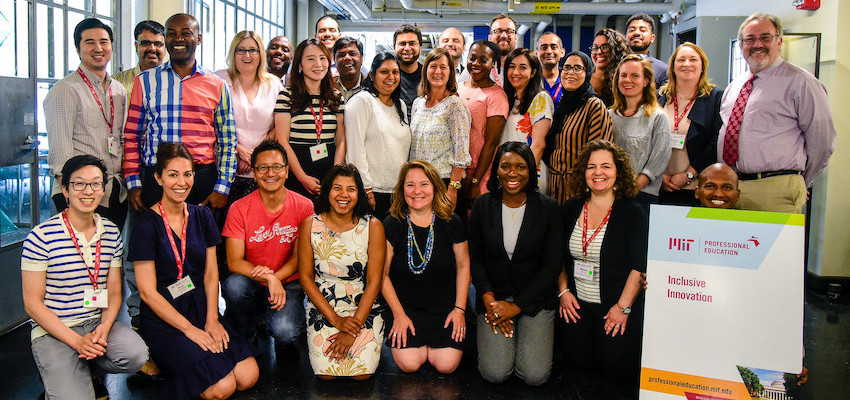 Inclusive Innovation: Designing for a Better World participants July 2019
MIT D-Lab
Updated 8/21/2020
In Amy Smith's recent letter to the D-Lab community, she wrote about what D-Lab is doing as we all face the difficult situation of Covid-19 and its effects. In this blog, we'd like to share with you two additional opportunities D-Lab has developed for professionals who are looking for tools and methods to solve tough systemic challenges together in more inclusive and resilient ways, qualities we believe are relevant now more than ever.
Building on the success of MIT D-Lab's first professional education offering last summer, D-Lab had planned to facilitate two five-day MIT Professional Education courses here at our home base on the MIT campus this July 2020. However, as we find ourselves in this new reality of Covid-19 and with health and safety as our priority, we have made the decision to shift both courses from July 2020 to June 2021.
We are happy to announce that registration is now open for these two MIT D-Lab professional education courses, courses that provide professionals with frameworks for inclusive problem-solving and collective action: 
The first short course, Inclusive Innovation: Designing for a Better World, which will run from June 7-11, 2021 at D-Lab, is designed for professionals who want to learn basic frameworks and methods for facilitating inclusive innovation processes and participatory design in international development and humanitarian contexts. Professionals from a variety of sectors (humanitarian aid, business, government, higher education, and community development) have mentioned that the tools and methods they learned in this course have been useful to help reframe how they think about poverty-related challenges as well as who and how to include relevant stakeholders in the problem-solving process, especially in times of crisis. 93% of participants from last year's course have shared that they have already applied the inclusive innovation processes in their own work. This course will be facilitated by D-Lab Founding Director Amy Smith, D-Lab Faculty Director for Academics Maria Yang, Elizabeth Hoffecker, Libby Hsu, Kendra Leith, and Sher Vogel.
The second short course, Applied Inclusive Business: Scaling Technology in Low-Income Markets, is a new course which we will be launching at D-Lab the following week, June 14-18, 2021. The course is designed for professionals who want to expand the markets for their products and technologies and to learn basic principles and frameworks for facilitating global business and distribution processes that include and benefit base of the pyramid (BoP) populations. Successful, scalable business in these markets is not business as usual. It requires innovation, a strong understanding of the customers' wants not needs, and an appetite for agility and iteration. These same principles of agility and innovation are relevant now more than ever, and when done well inclusive business (IB) can have the long-term benefit of building resilience in local markets. The course will be taught by MIT Sloan Professor Stephen Graves along with Jarrod Goentzel, Jason Jay, D-Lab Research Director Dan Frey, Saida Benhayoune, Amanda Epting, Sher Vogel, and BoPInc Managing Director Emile Schmitz, and Nick van der Velde.
In true D-Lab fashion, both courses will offer dynamic and interactive experiences featuring real-world case studies, guest speakers, collaborative activities, in-depth discussions, and networking opportunities. By the end of each course, participants will leave with a toolkit of practical frameworks they can use as we adapt and rebuild together in a COVID-19 affected world.  
Participants will earn an MIT Professional Education Certificate of Completion for either course and both courses are part of the core MIT Professional Certificate Program in Innovation and Technology. You can take one course or take them both!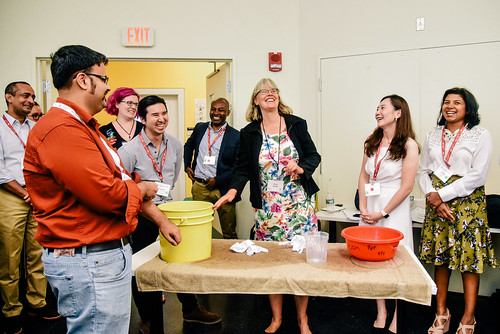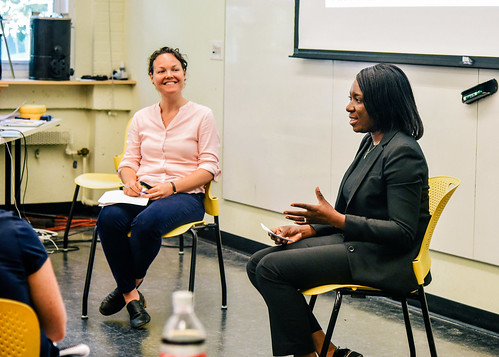 What have participants said about last year's inaugural Inclusive Innovation course and how are the tools and frameworks applicable in the time of COVID-19?
"I have been working with social workers, medical doctors, and engineers to design rapid UV disinfection devices for helping low-income families to battle against Coronavirus." -Dr. Albert Ko, Lingnan University
"I have had a change in mindset that every problem has a solution. Most of the practical exercises initially seemed impossible, but at the end, we always had a solution to the problem." - Inclusive Innovation Participant 2019, Fidelity Bank Ghana
"I have used some of the stakeholder analysis tools as well as the brainstorming tools to come up with ideas for an instructional design project I am working on in the pharmaceutical industry." - Melissa Scrimo, Applied Intelligence Consulting
"I work in reform programs in public finance. [The inclusive innovation framework] has [inspired] several improvement initiatives in budget planning, budget implementation and revenue forecasting."  - Carlos de la Torre, Ministry of Finance Yemen
"The most important change has been to look at program design from the perspective of [the] user and [to be] demand-driven rather than supply-driven. I would say the co-design work actually contributed a lot to this but also the fact that we can tailor some solutions to [better] suit the end-user."- Srivalli Krishnan, Bill and Melinda Gates Foundation
What is MIT Professional Education's cancellation policy in case I cannot attend or travel to MIT's campus in Cambridge, MA for an on-campus program due to COVID-19 restrictions?
Given the ever-changing information, guidance, and state of public health and safety, D-Lab will reassess with the MIT Professional Education office in late August if / how our course plans may need to adapt or shift, and we will inform all registered participants of these changes. Should it become necessary to cancel your enrollment due to COVID-19 restrictions, MIT Short Programs will waive all cancellation fees and issue you a full refund. Please reach out to shortprograms@mit.edu with any questions or concerns you may have about registration fees. For questions related to visas, please review the information on their Travel & Arrival page. You can stay up to date on their COVID-19 updates here. 
---
Contact
For more information about the courses and their content, please reach out to Sher Vogel, MIT D-Lab Global Trainings Manager.