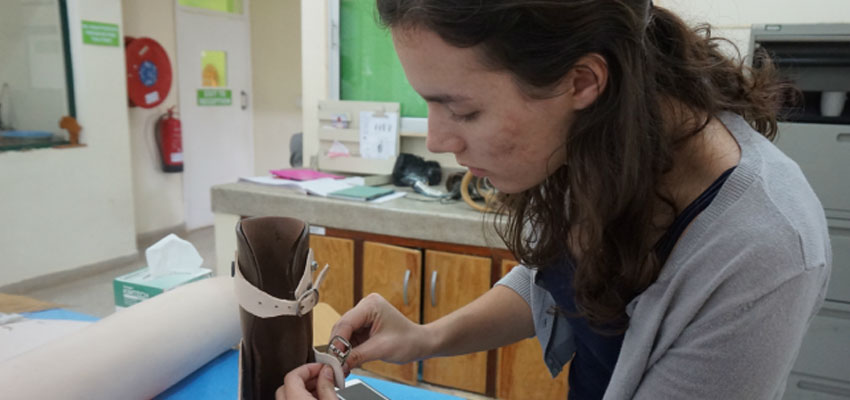 This January, in conjunction with the D-Lab: Prosthetics class, Trang Luu, Katelyn Sweeney, and Nick Schwartz traveled to Kenya and Ethiopia to test their transtibial prosthetic liner. The goal of our design is to create a more comfortable interface between the patients and their prostheses, as daily fluid shift in the residual limb can cause discomfort. We ran field trials at the CURE International Hospitals in Kijabe, Kenya and Addis Ababa, Ethiopia. During these trials, the patients were asked to wear the liner with their own prosthesis and rate its comfort measures and aesthetics on a quantified scale.
Making prostheses more comfortable
The results were profound. Many patients tended to not wear their prosthetics in the first place because they were so uncomfortable to walk with, and they opted to use crutches instead. The feedback was very useful and will help us create the next prototype. Overall, there were 14 patients that gave us feedback: seven in Kenya and seven in Ethiopia. Those who were able to use our device in tandem with their current prosthetic were asked to rank its comfort; the others were surveyed on what they would like to see in future iterations. 
The results of our study were greatly beneficial to our research. On a scale from one to four, with four agreeing very strongly, the average patient response to the statement "I can walk more comfortably with the liner" was a three across both locations. One other aspect we took into consideration was aesthetics, so that users would feel comfortable wearing our liner in public. The average patient response to the statement "I want to wear the liner" was a four. Other than the quantitative feedback, we got many suggestions for how to improve our device, and for what each user looks for in an ideal prosthesis.
One of the most special moments for the team happened on our first day of testing in Addis Ababa. A 17 year-old girl named Mariane came all the way from Chichirri, Somalia with a knee disarticulation. With limited availability of inexpensive prostheses in Somalia, she was unable to acquire a prosthetic when she had had her surgery two months prior. With a generous donation of parts from Rogerson Orthotics and Prosthetics in Cambridge, Massachusetts, the team was able to construct one for her from scratch and stand with her as she took her first steps since the surgery. It's a long road ahead, but she made (literal) strides that day and we are so excited to see where she goes from here. 
Lessons in Co-Creation
We all learned the value of co-creation; too often engineers for the developing world will come up with what seems like a brilliant concept on paper but fails in real life because it doesn't fit into the cultural context of the country. Our team saw success largely due to the fact that we worked alongside the prosthetists in Kenya and Ethiopia to determine what would work and what wouldn't. We all hope that long-term success will be a result of this cooperation between international healthcare engineers, and all of us hope to go back and continue working on the project.
Exploring Kenya
In addition to working during the weekdays, we were very fortunate to have the opportunity to travel during the weekends. The first weekend in Kenya, we traveled to the Maasai Mara Game Reserve in Kenya. Within the first ten minutes of our game drive we watched a mother cheetah and her two children hunt and eat a gazelle. In an unbelievable stroke of luck, we also saw a pride of three male and three female lions relaxing in the sun. In Ethiopia, we explored various sites in the city such as Mercato, the largest outdoor market in Africa, the National Museum of Ethiopia, home of the oldest human remains (Lucy and Ardie), and visited the hot springs in Sodore.
Thanks and moving forward
We are very thankful to both D-Lab: Prosthetics and Autodesk for their support. Katelyn's trip was made possible by support from a D-Lab Undergraduate Classmen Fieldwork Grant. Without this support we would not have been able to have such a successful trip. 
We have applied to the MIT IDEAS Global Challenge for support and are in the process of scaling our device up to become a viable product for the global healthcare economy. It's certainly a new challenge for us, but we are looking forward to taking our device to the next level.