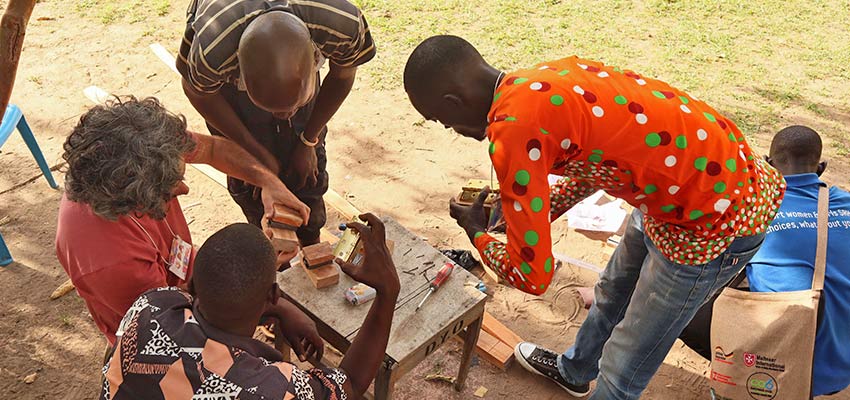 Participants in MIT D-Lab's Co-Creation Summit in Arua, Uganda learning to use tools by building different technologies including a maize-sheller jig. March 2022. Photo: MIT D-Lab
MIT D-Lab
This March, I joined MIT D-Lab's Co-Creation Summit in Arua, Uganda, which promoted locally designed solutions to off-grid energy and livelihoods challenges in refugee settlements. Having taken the D-Lab: Humanitarian Innovation class, taught by D-Lab Founding Director Amy Smith and Humanitarian Specialist Martha Thompson in Spring 2021, it was extremely rewarding to see firsthand how Creative Capacity Building (CCB) – a design training developed at D-Lab for people at the grassroots – gives rise to a solution-oriented mindset, strong teamwork, and entrepreneurship.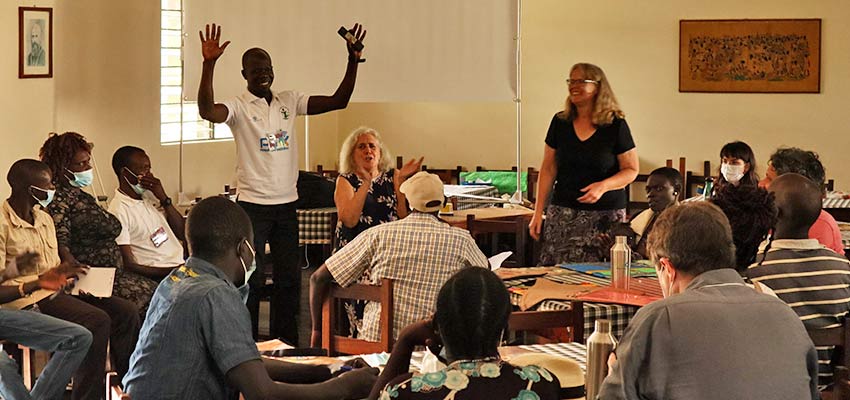 The summit brought together refugees, host community members, humanitarian practitioners, and technical experts to create diverse design teams in which each person contributed a unique perspective. Team-building activities acknowledged the different backgrounds and experiences people came from, raising awareness about the role of real and perceived power differences, and establishing shared expectations for collaboration. These characteristics of the summit – each person having a particular role in the team and emphasis on developing a common understanding of team dynamics – were critical for co-creation. Getting to know each other was not just a formality; rather, it was an integral step to encouraging innovative thinking.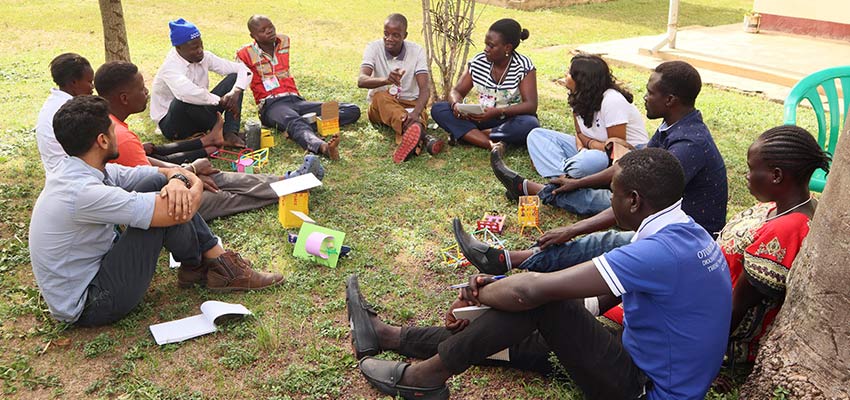 The objective of the summit was to identify pathways to scale the impact of technologies that were developed by refugees and host community members at previous CCB trainings. These technologies were a ground-nut roaster, an oven, a wheel cart, a refrigerator/cooling box, clean fuel, and a washing machine. Each was valued for increasing productivity, reducing intensive labor, and supporting income-generating activities. Alongside these work-related benefits were the social benefits: promoting gender equality, reducing household labor, and advancing sustainable practices.
To realize these benefits, the teams had to tackle challenges with pricing, accessing building materials, competing with substitutes, and moving beyond pilots through establishing sustainable business models. Listening in on conversations, I noticed that teams were addressing these challenges through question-oriented discussions, asking each other what they know and identifying the questions they would ask during needs assessment and user testing. I learned how design is not purely about creation, but that it is preceded, supported, and validated through information-gathering activities that traditional definitions of design may not encapsulate. Design is at first question-driven, and only later, answer-driven.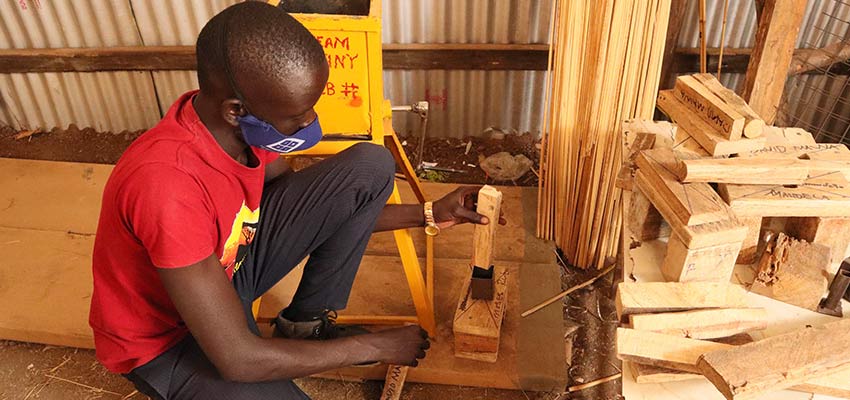 I also learned how co-creation brings people together at two levels. Among designers, it means sharing expertise, knowledge, and perspective to pool diverse skills to build better solutions. Between designers and end-users, it means bringing designers closer to end-users by considering their specific contexts and transferring ownership of products to them such that they can create, maintain, and repair them in the future. Co-creation means that the design process does not end with product dissemination because it focuses on the secondary implications of products – what effect it has on livelihoods, how it changes household dynamics, whom it empowers, and which mindsets it supports.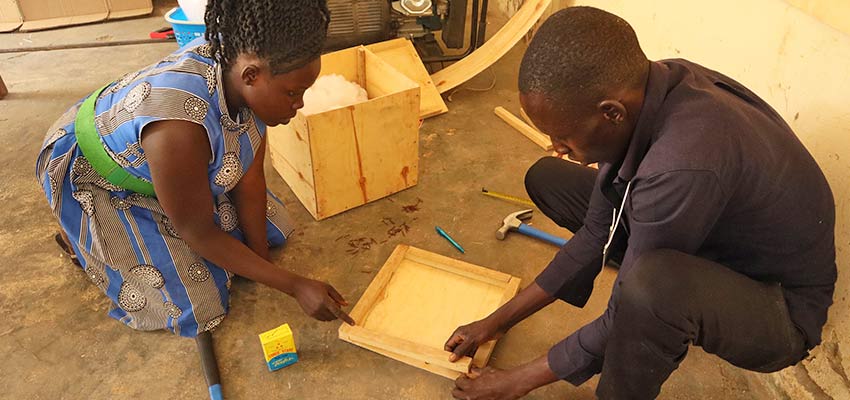 My five days at the summit have given me three key takeaways about human-centered design:
Repeat. The design process is about iteration. The summit itself was about iterating on previously created technologies. A design mindset means that a product is never finished; it can continuously be improved through creating new models and experimenting with different materials as well as collecting more information about user needs and challenges.
Discuss. Open and frequent communication among members of a design team is crucial. It is important to encourage participation by making sure all team members feel valued in their role, to check in intermittently so that everyone is on the same page, and to create a platform where people can challenge each other's and their own ideas. Discussion is also important with end users in information gathering activities. Having a conversation, not an interview, with users makes sure that interactions are not one-sided and that they are able to steer the discussion just as much as the design team can. Co-creation includes end-users as part of the design team which helps bring their insights and understanding of the problem into the design process itself.
Take time. Take time to acknowledge the skills that other team members bring to the table and take time again to acknowledge the new skills they have gained. It is important for members to have opportunities to recognize their own growth and share it as well as for the team to take stock of its expanded collective capabilities. Take time also with the design process. It is okay to have a lot of things that are unknown at the beginning, as long as designers do not rush the learning process, are willing to iterate and continuously improve on their designs, and give themselves time to be creative.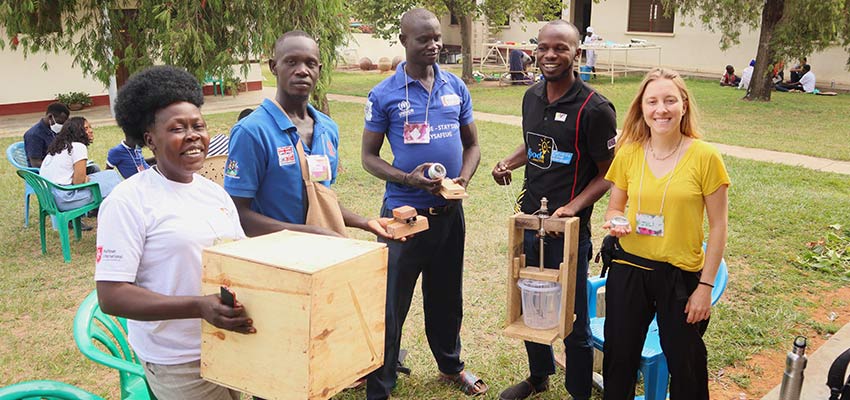 Related blog post by Mia Kumakura: Building a Business in Refugee Settlements: Speaking to Entrepreneurs from Rhino Refugee Camp
---
About the author
Miu Kumakura is a former student of MIT D-Lab's EC.750 Humanitarian Innovation class. She has been living in Uganda for a six-month fellowship that explores the humanitarian-development nexus through a focus on sustainable building designs that innovatively respond to infrastructure needs. She graduated from Harvard University in 2021 with a BA in Government.
---
More information
MIT D-Lab Humanitarian Innovation (Program)
D-Lab: Humanitarian Innovation (MIT class)
Contact